At present, the machinery industry analyzes the special effects of cement plaster spray machine, which is a commonly used construction method. The spraying method has the advantages of saving materials, portable, easy to use, easy to master, strong sensitivity, and strong compliance with material varieties.  The mortar spraying machine is easy to use, can greatly reduce cost and time, and is simple to operate. It can be used for indoor and outdoor wall spraying. Mortar spraying machines are currently mainly divided into screw type, plunger type, and hose pump extrusion type. In addition, YG Machinery also has some other construction machinery, such as shotcrete sprayer, fog cannon machine, mini concrete pump, concrete foam generator,  sandblasting machine, hydroseeding equipment. Contact us now to know more about machine details.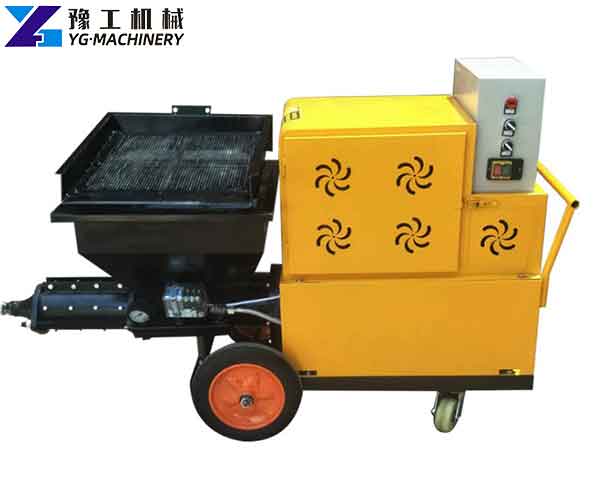 Parameter of Concrete Spraying Machine for Sale in YG Machinery:
| | | | | |
| --- | --- | --- | --- | --- |
| Model | YG311 | YG318 | YG500 | YG711 |
| Greatest Pressure | 3Mpa | 3Mpa | 3Mpa | 3Mpa |
| Capacity | 3㎡/h | 3㎡/h | 3㎡-4㎡/h | 4㎡/h |
| Applicable material ratio(water, ash, sand) | 0.7-1:1:3 | 0.7-1:1:3 | 0.7-1:1:3 | 0.7-1:1:3 |
| Main motor power | 4KW | 7.5KW | 8hp/12hp | 7.5KWstrength |
| Particle Size | ≤4mm | ≤8mm | ≤8mm | ≤8mm |
| Conveying Distance | H:30m/V:20m | H:50m/V:30m | H:50m/V:30m | H:50m/V:30m |
| Hopper Volume | 60L | 80L | 80L | 100L |
| The diameter of the feed delivers pipe | 32mm | 32mm | 32mm | 32mm |
| Weight | 200KG | 320KG | 320KG | 320KG |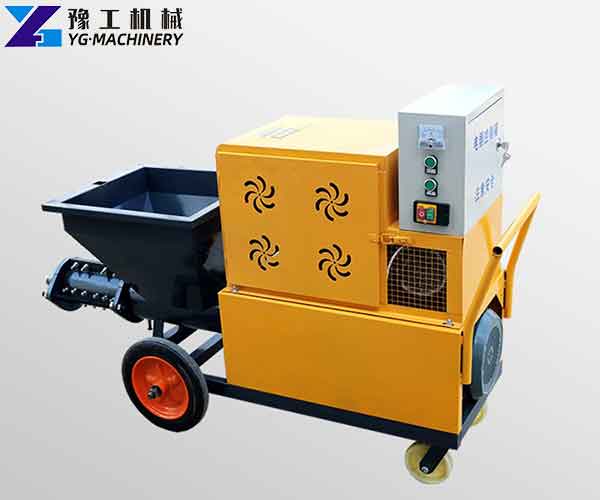 Application of Cement Plaster Spray Machine
Cement plaster spray machine is a multi-purpose machine, which can spray putty powder, paint, latex paint, real stone paint, cement mortar, dry mortar, thermal insulation mortar, waterproof material, fireproof material, thermal insulation material, sound-absorbing material, and other water-soluble materials. In construction projects, it applies to horizontal and vertical transportation of mortar or large-area spraying. It is used for grouting and slope protection in mine tunnel construction. In water conservancy projects, it is used to strengthen dams. It is used to maintain blast furnaces and other industries in metallurgy, steel, and other industries.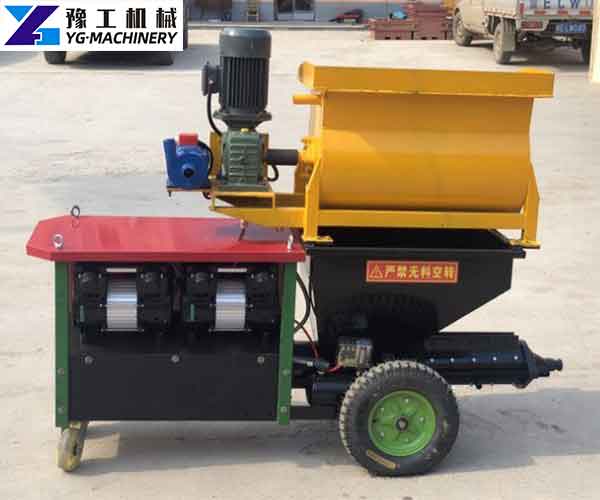 The Working Principle of Cement Plaster Spray Machine:
The cement sprayer machine is mainly used for the spraying of the rough spots on the surface of the interior and exterior walls of the building, the spraying of commercial mixed mortar, putty powder, refractory materials, and pressure grouting. Working principle is as followes. Put the mixed cement mortar is into the hopper, pressurizing and continuously discharging under the action of the plunger pump, then transporting forward along the pipeline. When it reaches the nozzle, pressurized air is introduced, and the slurry forms a jet under the action of wind and sprayed onto the wall surface.
The cement plaster spray machine is easy to operate, and the flow rate is adjustable according to the material demand. It can spray paint plaster, elastic sculpture material, waterproof material, external wall insulation mortar, ceramic tile adhesive, etc. According to material requirements, it is not restricted by regional and environmental conditions and the shape of the spraying surface.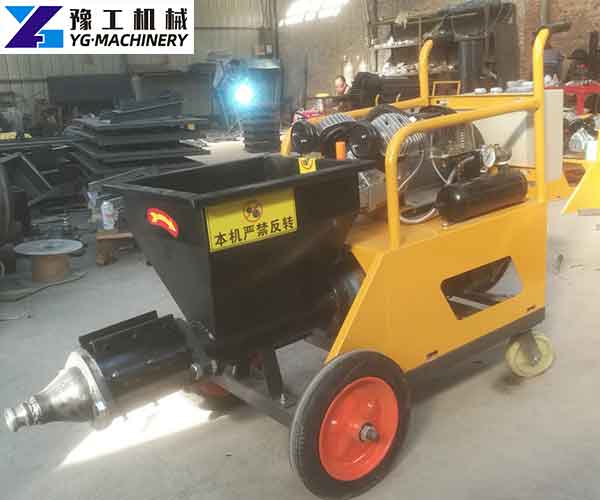 Product Features of Cement Sprayer Machine:
There is basically no ground ash, which saves water and materials, and can reduce the cost by more than 20%;
Continuous feeding, no pulse phenomenon in the complete set of equipment;
Wide applicability. It can spray with dry powder, mortar, or ordinary mortar;
Uniform spraying effect and strong adhesion;
Complete functions, both spraying, and spraying;
The direction of the spray gun and nozzle connection can be chosen, which is convenient for operation.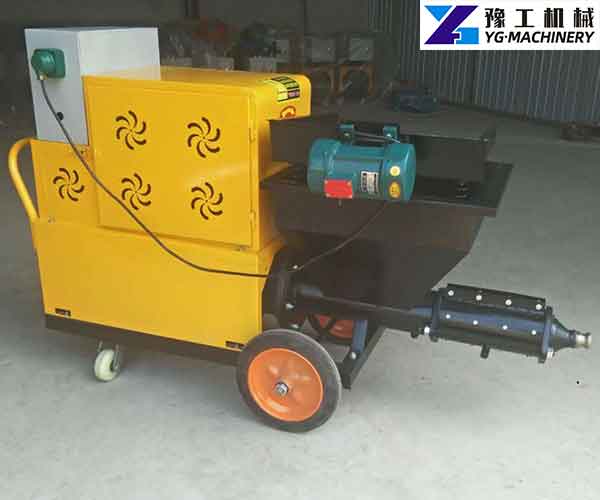 Mortar Spraying Machine for Sale in YG Machinery Manufacturer with Factory Price:
A cement plaster spray machine has always been a necessity in the construction industry. A lot of labor can be reduced, and the price is not expensive. Long service life, simple operation, no training required, one machine with multiple functions is a good helper in the construction industry. In addition, YG Machinery not only sells construction machinery but also drills and anti-epidemic products, such as rotary drilling machines, water well drilling rigs, core drilling rigs, DTH drilling rigs, anchor drilling machines, pile breaker machines, rock splitting equipment,  disinfection doors, wet wipe making machines, fog cannon dust suppression, oxygen generator machine, tissue making machine, glove making machine, etc. If you want to know more machine product information, please contact us in time.