In the middle of June, a Malaysian customer asked about a rebar processing machine. When we received his message, we replied to him for the first time and ask his requirements. On the basis of the customer's needs, we recommended the YGT4-14 rebar straightening and cutting machine in Malaysia for him, a hot model for sale to satisfy most steel straightening and cutting demands in the market. The equipment has the advantages of simple operation, stable running, adjustable cutting length, wide applicable steel bar sizes, high working efficiency, and accuracy. Contact us to choose a suitable steel bar processing machine. Email: admin@ygbuildingpro.com, Phone/Whatsapp/Wechat: +86 18337123872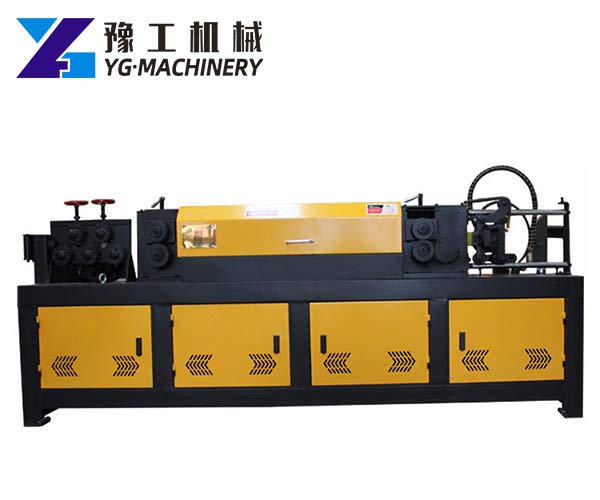 Technical Parameter of the Rebar Straightening and Cutting Machine in Malaysia
| | | |
| --- | --- | --- |
| Model | YGT4-14 | YGT5-16 |
| Diameter adjustment range | 4-14mm(Ⅲ grade steel) | 5-16mm(Ⅲ grade steel) |
| Wire pulling speed | 50m/min | 50m/min |
| Traction motor power | 2.2kw-6 | 2.2kw-6 |
| Modulation motor power | 7.5kw-4 | 15kw-4 |
| Cut off motor power | 5.5kw | 5.5kw-4 |
| Cutting error | ±0.5-1cm | ±0.5-1cm |
| Wire length | 800-9000mm(can be lengthened) | 800-9000mm(can be lengthened) |
| Straightening degree | ±2mm/m | ±2mm/m |
| Weight | 1500kg | 1500kg |
| Dimension | 2800*650*1200mm | 3300*650*1300mm |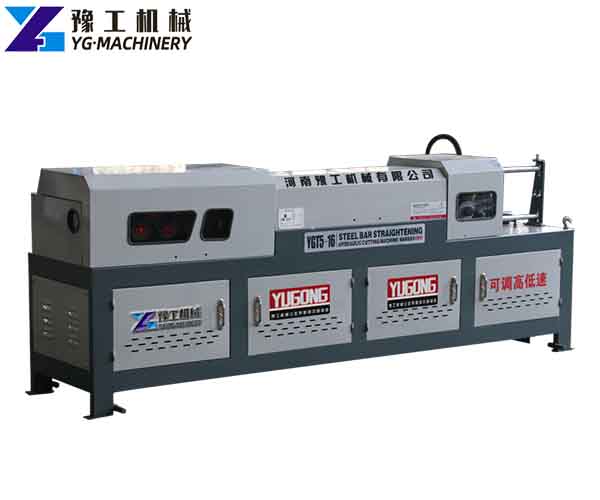 What is Its Working Principle?
Rebar straightening and cutting machine, as its name implies, is a kind of steel bar processing machine with a straightening system and cutting system. Its straightening system is equipped with 4 pair of wheels for pulling steel bars into a straight. The first and the last pairs of wheels are a little loose for steel bar feeding and output. Its middle two pairs of wheels are tight, softening, and straightening steel bars. After straightening, the steel bar enters the cutting system to finish the cutting step. And the cutting length can be set on the control panel according to actual needs. If the operator needs to open the cover to adjust the rebar processing equipment, pay attention to stopping the motor and closing the power first. Tighten the screw after adjustment.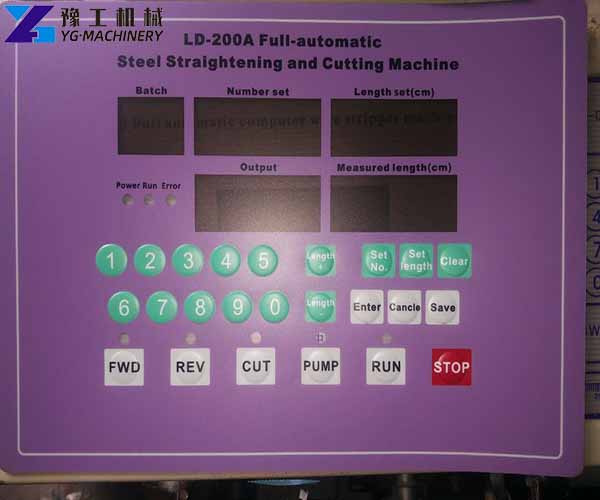 Characteristics of the Rebar Straightening and Cutting Equipment
Adopt microcomputer control, automatic straightening, and cutting
Input length and quantity batches, computer storage data, efficient and convenient.
Run smoothly, small occupied space, easy to maintain, low fault rate,
If the actual length is different from the preset length, the operator can adjust it from the [length+] or [length-] button.
The final processing steel bars with good effect, little scratch, and small damage to strength.
It can match a remote control to start and stop the machine within 30m.
What Should Notice the Installation of the Rebar Processing Machine?
The straightening and cutting machine for steel bars requires installation on flat cement ground or ordinary mud ground, not wet or soggy. Adjust the machine on flat ground, and make sure the four feet of the machine are on the ground stably. Then fix them with screws. If install the machine on the ordinary mud ground, it can be fixed with screws which is 50cm long to drive the underground. After installing the machine, try to reduce vibration and make the rebar processing machine runs smoothly.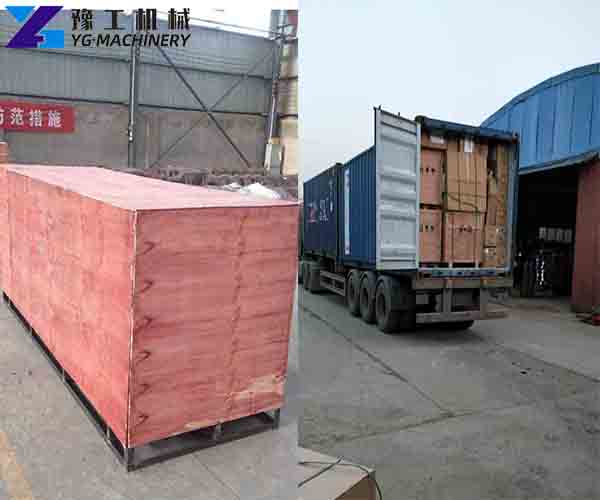 Steel Bar Straightening and Cutting Machine Manufacturer -YG Machinery
Our company, YG Machinery has professional staff engaged in the rebar processing machine's research, producing, selling, and maintenance. We provide rebar straightening and cutting machines, steel bar cutting machines, I-beam bending equipment, rebar bending equipment, electric tube bender, stirrup bending machines, steel pipe shrinking machines,  rebar threading machines, rebar derusting machines, etc. Nowadays, these rebar processing machines have been sold to Ireland, Cyprus, Brazil, Saudi Arabia, Tunisia, Colombia, Mozambique, India, Chile, Philippines, Malaysia, Singapore, Thailand, Mexico, Russia, Southeast Asia, Australia, etc. We are looking forward to building friendly cooperation with you. Contact us for more info. Email: admin@ygbuildingpro.com,  Phone/Whatsapp/Wechat: +86 18337123872