Road marking machine, also named pavement marking equipment, road line painting machine, floor marking machine, and road painting machine, is mainly applied on urban roads, rural roads, expressways, factories, parking lots, garages, squares, airports, runways, and so on. There are two types of road painting, hot melt marking, and cold paint marking. The two types of markings realize their final marking effects through different machines and working principles. Choosing a good road marking machine is important because it is directly related to the final effect, such as quality, appearance, durability, etc. We provide various high-quality thermoplastic road marking machines, cold paint road marking machines, and corollary equipment, with guaranteed quality, high efficiency, and accuracy. If you are looking for a road marking machine, why not get in touch with us to know more details? Email: admin@ygbuildingpro.com and Phone/Whatsapp/Wechat: +86 18337123872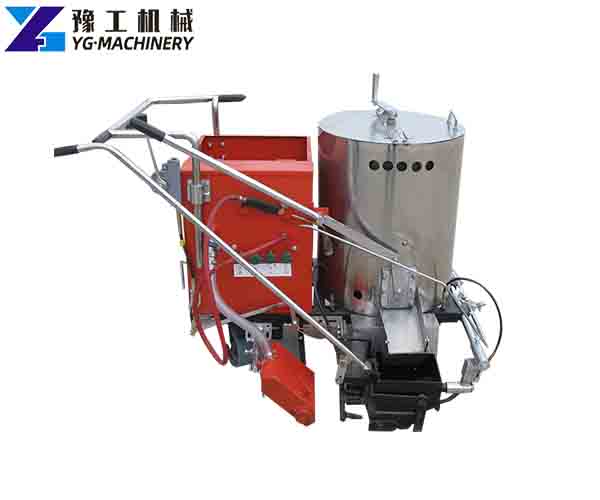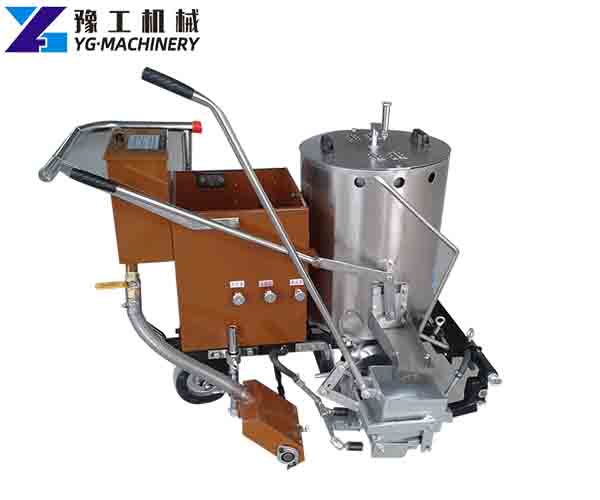 Features of Pavement Marking Machine
Short drying time, simple to operate, and open to traffic quickly.
The floor marking machine can paint a strong reflective effect with bright colors so that it has good visibility during the day and night.
The marking result needs anti-slip wear resistance to ensure safety and service life.
Road markings mainly include cold paint marking and hot melt marking, applied in road marking, factory road marking, factory parking lot, underground garage marking, school road marking, living area marking, and other construction projects
Hot melt marking is currently the most widely used marking line on road markings in my country. It has a short construction time, high wear resistance, and low cost.
Cold paint marking doesn't need to heat the paint, and it can paint directly on the surface of the road.
Road markings are divided into hot melt marking, cold paint marking at room temperature, colorful anti-slip marking, vibration non-slip reflective markings, and performed markings.
Thermoplastic Road Marking Machine for Sale
Thermoplastic paint machine usually works by matching with a hot melt kettle in order to improve working efficiency. Firstly, put powdery paint in the hot melt kettle, heating the paint to 180-210℃, and stirring it to the molten state. Then place marking material into the road marking machine. Through the coating action of the scribing bucket, a marking line with neat edges, neat head and tail, uniform thickness, and a beautiful line shape is formed. The marking shape has a strong three-dimensional effect, and at the same time, the glass beads sink into the surface of the marking line halfway to form retroreflection (45°refraction angle), which has a distinct reflective effect at night. The advanced hand-push hot-melt marking machine can draw a marking line with a width of 50mm, 100mm, 150mm, 200mm, 300mm, 400mm, or 450mm at one time. The matching material hopper depends on how many centimeters of width you need to draw. You can choose the suitable one on the basis of your actual requirement. Or contact us to get a recommendation.
The Differences between Hot Melt Marking and Cold Painting
| | | |
| --- | --- | --- |
| Painting type | Hot melt marking | Cold spray painting |
| Coating composition | Synthetic resin, glass beads, coloring pigments, filler materials, additives, etc. | Cold paint for special roads |
| Characteristics | Marking thickness 1.5-1.8mm, three-dimensional sense, strong wear resistance, good reflective effect, fast drying time, 6 seconds open to traffic | Marking thickness 0.3-1.2mm, clear color, no reflective effect, poor wear resistance, easy to fall off, easy to change color, can be constructed at zero temperature, commonly used in the north, slow drying time, 2 hours open to traffic |
| Service life | 2-4 years | Half a year |
| Applicable roads | Urban road, expressway, factory, parking lot, garage, square, airport runway, etc. | Parking spaces, no-parking yellow line areas, passageways, diversion belts, guiding arrows, etc., applicable to northern rural roads and all airports |
| Raw material type | Powdery paint, need to heat | Liquid paint doesn't need to heat |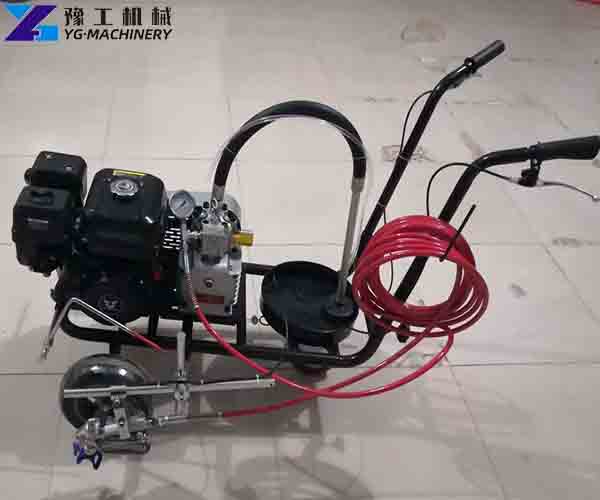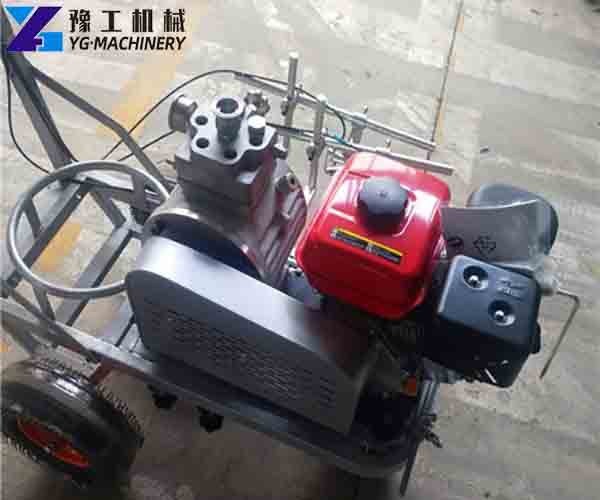 Working Principle of Cold Paint Floor Marking Machine
The working process of cold painting pavement marking equipment is simple, and the detailed steps are as follows. Place traffic guides in order first and make sure of construction safety. Put the oil paint on the cold paint marking machine secondly. The operating person just pushes it to paint based on the reference line. Now we provide specialized equipment for normal temperature marking construction, which has the advantages of stable performance and excellent quality. It is a hand-push high-pressure airless cold spray marking machine that uses a gasoline engine to drive a single plunger pump so that the paint form a high pressure inside the machine for spraying. Its guide rod of the spray gun frame uses a liftable design, which makes it easy to adjust the spraying speed and spraying width accurately and conveniently. This type of road line marking machine is mainly suitable for drawing straight lines, dotted lines, curves, zebra crossings, text, arrows, graphic signs, etc. on roads, parking lots, airports, gas stations, and company factories.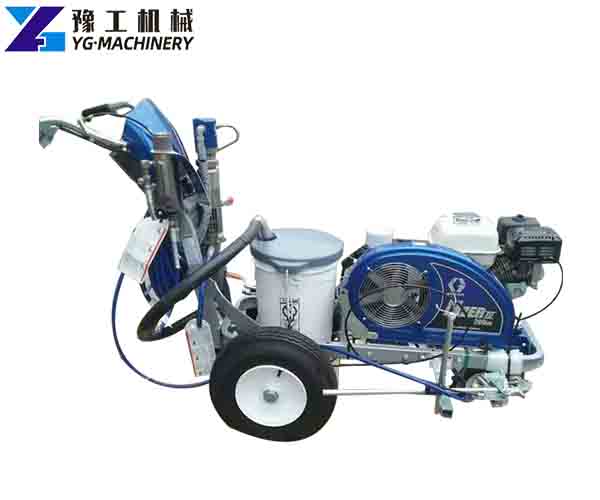 | | | |
| --- | --- | --- |
| Model | YG-6L Single gun | YG-8L Double Gun |
| Engine power | 4.3HP | 7HP |
| Load flow | 6L/min | 8L/min |
| Maximum output pressure | 25mpa | 30mpa |
| High pressure pipe strength | 35mpa | 40mpa |
| High-pressure pipe length | Ф6*10m | Ф6*2 Ф10*10m |
| Weight | 72kg | 128kg |
| Maximum spray width | 20cm | 45cm |
Road Painting Machine Manufacturer & Supplier – YG Machinery
The car park line marking machine in YG Machinery has been sent to Southeast Asia, Central Asia, South America, Saudi Arabia, Qatar, etc., and received great feedback and praise from our customers. In addition, we also supply other machines for pavement construction, such as mortarspraying machines, automatic sandblasting machines, creak sealing machines, shotcrete machines, floor shot blasters, and so on. If you are interested in these machines, contact us to get a free quotation and we will reply to you within 24 hours. Email: admin@ygbuildingpro.com and Phone/Whatsapp/Wechat: +86 18337123872