Mini excavator machine is the ideal equipment applied in construction sites because of their small spaces. The equipment uses a bucket to dig the material above or below the bearing surface and load it into transport vehicles or unload them at the stockyard. Compared with a big excavator, the mini excavator is more suitable for small projects, which can realize a lot of functions, such as digging a hole, digging a ditch, digging a foundation, mining, filling a hole or ditch, crushing stone, demolishing the building, carry heavy stone, carry large wood, and so on. The micro excavator for sale is popular in the market due to its small size, wide application, and low-cost performance. Are you looking for a high-quality small excavator? Do you want to cooperate with a reliable excavator manufacturer and supplier? Get in touch with us to learn more detailed information.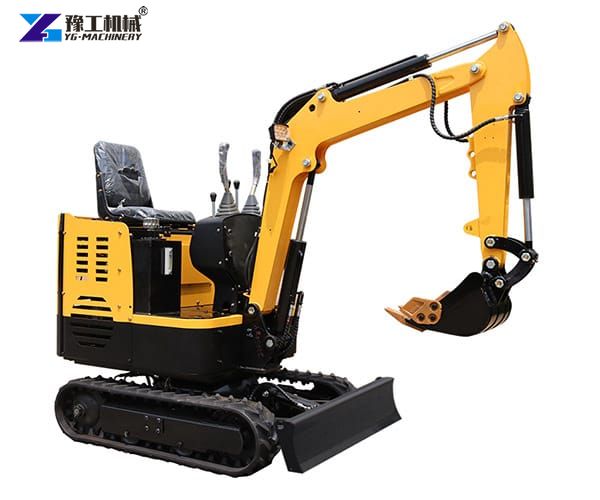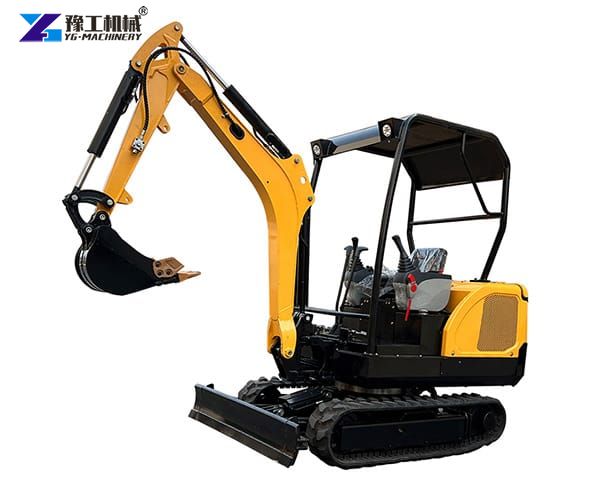 Technical Parameter of YG-08 Mini Excavator Machine
| | |
| --- | --- |
| Model | YG-08 |
| Weight | 680KG |
| Power | 7.6kw/12PH |
| Bucket capacity | 0.03m³ |
| Rotation speed | 10r/min |
| Overall dimension(L*W*H) | 2430mm*720mm*1390mm |
| Crawler grounding length | 1140mm |
| Crawler width | 150mm |
| Max digging height | 2350mm |
| Max discharge height | 1600mm |
| Max digging depth | 1300mm |
| Max digging radius | 2400mm |
| Mini turning radius | 1100mm |
| Platform clearance to ground | 380mm |
| Swing angle | 360° |
| Climbing gradient | 30° |
| Bulldozer Max. depth | 150mm |
| Bulldozer Max raising height | 260mm |
| Walking speed | 2.5km/h |
| Bucket digging force | 6.5KN |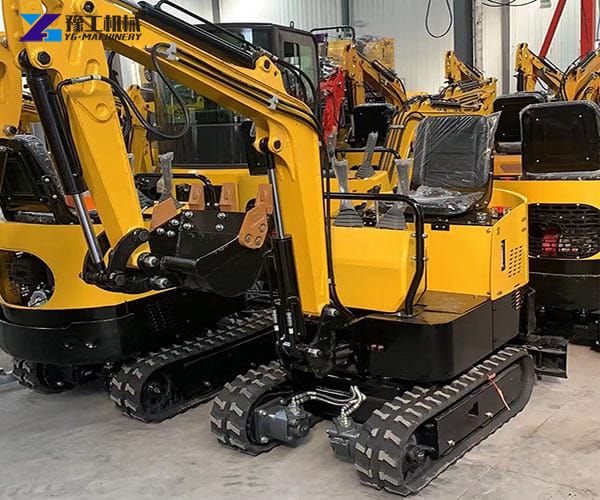 Working Principle of Mini Crawler Excavator
Mini excavator machine is a kind of mechanical equipment used for earth excavation and transportation. It consists of a power system, hydraulic system, working system, and electrical control system. The power system is the source of power for small excavators. It usually consists of a diesel engine, a hydraulic pump, and a driving device. The hydraulic system is one of the core components mini excavator. It is composed of a hydraulic pump, hydraulic motor, hydraulic cylinder, hydraulic valve, and hydraulic mailbox. The working system is the working part of a small excavator, which consists of a bucket, a boom, a rotating mechanism, and a working mechanism. The working principle of the mini digger machine can be simply summarized as follows: the power system provides power, and the hydraulic system controls the movement of the working system through the flow of hydraulic oil to achieve excavation and transportation work.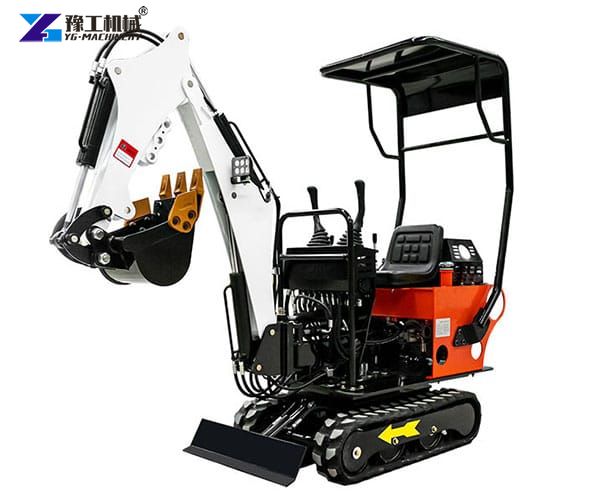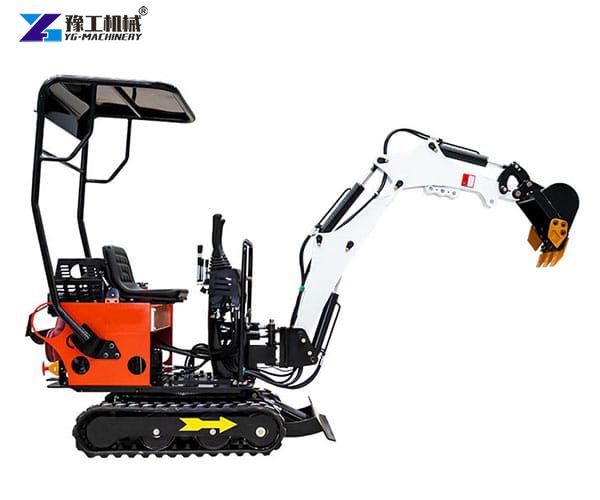 Components of the Mini Digger Machine Details
Hydraulic shut-off valve
Equipped with hydraulic auxiliary equipment link valve, easy to replace hydraulic attachments and prevent hydraulic oil leakage during replacement
One-piece casting
The bucket, stick, cylinder, guard, bottom plate, and bottom plate are all made of high-strength cast steel, which is stronger and more durable than traditional welding
Cylinder protection cover
Allround protection of the oil cylinder to prevent the bulldozer from accidentally touching the oil cylinder during work, causing damage to the oil cylinder
Hydraulic fluid cooling/engine fan
Help reduce engine temperature and effectively reduce damage to the machine
Hydraulic oil scale
Display the remaining amount of hydraulic oil to ensure sufficient hydraulic oil
Extending dozer blade
Blade extensions simply rotate and lock into position allowing the machine to be quickly configured for narrow width or maximum blade coverage.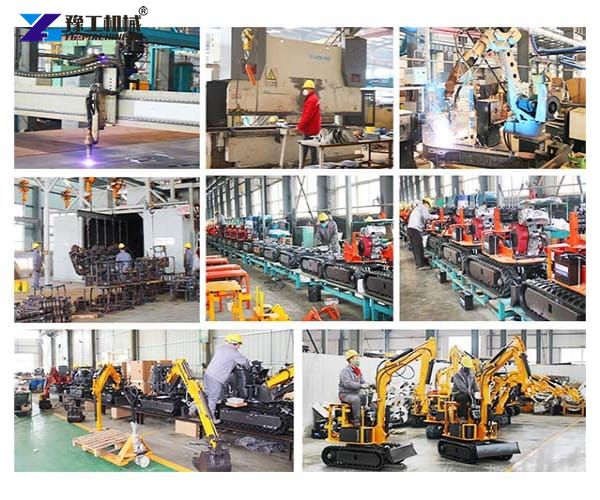 Advantages of the Mini Excavator Machine
The unique design of the upper flip cover makes it easier to maintain the engine, save labor costs, and save time and effort
Equipped with silencer/heat insulation cotton, thickened sound insulation cotton, low noise, better use experience
The enlarged hydraulic oil tank provides enough hydraulic oil powder to ensure the hydraulic working efficiency of the machine
Locking pins and extension plates are retained with the machine to reduce the potential for lost or damaged components
Retractable crawler 75-95cmand the oil pipe has a protective sleeve
Controls are easy to use and operate, with the. The operating instructions in front of the console are simple and easy to use.
Safe and comfortable seat, adjustable, more ergonomic principle, firm seat, more stable, not easy to shake
The boom and bulldozer oil cylinder are equipped with high-strength cast steel protective plates, and the oil pipes at the bottom of the platform are equipped with protective sleeves.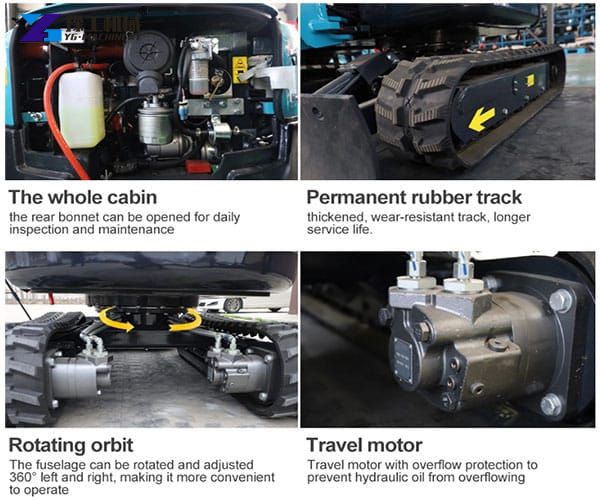 The Development Prospects of the Mini Digger Machine
Small excavator machine for sale has exerted great advantages in municipal engineering, transportation, and other constructions and has developed rapidly. Mini excavator machines have made great contributions to saving manpower and material resources in these projects, meeting various urban operation requirements, maximizing their production capabilities in the narrow working space of the city, and gradually becoming one of the representative construction machines. The development of small excavators mainly depends on the development of urban construction. Due to the large number of urban reconstruction and construction projects, it requires short construction time, small impact of construction machinery on the surrounding environment, safety, low pollution, small turning radius, easy transportation, and more. Therefore, the mini excavator is an ideal machine to choose.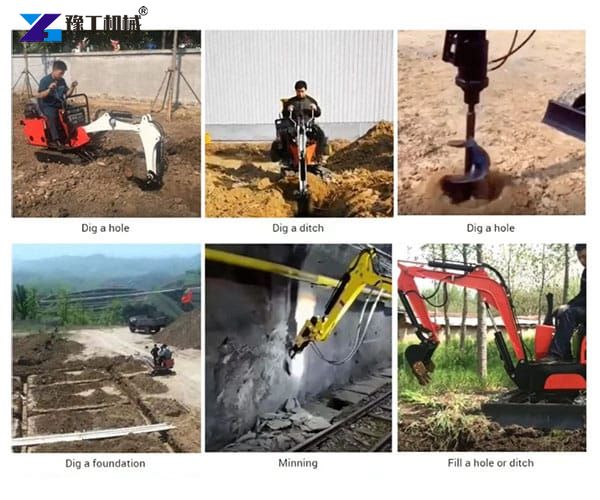 Mini Excavator Machine Manufacturer & Supplier
YG Machinery is a professional construction machine manufacturer and supplier, that has engaged in the field for over 18 years. In addition to the small digger excavator machine, we also provide mini spider cranes for sale, wheeled mobile scissor lift platforms, block bricking making machines, mini concrete pumps for sale, road marking machines, crack sealing machines, rock splitter machines, fog cannon machines, shotcrete machines for sale, mortar spraying machines, automatic sandblasting machines, etc. If are you interested in these machines, contact us to get more information, like working videos, pictures, and prices.