PSA pressure swing adsorption nitrogen generator is abbreviated as PSA nitrogen generator. It refers to equipment that uses air as raw material to separate oxygen and nitrogen from it by physical methods to obtain nitrogen. The nitrogen purity is easy to adjust, and it can be adjusted between 95%-99.5% according to the needs of users. YG Machinery has high-quality and durable nitrogen generators for sale. Contact us now to get the price of the nitrogen generator.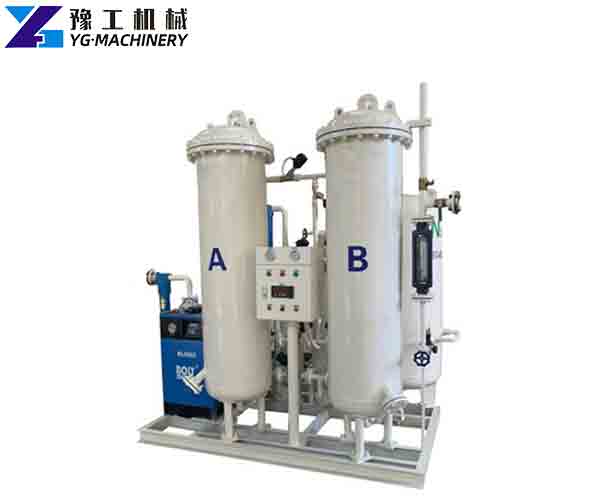 Working Principle of PSA Nitrogen Generator for Sale
The PSA nitrogen generator used for sales equipment is mainly composed of two adsorption towers A and B, which are equipped with carbon molecular sieves and a control system. When compressed air (the pressure is usually 0.8Mpa) passes through tower A from bottom to top, oxygen, carbon dioxide, and moisture are absorbed by carbon molecular sieve. Nitrogen passes through the top of the tower and flows out of the top of the tower. When the molecular sieve in tower A is saturated by adsorption, switch to tower B to perform the above-mentioned adsorption process, and at the same time, the molecular sieve in tower A is regenerated. The so-called regeneration refers to exhausting the gas in the adsorption tower into the atmosphere so that the pressure quickly drops to normal pressure. Therefore, the oxygen, carbon dioxide, and moisture absorbed by the molecular sieve are released from the molecular sieve.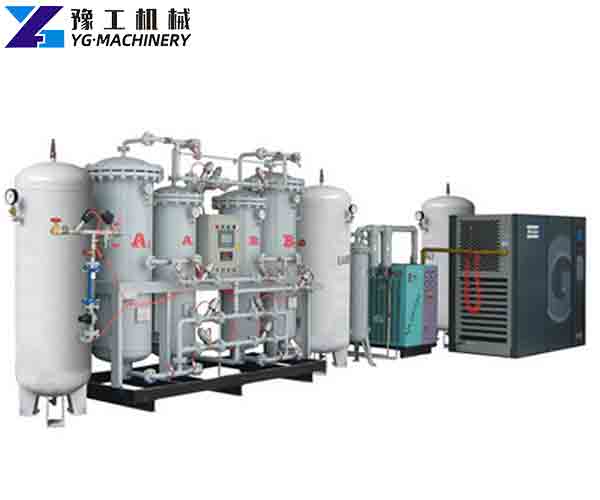 Application Field of Pressure Swing Adsorption Nitrogen Generator
With the rapid development of industry, nitrogen generators have been widely used in chemical, electronics, metallurgy, food, machinery, and other fields.
Semiconductor production and packaging, electronic component production, LED, LCD liquid crystal display, lithium battery production, etc. in the electronics industry;
Green grain storage in the food industry, food nitrogen-filled packaging, vegetable preservation, wine sealing (canning) and preservation, etc.;
Pharmaceutical production, storage, packaging, packaging, etc. in the pharmaceutical industry;
The chemical industry is mainly used for covering, purging, replacement, cleaning, pressure conveying, chemical reaction agitation, chemical fiber production protection, nitrogen filling protection, etc.;
As well as the protective gas for the heat treatment of metals, the gas for the production of rubber and plastic products, etc.
YG's air separation equipment technology level is in the leading position in the industry. Purity, flow, and pressure is stable and adjustable to meet the needs of different customers. Please leave your requirement about the nitrogen generation unit.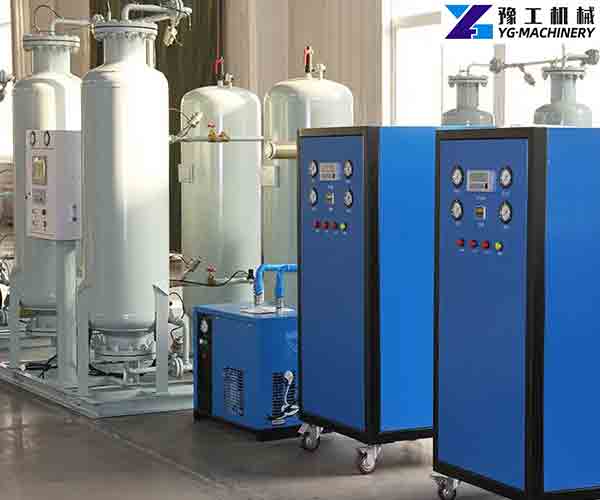 What are the Components of the High-purity Nitrogen Generator?
Electrical control system: It is composed of PLC, circuit system, instruments, and valves.
Air buffer tank: It is composed of air storage tanks, valves, etc. It is mainly used to balance the pressure and purity of nitrogen separated from the nitrogen-oxygen separation system to ensure the continuous supply of nitrogen.
Nitrogen buffer tank: It is composed of a nitrogen storage tank and a valve to store nitrogen, mainly to ensure the stable use of gas.
Nitrogen generator: It consists of two adsorption towers filled with a carbon molecular sieve and an automatic control valve. It can be said to be the core of the nitrogen generator.
Air purification system: It consists of a cold dryer, a filter, a degreasing filter, etc. It is mainly used to purify the air, remove dust, water, and oil.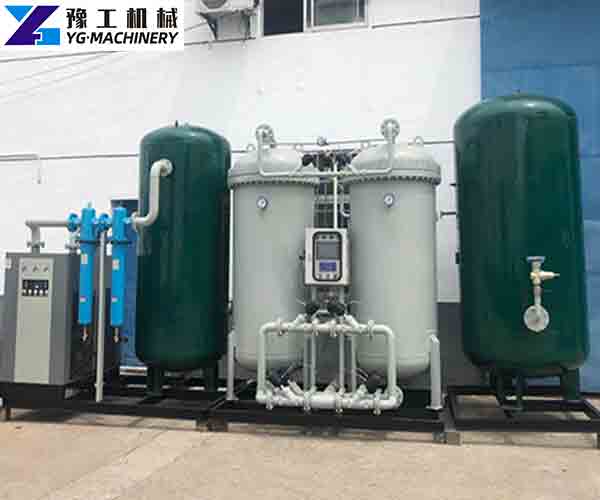 Features of PSA Nitrogen Gas Generator:
Low cost: The advanced PSA process is a simple nitrogen production method. Nitrogen is generated within a few minutes after starting up, and the energy consumption is low. The cost of nitrogen is far lower than cryogenic air separation nitrogen production and liquid nitrogen on the market.
Reliable performance: imported microcomputer control, fully automatic operation, no need for special training operators, just press the start switch, it can automatically run, to achieve continuous air supply.
The nitrogen purity is stable: it is completely monitored and displayed by the instrument to ensure the required nitrogen purity, and the instruments are integrated into the control box, which is convenient and simple.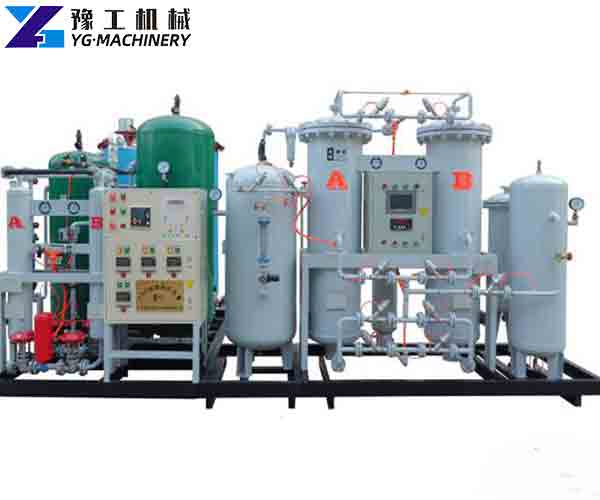 Nitrogen Generator Manufacturers
nitrogen gas generator is a kind of nitrogen making equipment that is widely used in various industries in society. Each industry has different requirements for a nitrogen purity of nitrogen generators, so the nitrogen purity indicators of nitrogen generators in each industry are also different. So how should we choose? First, before determining the specific model specifications (ie, nitrogen production per hour, nitrogen purity, outlet pressure, dew point). As a manufacturer of oxygen generators, YG Machinery can provide various sizes and models of nitrogen generators, air compressors, and auxiliary equipment.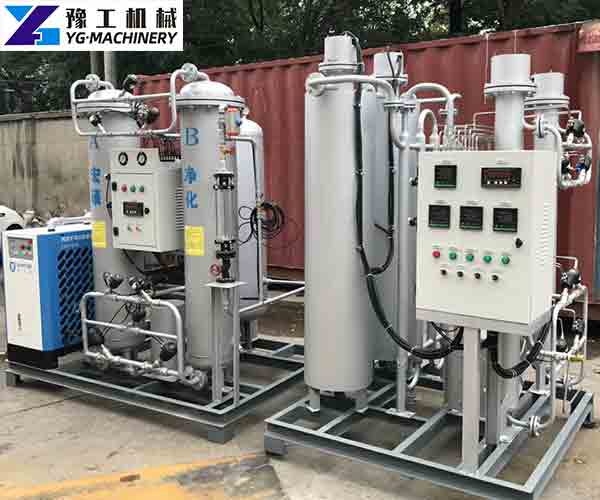 Related products
As professional air separation equipment manufacturers, we not only have nitrogen generators for sale. We also have high-quality medical PSA oxygen generators and industrial oxygen generators for sale. In addition, if you need small home use oxygen generators, disinfection door, tissue making machine, wet wipe making machine, please feel free to contact us. Welcome small oxygen generators and nitrogen gas generator dealers to discuss with us.