Paper cup forming machine, as the name displays, is the equipment to produce paper cups. It is equipped with multiple working positions for high efficiency. The automatic paper cup-making machine has the functions of paper feeding, sealing, oil injection, paper cup bottom making, constant temperature heating, knurling, edge curling, convex rolling, unloading, etc. Paper cups are widely used as disposable containers for water, juice, beverages, milk, coffee, tea, ice cream, jelly, small cakes, and so on. There are 3-16 oz types available, 70-90pcs/min, 80-110psc/min, 120-150pcs/min optional. You can choose the suitable speed type according to your actual requirements about product capacity.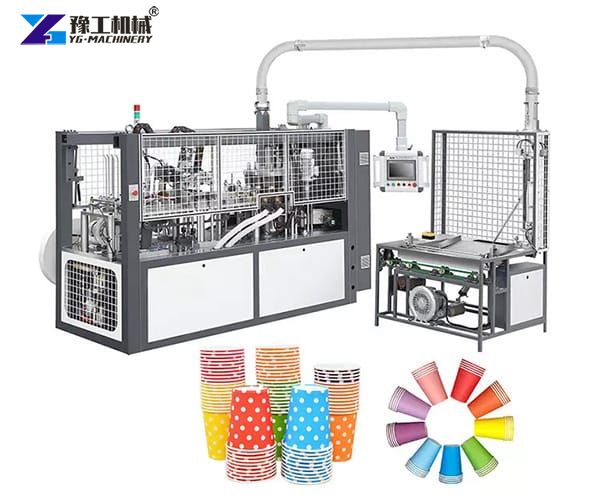 Parameters of Paper Cup Forming Machine for Sale
| | | | | | |
| --- | --- | --- | --- | --- | --- |
| Model | YG-DP09 | YG-DP16 | YG-GS120 | YG-160S | YG-M100 |
| Production speed | 80-110pcs/min | 70-90pcs/min | 100-120pcs/min | 130-160pcs/min | 80-100pcs/min |
| Voltage | 380V/50hz three phase | 380V/50hz | 380V/50hz three phase | 380V 3-phase electricity | 380V(220V)  50hz |
| Paper cup specification | 3-12 oz | 3-16 oz | 3-16 oz | 5-16 oz | 3-16 oz |
| Machine size | 2150*1100*1750mm | 2150*1100*1950mm | 2180*1050*1600mm | 2800*1100*1800mm | 2000*1110*1850mm  1400kg |
| Paper stock | 160-350g single PE coated paper | 160-350g single PE-coated paper | Single and double-coated paper | Single/double PE/PLA coated paper | One side, or two side PE coated paper(single PE or double PE coated paper |
| Power | 7.8kw | 5.5kw | 7kw | 25kw | 4.5kw |
| Weight | 1700kg | 1600kg | 2100kg | 4000kg | 1500kg |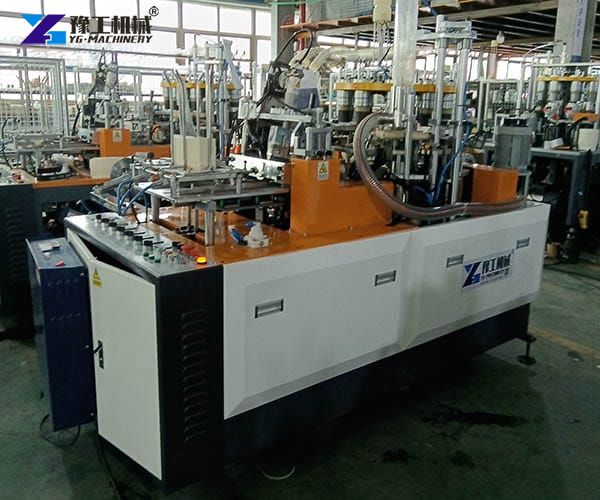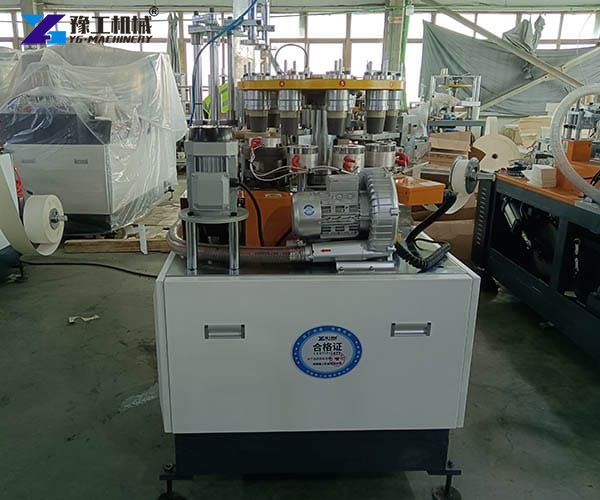 Working Principle of the Disposable Paper Cup-Making Machine
Place the fan-shaped paper blanks on the holder, then the equipment will convey the paper blanks one by one for folding and sealing. There is a side seam heater, and bottom seam heating so as to curl and knurl good shapes. The bottom paper blanks will be cut into round paper shapes, and the waste bottom paper will go out to one side. Finally, the finished paper cups will be conveyed to the paper cup outlet device through glass pipes. When the paper cups reach a certain number, then the paper cups will be out of the machine automatically. For the fan-shaped paper blanks, it can match a paper cup flexo printing machine and a paper cup roll die cutting machine. If you are interested in it, welcome to contact us to get more details.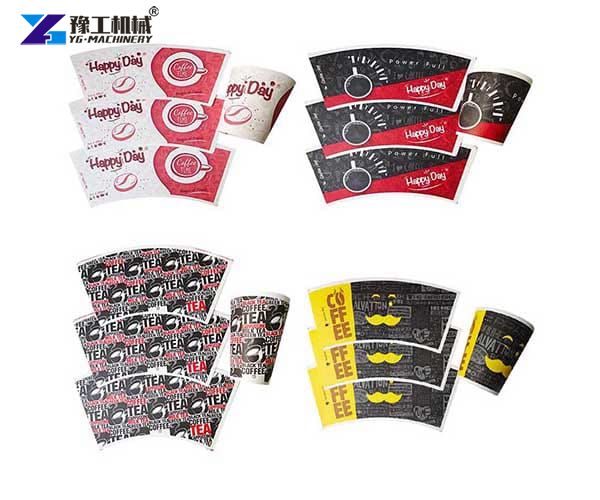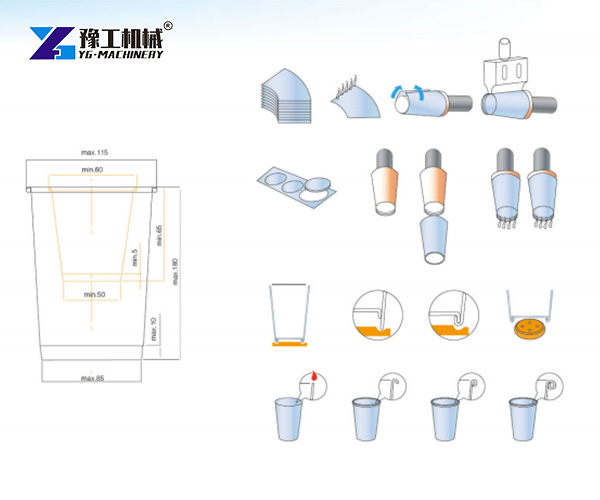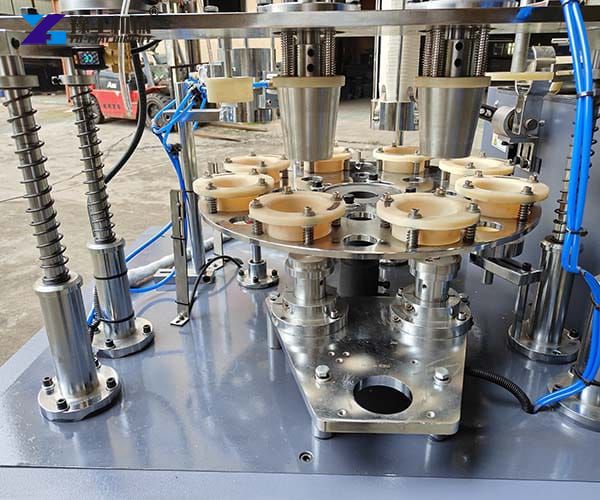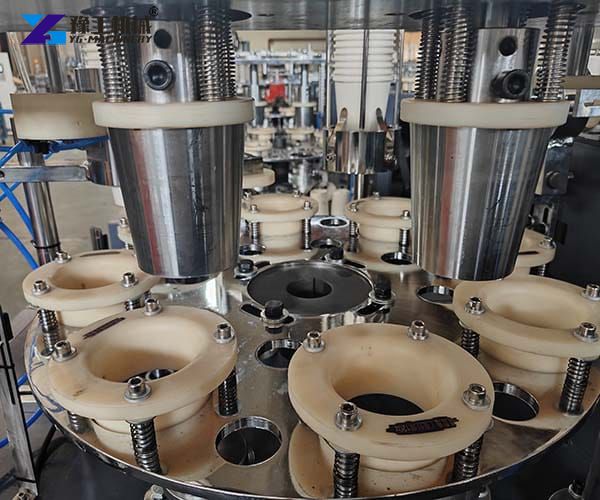 Paper Cup Forming Machine Price
The paper cup forming machine price is affected by various factors. So their prices will be different. Generally speaking, the equipment's faster production speed requires more cost to purchase it. For the size of the paper cups, the bigger one price is usually higher than the small one. But it is not absolute, there are other factors. For example, some paper cup production machines will use a PLC touch screen, but some adopt buttons to operate. Besides, whether it is equipped ultrasonic system or not on the machine. Considering all factors comprehensively above, the prices of paper cup-forming machines are different. If you want to know more details, please get in touch with us through WhatsApp, email, or leave a message on the form below.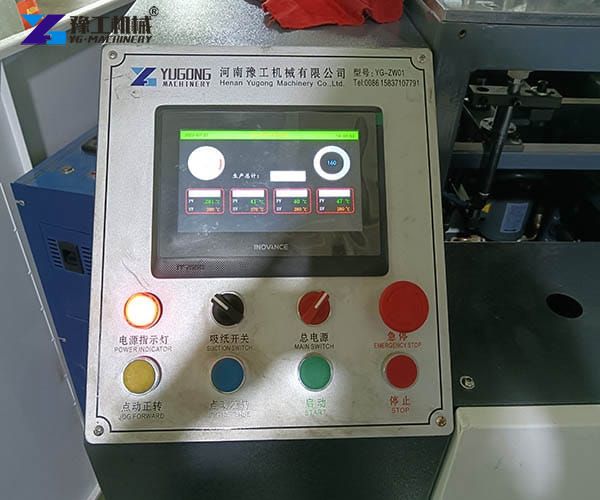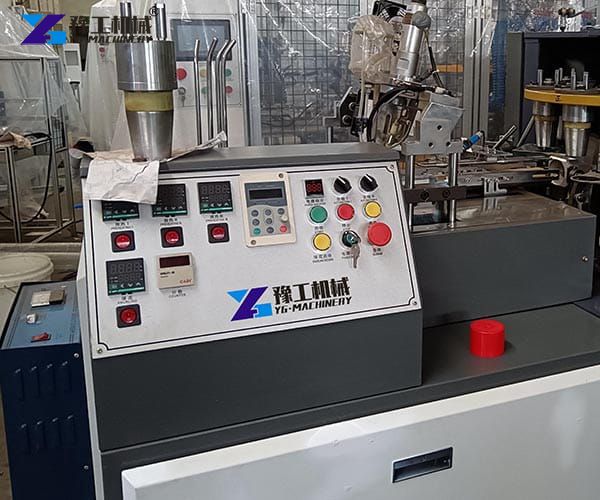 How Can I Get the Fan-shaped Paper to Produce Paper Cups?
Most customers who want to invest in a paper cup making machine will be concerned with the problem of raw materials. There are two methods available. One method is to purchase fan shape paper directly, and the other method is to buy a machine to produce fan shape paper. For those who start to invest in the business and do not have a high budget, the first method is better. It can help us to save a lot of investments for us at the beginning of business. If you have a paper cup-making machine factory before, and you want to extend your business, you can consider purchasing the machines for printing, cutting, packaging, and other related equipment to improve your production line.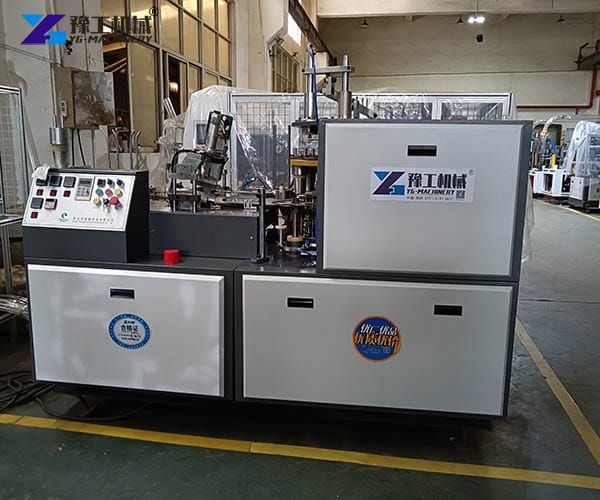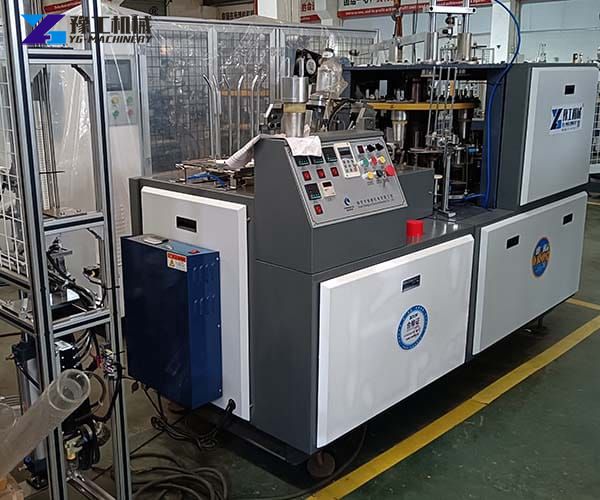 FAQ about the Disposable Paper Cup Production Machine
Q1: How many paper cups can be produced with one ton of paper?
A1: Using 190gsm paper as the standard, 7oz paper cups, can produce approximately 290,000 paper cups, and 8oz can produce approximately 230,000 paper cups.
Q2: How many paper cups can be printed with 1kg of ink?
A2: Taking printing a single-color 8oz pure logo as an example, 1kg of ink can print about 11,000 paper cups.
Q3: How many tons of fan-shaped sheets need to match how many tons of cup bottom paper blanks?
A3: Under normal circumstances, 1 ton of cup bottom paper can be used to match 3-4 tons of fan-shaped paper.
Q4: When is the time of delivery?
A4: The delivery time is about 30-40 days
Q5: Advantages of die cutting machine over punching machine
A5: Greater production capacity, paper saving, easy mold replacement, and cheap molds
(Note: This is an estimated data above for reference and cannot be precise because the paper specifications used have a great impact on the production quantity.)
Other Related Machines in YG Machinery
As a professional paper cup forming machine manufacturer and supplier, our company not only provide automatic paper cup-making machines but also supplies related machines, such as paper cup printing machine, roll die cutting machine, paper cup packaging machine, paper cup bowl lid forming machine, paper cup straw machine, paper cup sleeve machine, automatic paper plate machine, paper bowl making machine, paper bag making machine, etc. If you are interested in these machines, welcome to contact us to learn more details.