Thermoplastic road marking machine for sale is popular in pavement construction, like urban roads, rural roads, expressways, airports, parking lots, plants, etc. A customer from Mexico get in touch with us last month, he wanted to choose and purchase a road marking machine for painting roads. Our salesperson Melinda replied to him quickly and asked about his specific requirement. Finally, he was satisfied with the YG-380 hand-push thermoplastic road marking machine in accordance with his situation. We are delighted when we can help our customer choose a suitable machine. Contact us by E-mail: admin@ygbuildingpro.com, or Whatsapp/Wechat/Phone: +86 18337123872 and we will provide useful suggestions.
Technical Parameter of the YG Hand-Push Thermoplastic Road Marking Machine
| | |
| --- | --- |
| Model | YG-380 |
| Glass bead container | 10kg/box |
| Glass bead dispenser | Adjustable from 50-200mm |
| Heating method | Liquefied petroleum gas |
| Marking width | 100/150/200/250/300/400/450mm optional |
| Dimension | 1200*900*950mm |
| Weight | 100kg |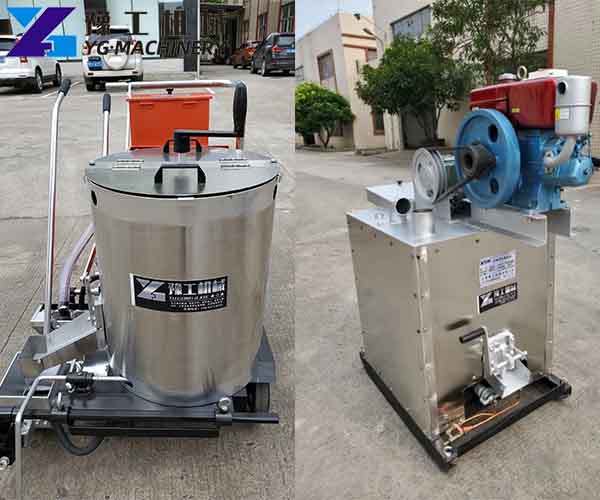 Why Is YG-380 Road Marking Machine So Popular?
YG-380 hand-push thermoplastic road marking machine plays an important role in pavement marking construction. It absorbs advanced technology with the advantages of high efficiency, reliable appearance, simple operation, and maintenance. Its road marking hopper is made of high-precision ultra-thin material. The floor marking machine can shorten construction time, improve working efficiency, and save manpower. Hot melt road mark has a good performance, high wear resistance, and less cost. There are different hoppers for choosing based on real situations, 50mm, 100mm, 150mm, 200mm, 250mm, 300mm, 400mm, and 450mm optional.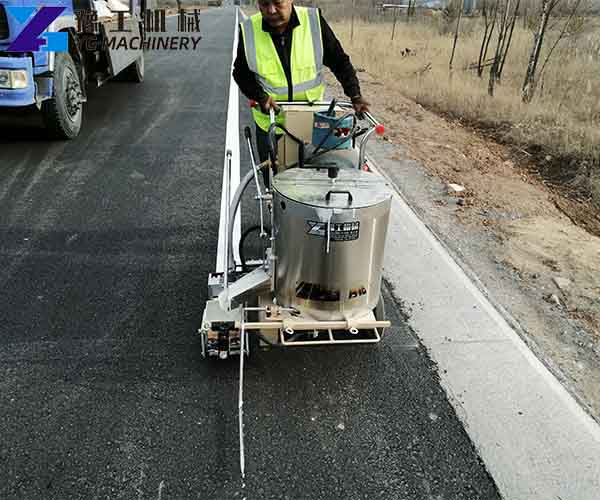 How to Choose a Thermoplastic Road Line Painting Machine?
When choosing suitable road marking equipment, we need to consider several factors, such as working place, marking type, budget, and so on.
Working place
Different working places have different requirements for road painting machines. For example, the road marks on the expressway usually need a marking long distance, using equipment with fast marking speed. If the amount is large, it's better to match a hot melt kettle, otherwise, the efficiency is low.
Types of road marks
The second factor is the types of road marks. Solid lines, dashed lines, and arrows require different types of nozzles and fuels.
Budget
Budget is an important factor in choosing a suitable road marking machine. Generally speaking, higher price machine has higher working efficiency, higher precision, and longer service time, but not absolute.
Brand and quality
The brand is closely connected with the machine's quality, performance, after-sale service, etc. A good brand can help customers to save time and effort. Choose a reliable brand with rich experience to guarantee efficiency and service life.
After-sale service
During the process of using the machine, there may occur some problems that need to solve. If it has no enough after-sale service, it not only will be a bad buying experience but also will influence the working efficiency.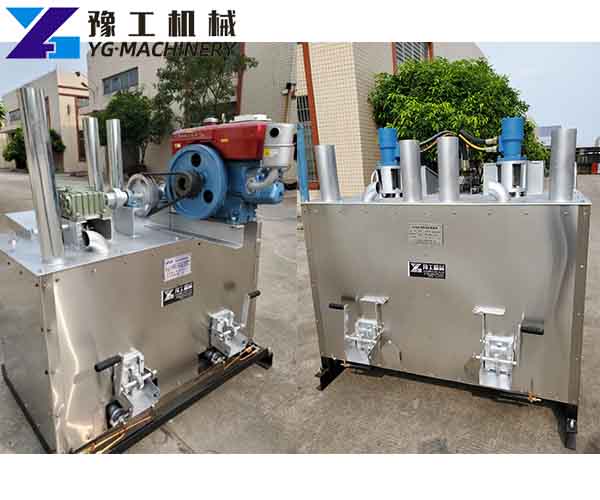 Construction Machines in YG Machinery
Our company's pavement marking equipment has been exported to Southeast Asia, Central Asia, South America, Saudi Arabia, Qatar, etc., and we get lots of good feedback after our customers received our machines. Besides thermoplastic road marking machine, we also provide cold paint road marking machines, crack sealing machine, rock splitter machine, concrete wall saw, fog cannon machine, foam concrete machines, shotcrete machine, mortar spraying machine, and automatic sandblasting machines. Get in touch with us to get more details. E-mail: admin@ygbuildingpro.com, or Whatsapp/Wechat/Phone: +86 18337123872