There are three commonly used hydraulic rock splitting equipment on the market: concrete splitter, large road splitting machine, and hydraulic rock splitting rod. Rock splitter machine is mainly used for mining operations of building stone. It is used in construction, decoration, engineering construction, ore mining operations, secondary disintegration of large ore, concrete members. Partial and complete demolition work.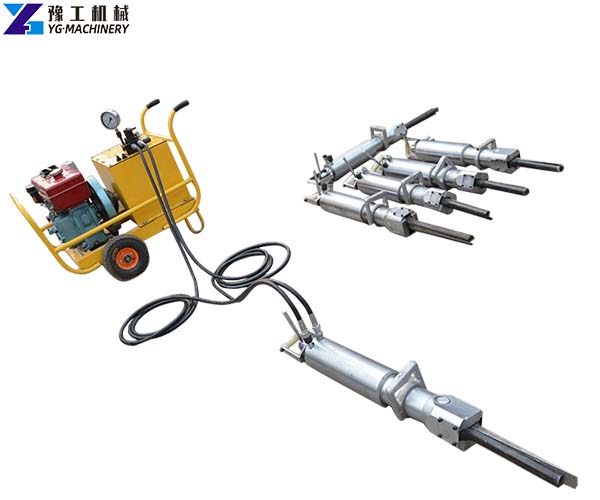 Product Parameter of Concrete Splitter:
Model
YG-250
YG-350
YG-450
Power
Diesel Power Pack
Diesel Power Pack
Changchai 6hp or 8hp
Hydraulic Power Unit
Pressure Adjustable 10-60Mpa
Splitter Length
1000mm
1100mm
1200mm
Wedge Length
250mm
350mm
450mm
Wedge Weight
30kg
36kg
43kg
Piston Stroke
90/220mm
Drilling Depth
>500mm
>700mm
>900mm
Drilling Diameter
42mm
50mm
55mm
Crack Width
10-20mm
Splitting Time
10-15s
Splitting Force
800T
900T
1000T
Hydraulic Concrete Splitter Machine
A concrete splitter is also called a hydraulic rock splitter. A concrete splitter is applied to difficult earth and stone works that cannot be blasted and require high output and a tight construction period. When splitting rocks, there is no noise, no dust, and splitting can be completed within a few seconds. It has high work efficiency, controllable splitting, accurate split size, simple operation, and can be demolished indoors and in narrow places.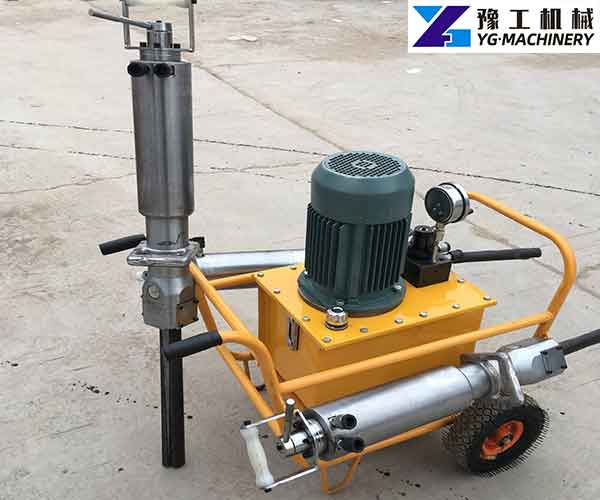 Large Rock Splitting Machine
A large rock splitting machine is also called an airborne rock splitter machine. The splitting depth requires drilling depth: 1550mm~1700mm, and hole-to-hole spacing: 2.5~3m. The main principle is to increase the output pressure of the excavator through a supercharger and then drive the cylinder to produce a huge driving force, and after mechanical amplification, a strong splitting force is generated to make the split objects (rocks, reinforced concrete, etc.) split in a predetermined direction Open. This kind of rock splitting equipment is equivalent to making the small splitter bigger, and the externally mounted on the excavator and connected to the hydraulic system of the excavator as the driving force, or it is only hoisted on the excavator and the external hydraulic pump station is used as the driving force.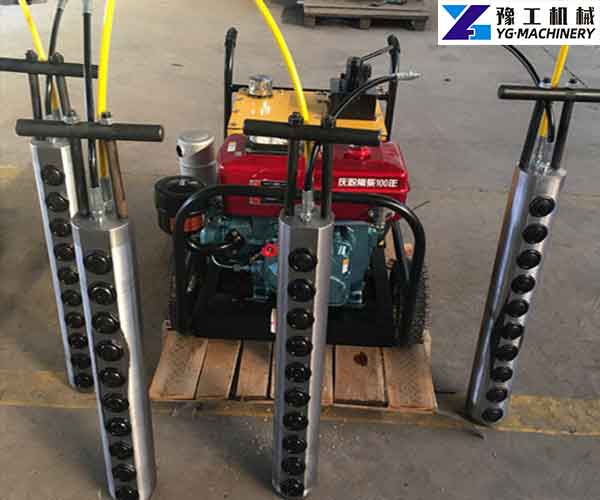 Big Excavator Hydraulic Rock Splitter Parameter:
| | | |
| --- | --- | --- |
| Model | YG-Ⅰ | YG-Ⅱ |
| Length | 3100mm | 3200mm |
| Drilling Depth | >1500mm | >1700mm |
| Drilling Dia. | 110-115mm | 130mm |
| Wedge length | 700mm | 1200mm |
| Crack Width | 20mm | 25mm |
| Wedge diameter | 105mm | 125mm |
| Weight | 980kg | 1100kg |
Hydraulic Rock Splitting Rod
The hydraulic rock splitting rod is also called concrete splitter and hydraulic rock splitter machine. Which consists of two parts: hydraulic pump station and splitting rod (one pumping station can be equipped with 1-6 splitting rods). When working with column splitting rods, you can use rock drills or down-the-hole drills to drill large holes with a depth of at least 1-2 meters, and then place the column splitting rods in the punched holes to start the hydraulic pump station, Multiple hydraulic splitting heads extend out of the splitting hole together.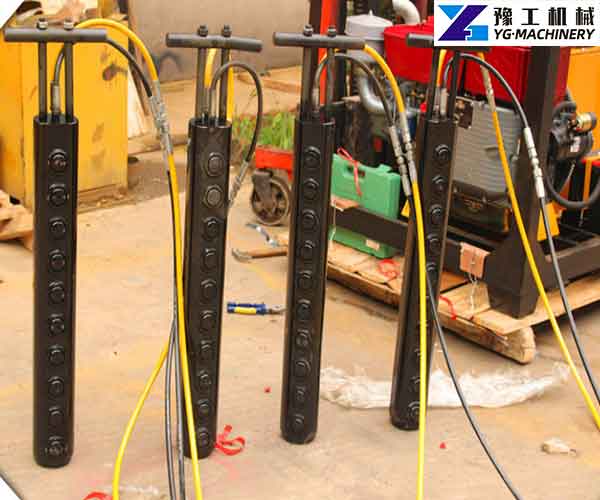 Main Application Areas of Concrete Splitter
Hydraulic concrete splitter is now widely used in china's quarrying and mining industry, construction engineering, demolition engineering, chemical industry, smelting production and overhaul engineering, and various rescue and rescue fields. It has a wide range of uses and leading technology to be faster, stronger, and more economical. The strength of serving our customers.
Quarrying and mining industry: mining of large blocks, segmentation of large blocks, large pieces of waste rock, etc.
Construction engineering: tunnel excavation, subway tunnel excavation, artificial river excavation, artificial river, rock trench excavation, etc.
Demolition works demolition of concrete and reinforced concrete, demolition of old buildings, demolition of old bridge piers, etc.
Various rescue and disaster relief: earthquake, mine disasters, etc., rescue work for traffic accidents.
Other Products
Except for a hydraulic rock splitter machine for sale in our company, you can also find some other machinery for your construction projects. Such as road marking machines, asphalt crack filler machines. laser screed machine, core drilling rigs, water well drilling rigs, DTH drilling machine, rotary drilling rig machine, anchor drilling machine. beam bending machine, pipe shrinking machine,  road roller. curb and gutter machine, concrete pile breaker, floor shot blaster, hydroseeding machines, sand blasting machine, etc…【Whatsapp/Wechat/Phone】+86 18337123872.