The automatic baby wet wipe making machine is a special equipment for producing disposable household cleaning wipes or baby wipes. This wet tissue production line adopts a fully functional servo, full servo control, independent operation of the color LCD touch screen, reliable, simple, convenient, flexible, stable performance, and advanced technology. The fully automatic baby wet tissue machine has advanced technology, stable performance, low product defect rate, high speed, and high efficiency. And it can fully guarantee safe production. It is practical equipment for small and medium enterprises to produce wet wipes.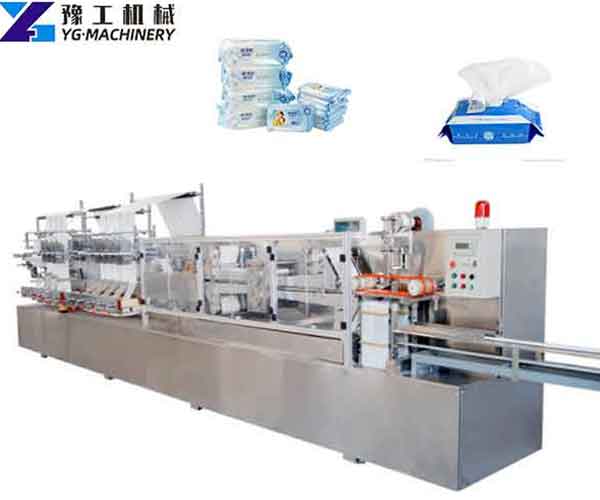 Wet Wipes Machine Parameters
Applicable materials
Spunlace nonwoven, their bond, degradable non-woven fabrics,

wet-strength paper etc

Specification of nonwovens
Max W260mm, Φ1200mm
Applicable packing materials
PET/PE BOPP CPP PET/AL and other hot sealable materials
Film rolling specification
Max W230mm, Φ360mm
Size of wet wipes
L:55-110mm W:30-60mm
Unfolded size
L:110-220mm W:140-260mm
Packing size
L:80-200mm W:40-70mm
Product capacity
80-200 bags/min
Source of air required
0.6-0.8Mpa,100L/min
Power
AC220V 50/60Hz,8KW
Size of the whole machine
L:4000mm,W:3000mm,H:2000mm
Machine net weight
About 2200kg
Advantages of Wet Wipe Making Machine:
The product packaging speed is fast, the performance parameters are reliable, and the qualification rate is high.
The metering scale adopts waterproof material, the operating system is relatively simple to fold, and the maintenance is convenient and quick.
The wet tissue making machine chooses a color sensor electronic screen, which is relatively simple and quick to operate.
The automatic wet wipe packaging machine adopts pre-made bags, with exquisite packaging and high sealing quality, which effectively improves the product grade.
High-end facilities and equipment, high-tech, easy to manage, while improving the company's image.
Technological innovation solves various commodity packaging problems under the appropriate budget.
The wet wipe making machine has the basic function of automatic identification. If the packaging bag is not opened or the packaging bag is incomplete, no material is discharged, and there is no heat seal, the packaging bag can be fully utilized again without consuming raw materials, saving customers the processing cost.
The wet tissue machine also has an alarm system: when the working standard pressure is abnormal or the heating tube fails, it will issue an alarm message.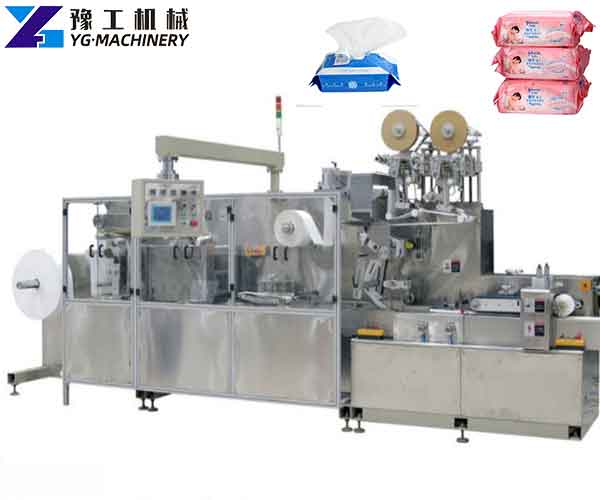 Barreled Wet Wipe Production Line
The barreled wet wipe making machine is a production line consisting of two machines, a slitting and rewinding machine, and a fully automatic filling machine. Slitting and rewinding machine 1. The working principle of the equipment: raw material feeding → cloth synchronous conveying → punching → slitting → automatic winding → finished product output. Put the prepared roll towels into the pre-made plastic cans and transfer them to the filling machine manually to realize automatic liquid filling and sealing, and the finished products are automatically output.
The barreled wet wipes filling and sealing machine is suitable for the production of various barreled wet wipes and other products. The whole machine adopts a programmable logic controller, pneumatic control elements, and intelligent digital display temperature control system. It has the characteristics of high sealing strength, good sealing, and low failure rate. It is the first choice for enterprises to automatically produce wet wipes.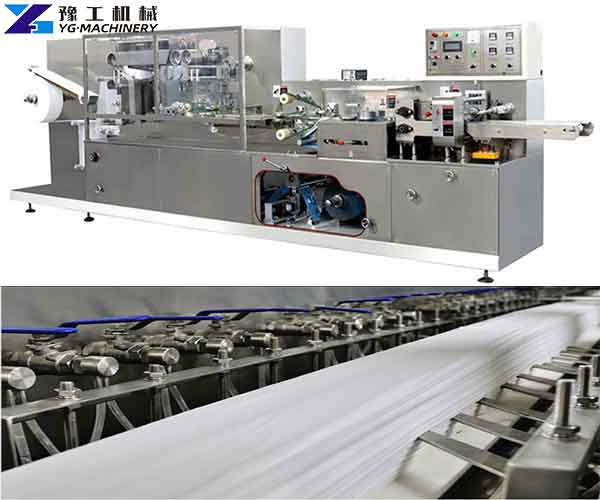 Wet Wipe Machine Configuration:
Control and drive system:
Simple touch screen operation, GOT operation interface, multi-axis servo control, servo precision transmission.
Automatic cloth feeding system
Automatically adjust the position of the cloth, keep synchronous and equidistant conveying, and avoid paper jams.
Feeding device
The turbine-driven connecting rod slides up and down to complete the feeding.
Slicing device
High-speed steel blades are used, and the blades can be replaced separately; the bottom knife is made of tungsten steel that will never rust.
Film cutting and bag feeding mechanism
Electronically control the length of the film, the roller drives the cutting knife to cut instantly, and the irregular sliding drives the suction cup to send the finished bag to the bag support position.
Bag-making device
Automatic adjustment of film tension and flexible control of bag-making length.
Wet wipe packaging machine
Longitudinal sealing technology, cylinder opening, and closing sealing device, domestic advanced horizontal sealing design, strong and beautiful sealing.
Quality control system
Comprehensively monitors the operation of the equipment, each motor can be started and stopped separately. The operation on the touch screen automatically prompts for troubleshooting and provides advanced safety protection.
Emergency stop button
4 emergency stop buttons are distributed in the longitudinal direction of the whole machine; when the emergency stop button is pressed, the mechanical part of the whole machine immediately stops moving.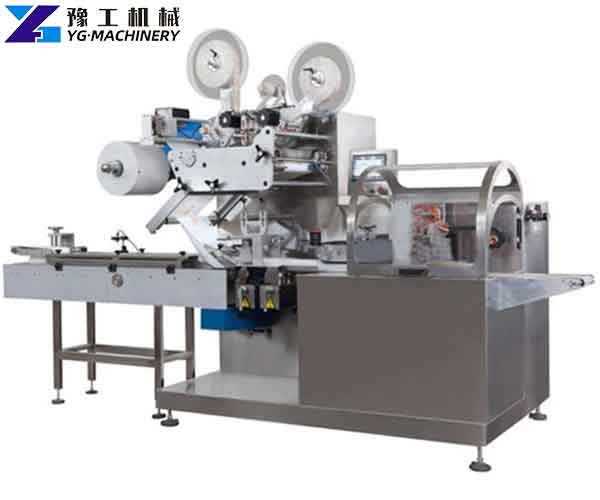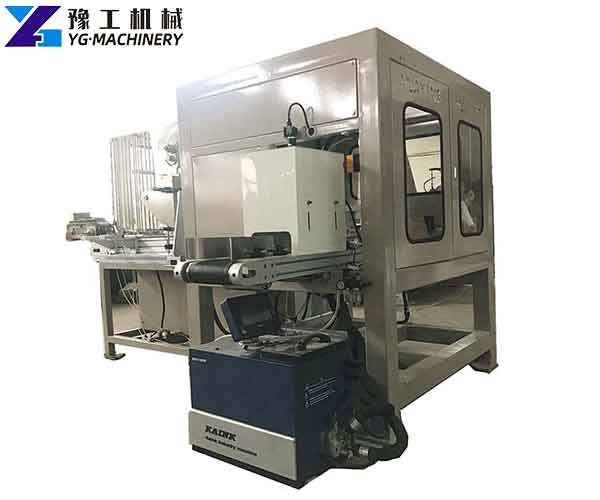 Wet Wipe Machine Manufacturer
YG Machinery can provide customization services according to customer requirements. The wet wipe machine runs smoothly at high speed, has stable performance, and simple operation. It is an ideal choice for customers. Have assured after-sales service. The products operated include a wet tissue machine, single-chip wet tissue-making machine, barreled wet wipes manufacturing machine, folding machine, slitting rewinder, wet wipe packaging machine, cross-cutting machine, etc.
YG Machinery has not only wet wipe production lines, but also disinfection door, industrial oxygen concentrators, medical oxygen concentrator,  glove making machines, mask-making machines, tissue paper-making machines, meltblown machines, UV trolley sterilizers, slitter rewinder machines, and so on. If you are looking for a wet wipe making machine for sale, please leave a message.