Mini spider crane for sale is a new type of high-altitude operation equipment, and the conventional lifting weight of the spider crane is 3 tons to 8 tons. The main purpose of the small spider crane is to help users complete high-altitude work to ensure the safety of construction personnel, such as outdoor maintenance and decoration, transport of some items, and so on. High-altitude operations are mainly based on safety. Now the equipment is also very popular. It can help customers solve problems and more and more customers use it. There are 3 tons, 5 tons, and 8 tons of common models of mini crawler cranes for sale in YG Machinery. If you need more weight lifting by the equipment, we also support customization service. Get in touch with us to get more info.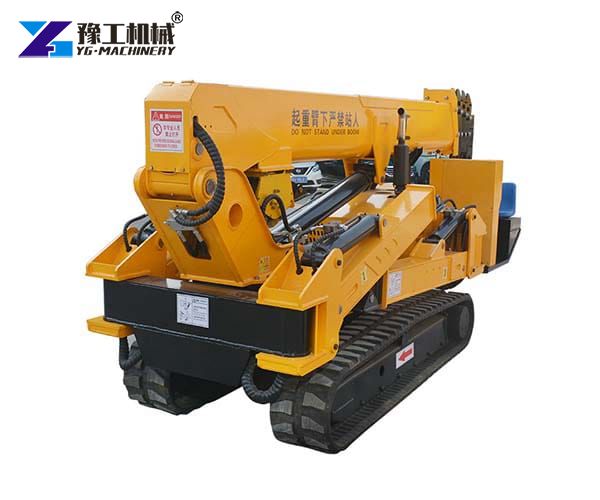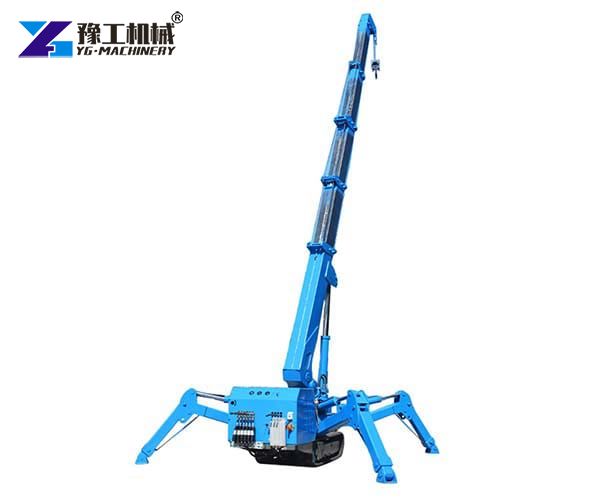 Parameters of 3 Tons, 5 Tons & 8 Tons Mini Spider Crane
Model
3T
5T
8T
Maximum working radius
8.83m*0.2t
14m*0.5t
16.5m
Maximum ground lift
9.2m*0.7t
16.8m
18m
Boom form
5-section boom, U-shaped structure
Hook lifting speed
0-8m/min
12m/min
12m/min
Walking ability
0-2.5km/h
0-2.5km/h
0-2.5km/h
Climbing ability
25°
Dimension
2.98*0.8*1.5m
5*1.5*1.9m
5*1.6*2.18m
Weight
2700kg
6200kg
7200kg
Characteristics of Small Spider Crane for Sale
The mini-tracked crane adopts a rubber crawler-type hydraulic working device, and the hoisting, telescopic, heaving and rotating devices are all hydraulically driven.
This whole equipment adopts the design and optimization concepts of three-dimensional modeling, finite element analysis, and whole-machine calculation.
It has the characteristics of good flexibility, easy operation, compact structure, light and flexible operation, reliable use, and convenient maintenance. This machine is suitable for working in narrow places where large cranes cannot be deployed.
The production range is 1.5 tons to 10 tons or more. Most mini spider crane for sale commonly used models includes 3 tons, 5 ton, and 8 tons. The model and configuration can be customized, with reasonable design, simple operation, and ease of learning and understanding.
If folded with four legs, the 3-ton spider crane can reach 80cm in width, which is convenient for moving into narrow spaces.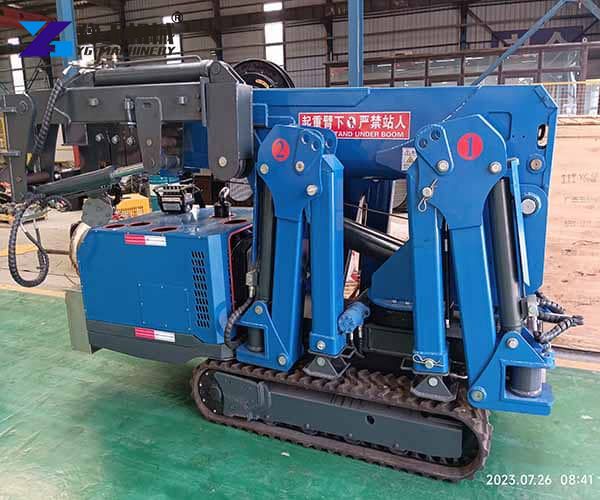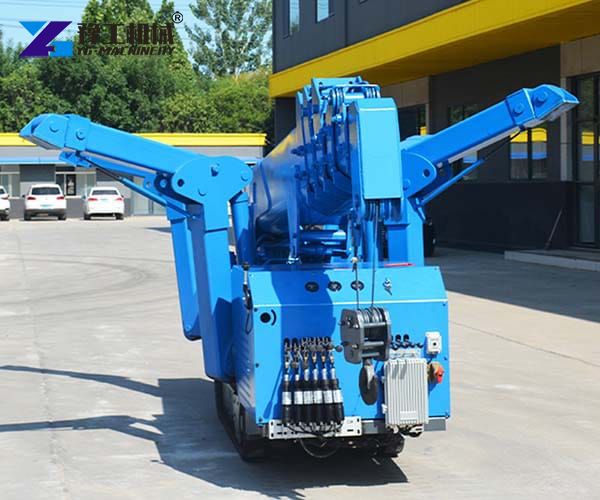 Advantages of Mini Crawler Spider Crane
The small spider crane was born to complete the glass installation work more efficiently. It is used indoors, in narrow spaces, and narrow passages are also widely used.
The trackedmini crane is small in size and easy to transport. It has a wide range of uses in curtain wall construction and can be used for vertical transportation, hoisting, etc. The lifting capacity is generally 3 tons to 8 tons, which can meet most of the hoisting needs of the construction site.
It has good stability, high-quality steel, large load capacity, good anti-skid performance, and a wide range of applications. It can walk freely on muddy roads and mountains.
The new mini spider crane for sale is the product of the new era, avoiding the complicated transportation problems of ordinary hydraulic cranes.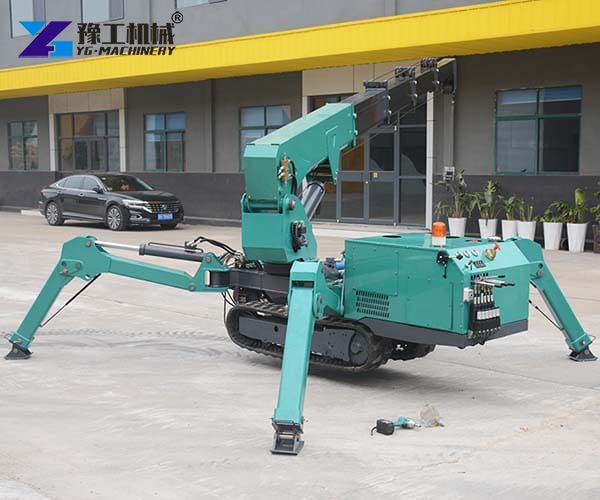 Wide Application Range of Small Spider Crane
The small tracked crawler crane has a wide range of uses in high-altitude work, plant construction, narrow work, building construction, etc. Small spider cranes are used for hoisting construction materials at airports, railway stations, dam construction sites, and other construction sites. The mini spider cranes for sale have been used in many municipal building construction operations by virtue of their flexibility and convenience in narrow spaces, and have helped construction workers solve a lot of problems. It can not only walk freely on the construction site but also enter the interior of a building and narrow spaces for lifting and hoisting operations, making construction more convenient.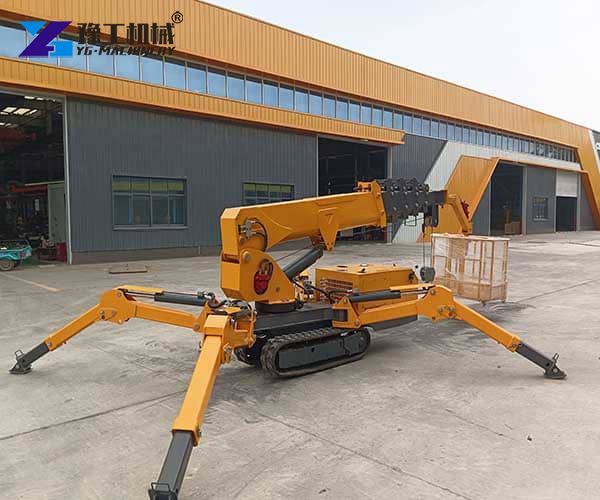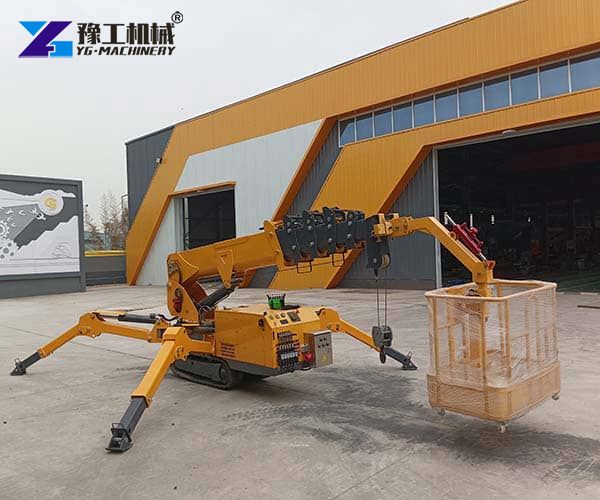 Why Mini Spider Crane is Popular in Decoration and Lifting?
Small tracked crawler crane adopts miniature design, small size, and strong lifting capacity. Use a wireless remote control or body switch to operate, and the operation is fast. Bid farewell to the era of relying on manpower to work in a narrow space, which not only improves work efficiency but also ensures work safety. There are places where ordinary cranes cannot enter. For roofs, indoors, shopping malls, or densely populated places, ordinary cranes cannot operate, but mini spider cranes can complete the work easily and freely. With a small and compact body design, the mini spider crane for sale can work indoors or in areas with limited space. The compact body of the spider crane can easily enter the construction site and reduce the cost of use.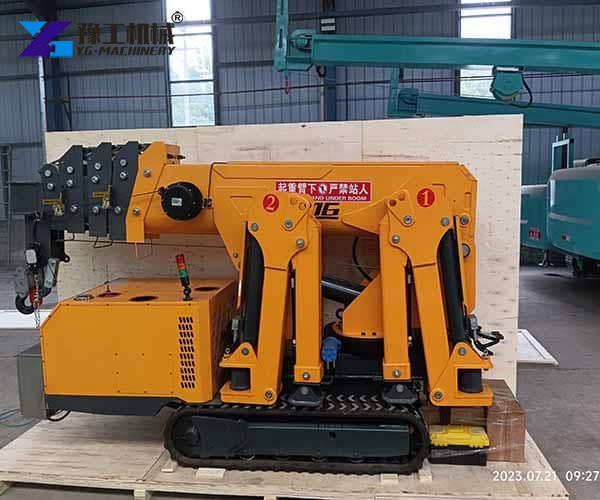 Mini Spider Crane Manufacturer and Supplier
A spider crane for sale is a small piece of equipment for lifting objects at height. Its four legs can fold, and the smallest model can reach 80cm in width, so it's convenient to enter narrow spaces. We also provide mini concrete pumps, fog cannon machines, mortar spraying machines, automatic sandblasting machines, concrete wall saws, concrete wire saw machines, hydraulic pile breakers, excavator metal shears, rebar straightening and cutting machines, water well drilling machines, hydraulic core drilling rigs, disposable paper cup making machines, PET bottle blowing machines, and so on. Contact us to learn more details.