Concrete splitter for sale in South Africa is usually used for rock splitting in construction projects, ores mining, house demolition, etc. A customer from South Africa wanted to purchase rock splitting equipment. He got in touch with us at the end of June. Our sale manager communicate with him and discussed the concrete splitter a lot. Comprehensively considering the quality guarantee, after-sale service, parameters, demands, and budget, he finally choose our company's machine, the hydraulic splitter for rock. We are glad to cooperate with him and looking forward to developing a friendly cooperating relationship with more customers. Contact us now for more info! Phone/Whatsapp/Wechat: +86 18337123872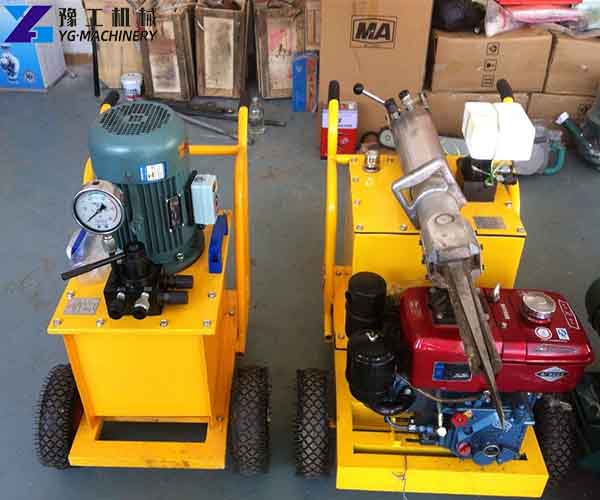 How Does a Hydraulic Splitter for Rock Work?
The hydraulic rock splitting machine is mainly composed of two parts, a pump station, and a splitter. Its splitter takes advantage of a wedge block design to generate a large splitting power in a narrow hole in the rock. The specific steps are as follows. First, drill a hole with a certain diameter and depth on the rock. Then insert the wedge block group into the hole. The center wedge between two reverse wedges moves forward through the hydraulic press to release numerous energy. Eventually, a crack appears on the rock in the expected direction in several seconds.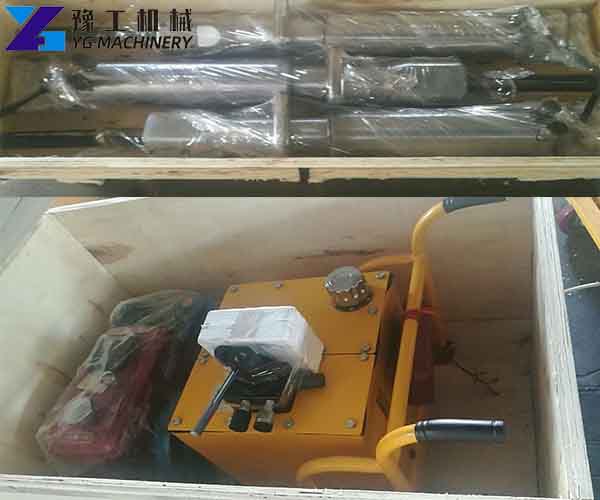 Concrete Splitter for Sale in South Africa Parameter
Model
YG-250
YG-350
YG-450
Wedge length
250mm
350mm
450mm
Piston stroke
9/220mm
Drilling depth
>500mm
>700mm
>900mm
Drilling diameter
42mm
46mm
46mm
Crack width
10-20mm
Splitting time
10-15s
Splitting force
500T
800T
800T
Weight
240kg
250kg
260kg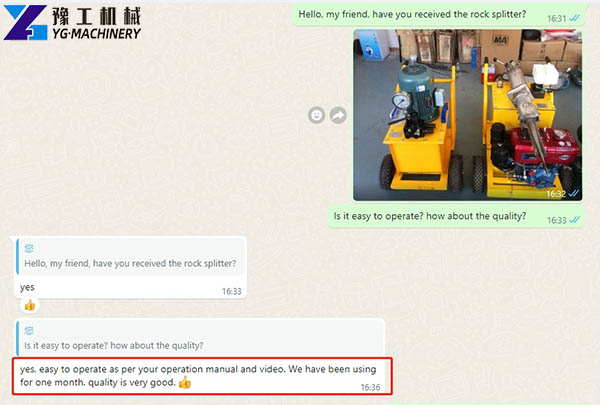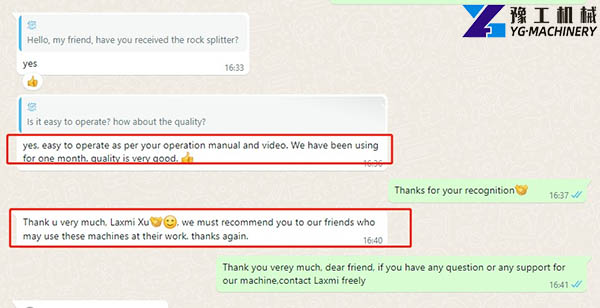 Why Is A Rock Splitter Machine Necessary?
Hydraulic concrete splitter is widely applied in quarrying, mining, construction work, demolition, chemical engineering, and rescue fields. The splitting equipment adopts advanced technology. To serve our customers by using fast, strong, and economical services.
Quarrying and mining industry
Mining of large blocks, division of large blocks, removal of large waste rocks, etc.
Construction projects
Tunnel excavation, subway tunnel excavation, artificial river excavation, artificial river, rock ditch excavation, etc.
Demolition works
Demolition of concrete and reinforced concrete, demolition of old buildings, demolition of old bridge piers, etc.
Chemical industry, smelting production, and overhaul projects
Smelting furnace overhaul, various furnace refractory brick demolition, construction projects, etc.
All kinds of emergency rescue and disaster relief
Clearance work such as earthquakes and mine disasters, rescue work for traffic accidents
How Do I Choose a Splitter for Sale in South Africa?
The hydraulic concrete splitter plays an important role in mining and quarrying, building demolition, breaking works, etc. We can choose the proper rock splitter machine from three aspects, the specifications, after-sale service, and budget. There are multiple models optional for the concrete splitter for sale in South Africa. Different types of hydraulic splitters for rock are suitable for different working conditions and requirements. Some rock splitting equipment suppliers will provide general after-sale service, including machine maintenance and parts changing. Besides, if you do not care about the price but quality and specification, choose the best one. If you have a budget, choose the one with high-cost performance.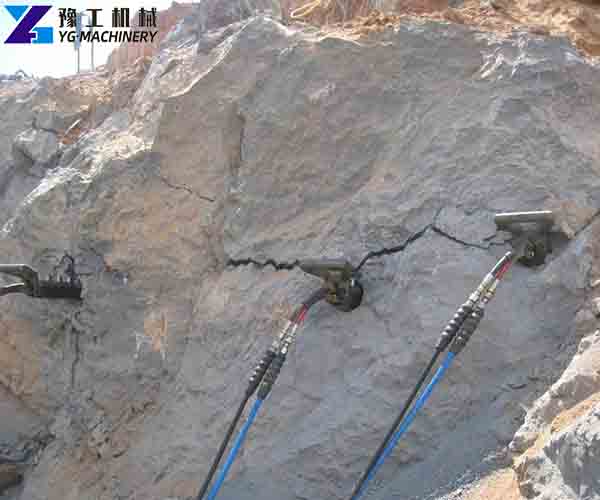 Other Construction Machines in YG Machinery
Our company also supply other related construction machines besides the hydraulic rock splitter, like hydraulic pile breaker, concrete wall saw, wire saw machine, mortar spraying machines, sandblasting machines, road marking machines, crack sealing machine, mini concrete machines, foam concrete machines,  fog cannon machines, shotcrete machines, etc. Welcome to get in touch with us to get more details. Phone/Whatsapp/Wechat: +86 18337123872