Everyone should be familiar with sanitary napkins, it is an absorbent material. It is an indispensable daily necessity for every girl every month, so it is in great demand. Today's sanitary napkins are produced with specialized equipment. Sanitary napkin machine manufacturers will introduce the main functions and characteristics of sanitary napkin production equipment.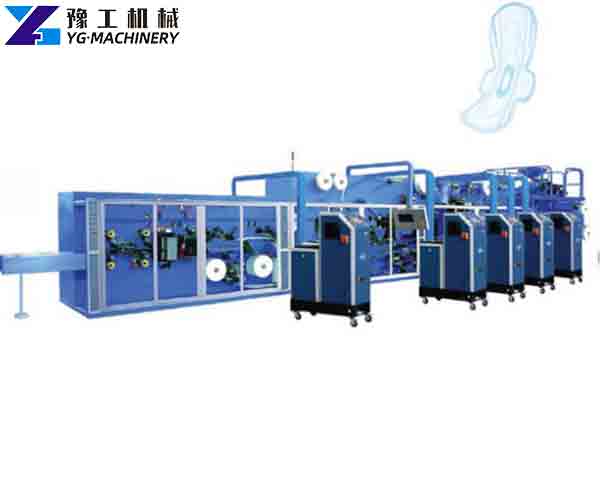 Parameter of Sanitary Napkin Making machine
| | |
| --- | --- |
| Overall Size | 30*6*3.5m |
| Machine Size | 26*2*3.5m |
| Design speed | 800pcs/min |
| Stable work speed | 600pcs/min |
| Pass percentage | 98% |
| Power Source | 380V, 50HZ |
| Machine capacity | 250KW |
| Air pressure | 0.6-0.8Mpa |
| Machine weight | 30T |
Classification of Sanitary Napkins:
Sanitary napkins can be divided into three categories from the surface layer materials: Dry mesh sanitary napkins refer to sanitary napkins made of various perforated films as raw materials for the surface layer of sanitary napkins. Mainly polyethylene, commonly known as PE film. Cotton sanitary napkins refer to sanitary napkins made of various non-woven materials on the surface of sanitary napkins. Which are mainly polypropylene, commonly known as PP. Pure cotton sanitary napkins refer to sanitary napkins made of pure cotton materials on the surface the main sanitary napkins are pure cotton non-woven fabrics.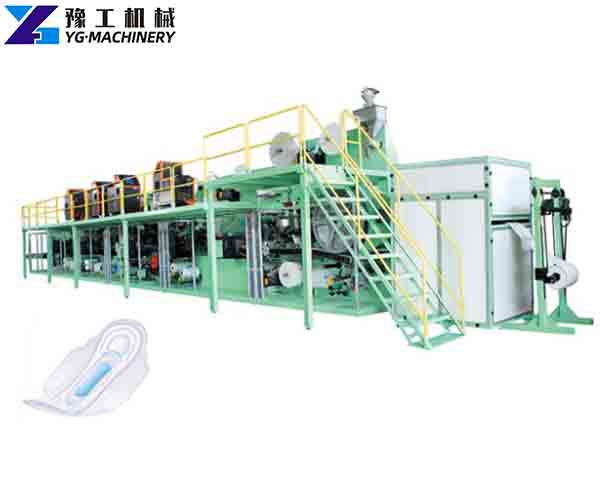 Features of Sanitary Napkin Machine:
Add polymer water-absorbing resin to the center of the cotton core, and the suction power should be stronger and safer.
The sanitary napkin machine can produce three-piece, three-dimensional protective enclosure, ultra-thin (silk thin) medicine chopped, and ordinary type without the need to replace equipment parts.
The sanitary napkin machine uses double knives, double molds and double guide grooves. It can produce two different lengths and different styles of strip packaging or quick and easy packaging sanitary napkins.
The sanitary napkin making machine can produce various types of sanitary napkins of cotton core type, ultra-thin type, three-piece type, three-dimensional protection, and medicine type.
Each operating component of the sanitary napkin production equipment is equipped with electric differential equipment to realize non-stop limit correction.
Synchronous belts, arc gears, and gearboxes are used for transmission parts, and brand bearings are used for key parts to achieve smooth transmission of equipment and prolong life. The 90-degree steering plan of the steering wheel is selected, which is high-speed, simple, and reliable.
The sanitary pads manufacturing machine is rotated backward and forwarded at equal distances, and defective products can be removed together, and the product packaging is neat.
The key components of the sanitary napkin making machine use air cylinder pressure, which is automatically separated when the machine stops, which ensures the qualified rate of the product.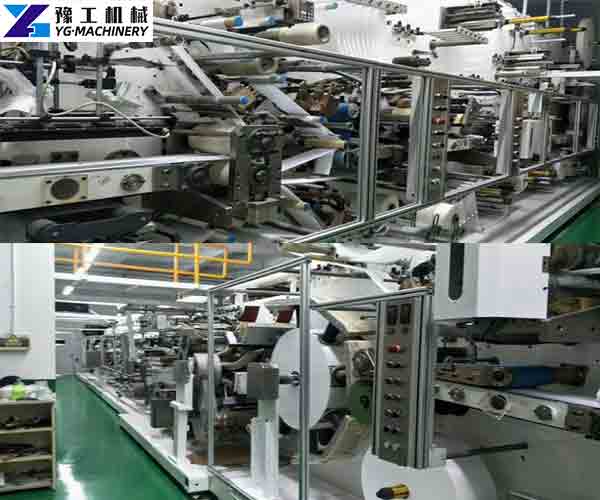 Sanitary Napkin Manufacturing Machine Functions and Equipment:
Full servo automatic control system, high degree of automation. Can be upgraded according to the reasonable requirements of customers.
Equipped with safety equipment such as a safety door and emergency stop.
Most parts are precisely processed by CNC machine tools.
All the transmission parts adopt imported bearings to realize smooth transmission of equipment. prolonged service life, high speed, simplicity, and reliability.
The operation interface uses industrial computers, humanized planning, and collects operation information at any time.
It can be equipped with a video inspection system to conduct online standard inspections, orientation inspections, missing inspections, stain scanning, etc.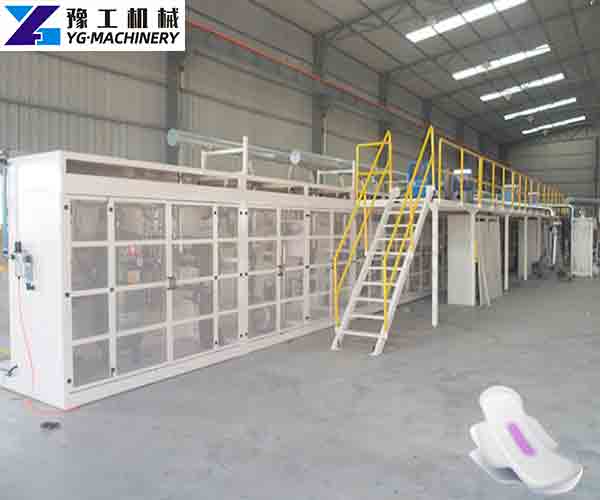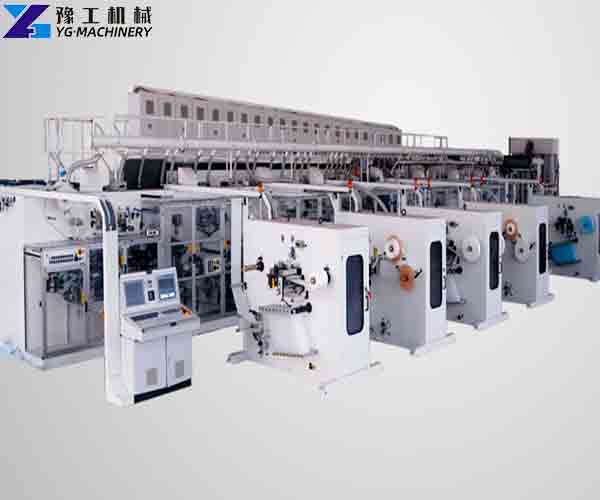 Sanitary Pads Making Machine Manufacturers
YG Machinery is a mechanical equipment manufacturer integrating sanitary products, epidemic prevention equipment manufacturing, and disinfection. For example tissue paper manufacturing machine. sanitary pads manufacturing machine. face mask making machine. glove making machine.  wet wipe making machine. tissue making machine. packaging machine for sale. medical oxygen generator. melt blown nonwoven fabric. and so on. YG Machinery can provide you with competitive product prices.