Mini concrete pump for sale is one of the construction equipment that relies on pressure to transport concrete through pipes. It is equipped with special pipes, which can continuously convey the concrete horizontally and vertically. The mini concrete pump machine is an ideal one among the existing concrete conveying equipment. The small concrete pump is suitable for the transportation of fine stone concrete in super high-rise buildings, and the pouring of structural columns in building floor groups. The stationary concrete pump is mainly designed for some special construction conditions or narrow space construction conditions, which are limited by the size of the equipment and cause construction inconvenience or difficulty in completing the construction progress. It consists of a pump body and a delivery pipe and can be equipped with different pipe fittings for different construction environments. Get in touch with us for more info. Phone/Whatsapp/Wechat: +86 18337123872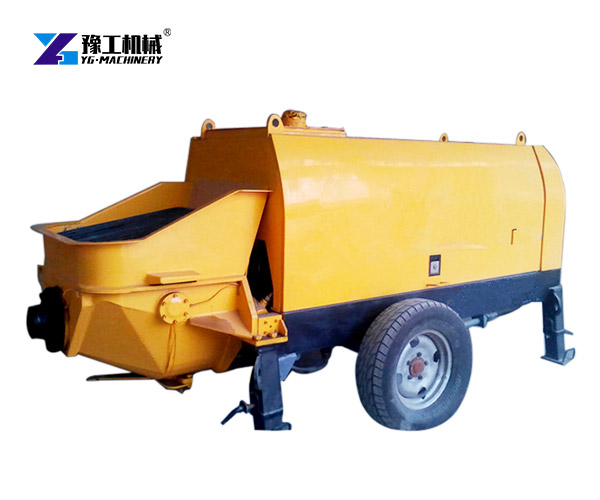 Parameters of Small Concrete Pump in YG Machinery
Model
YG-10
YG-20
YG-30
YG-40
YG-50
YG-60
Vertical conveying distance
20-30m
40-50m
20-60m
30-130m
30-150m

30-150m
Horizontal conveying distance
80-100m

80-100m
50-150m
50-350m

50-500m

50-500m

Efficiency
8-10m³/h
8-12m³/h
13-15m³/h
20-25m³/h
30-35m³/h
55-60m³/h
Power
15kw
22kw
37kw
45kw
55kw
90kw
Diesel type available
Dimension
2500*1000*1500mm
3200*1480*1600mm
3800*1600*1800mm
3880*1650*1680mm
4300*1600*1800mm
4300*1600*1800mm
Weight
600kg
900kg
1500-2000kg
2200kg
2200kg
3500kg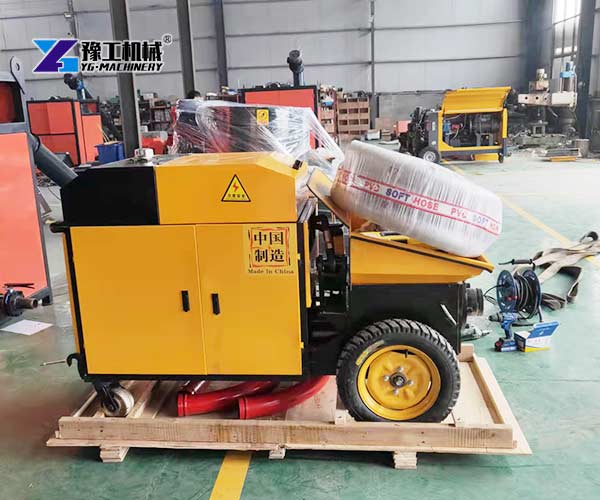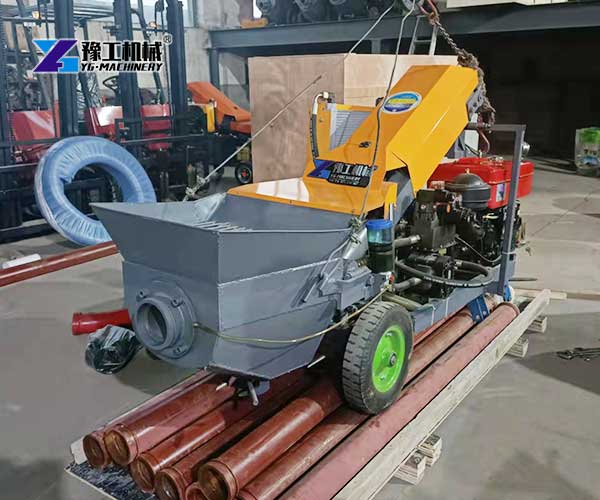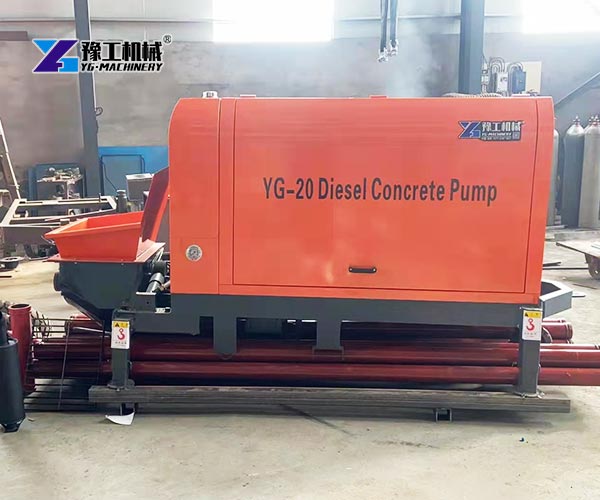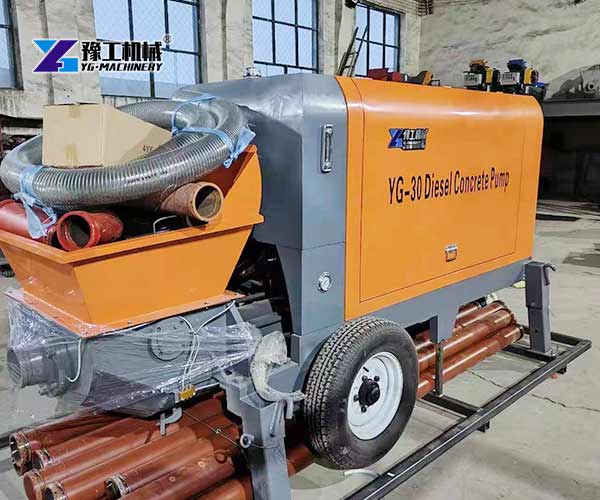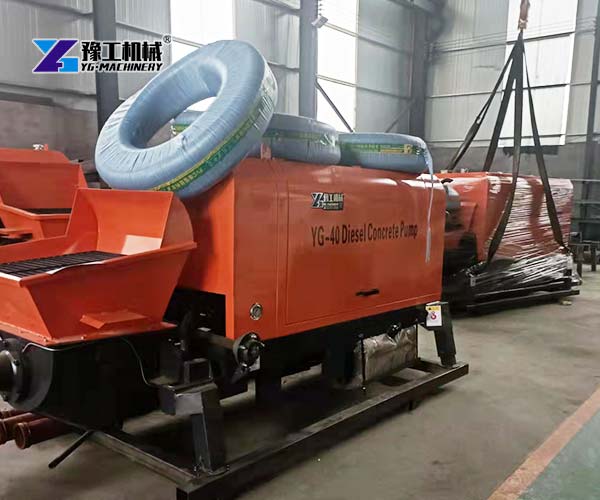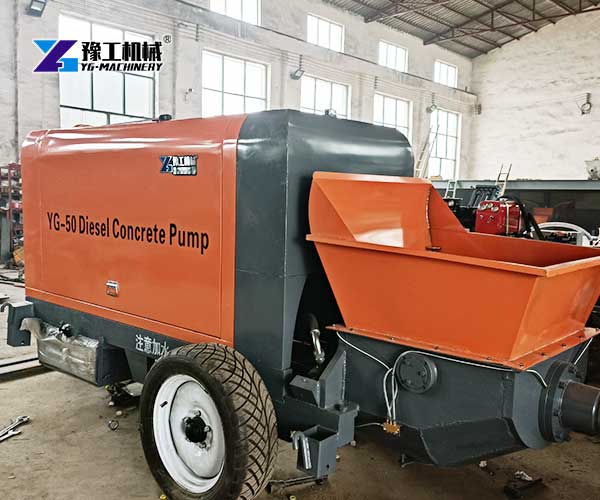 Advantages of the Mini Concrete Pump for Sale
Quick pouring, efficient and stable, power strong, wear-resistant, long life
Adopt enlarge the hopper, discharge mouth, pressure gauge, run-falt tires, rugged body
Widely applied in construction sites, house construction, wall pouring, subway tunnel, reservoir dam, road hardening, etc.

wide applications of the concrete conveying machine

Equipped with a control panel, convenient control, clear at a glance, simple operation, and easy to use
The outlet design is reasonable, efficient work, safe and durable, the discharge is not easy to be blocked
The stationary concrete pump uses PLC control for the steering of the hydraulic system, and the electrical control part is simple and reliable.
The distribution valve in the form of an S tube meets the pumping of small aggregate concrete and mortar
The main oil pump adopts a deformation plunger pump, which has high efficiency and strong pressure.
Hydraulic system adopts independent three-loop control, high-reliability glasses plate, cutting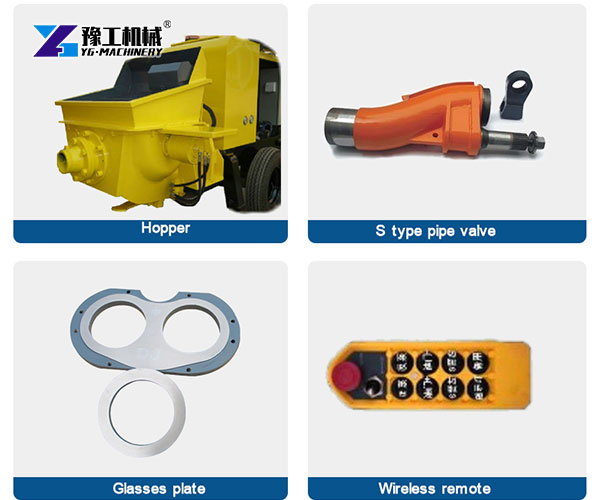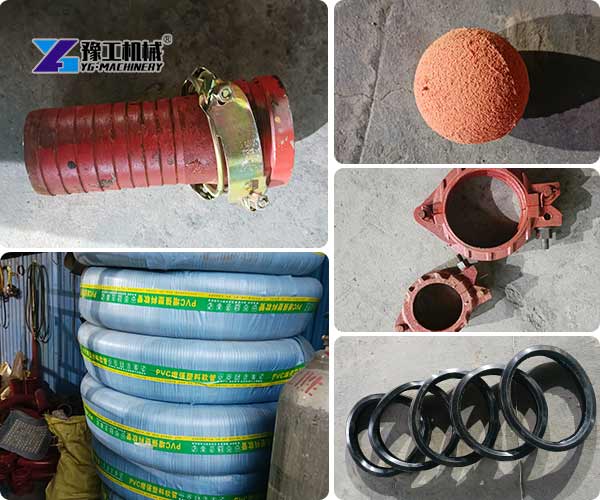 Applications of the Mini Concrete Conveying Machine
This mini concrete pump for sale is widely used in the transportation of floor heating, heat-insulating lightweight foamed cement, mortar, refractory and thermal insulation materials, concrete scale transportation in various engineering constructions, as well as gray mortar and fine stone concrete transportation in high-rise buildings, secondary structural column filling, various pressure grouting in reservoirs, hydropower stations, ports and docks, foundation treatment, weak foundation, reinforcement grouting, backfilling grouting bolt support in tunnels, subways, mine construction, fine stone concrete in floor heating projects large area and high-efficiency construction of filling layer or mortar filling layer.
How to Choose the Small Concrete Pump Machine?
People can choose the suitable mini concrete pump for sale from the following aspects. Firstly, confirm the conveying height and distance. Each model has its own correspondent conveying range. Secondly, how about the gravel sizes? If the stone sizes are not more than 1.5mm, the YG-10 can meet the need. For the conveying height of not more than 30m, and the customer does not need large equipment, the YG-20 or YG-30 is a good choice. Thirdly, does it have a requirement about conveying volume per hour? If you have specific needs, please get in touch with us. Phone/Whatsapp/Wechat: +86 18337123872 Email: admin@ygbuildingpro.com We can customize the equipment according to your actual requirements. Besides, there are stationary concrete pump types and mobile concrete pump types available. You can choose based on your actual situation.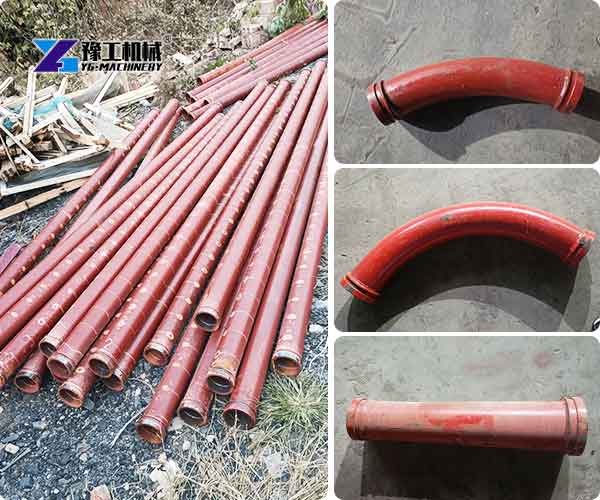 Three Tips for Attention When Using the Mini Concrete Pump
Note that the added concrete should meet the pumping requirements, and clean up the large aggregate in time to prevent large aggregates from entering the hopper in case of causing clogging.
During the pumping process, the material level should be kept above the axis of the S tube to avoid suction and pumping without material.
If the pumping process is suspended for a long time, the pump must be turned on every 10-15 minutes, with 2-3 strokes for the reverse pump and 2-3 strokes for the forward pump. Try not to stop the machine for too long to avoid blockage.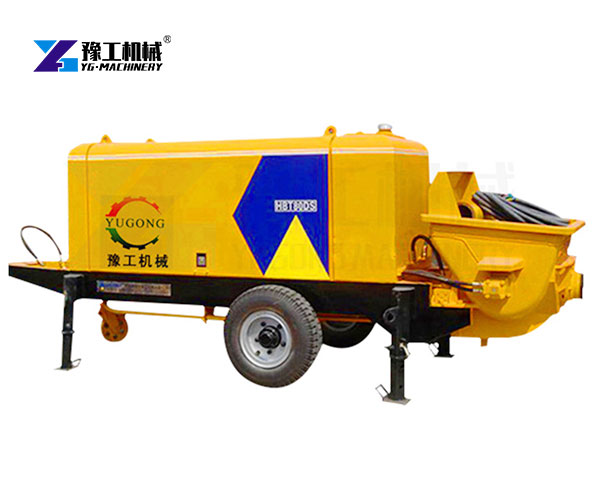 Mini Concrete Mixing and Conveying Pump for Sale
The mixing and conveying integrated machine for concrete use pipes pumping to transport concrete to the floor that needs to be poured, which solves the problems of continuity and safety of pumping. The concrete mixing and conveying machine adopts a fully automatic construction operating system, which is a mobile mixing concrete conveying pump integrating feeding, mixing, and high-pressure pumping. It consists of a mini concrete mixer and a small concrete pump, so it can mix on-site and pump continuously. And the construction efficiency is 4-6 times that of traditional stationary mixers. The equipment applies to road pouring, roof pouring, water conservancy and hydropower projects, township, and new rural construction, highway, railway, tunnel, and other road construction. It has the characteristics of convenient movement, simple operation, not limited by the narrow construction space and large pouring volume.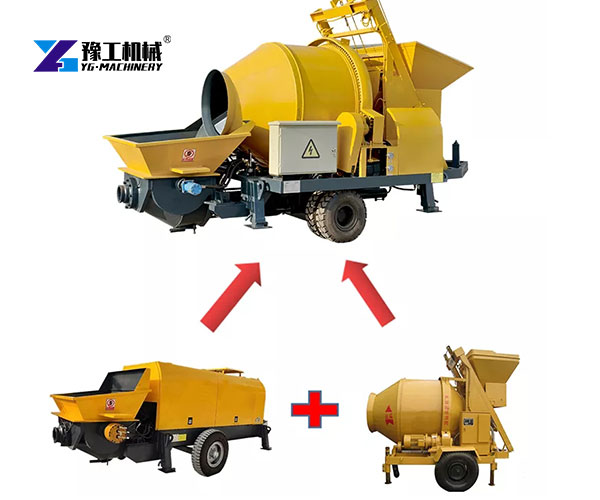 Technical Data of the Integrated Small Concrete Mixer Pump
| | |
| --- | --- |
| Model | YG40-350 |
| Conveying height | 50m |
| Horizontal conveying distance | 100-150m |
| Conveying volume | 20-30m³/h |
| Conveying pipe diameter | 125mm |
| Aggregate diameter | 0.5-4mm |
| Power | 45kw |
| Max. pressure | 20mpa |
| Dimension | 6100*2000*2700mm |
| Weight | 5500kg |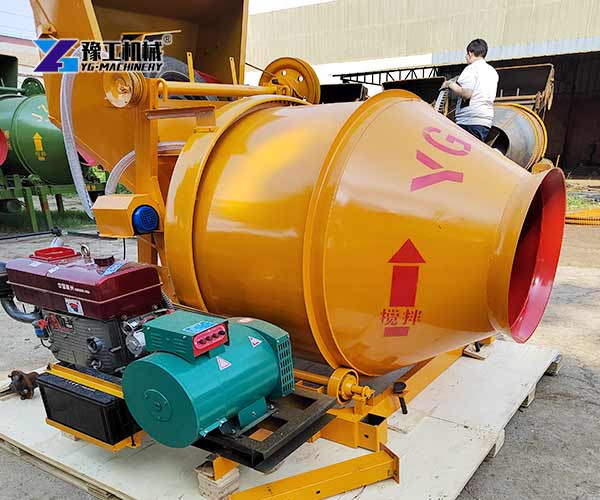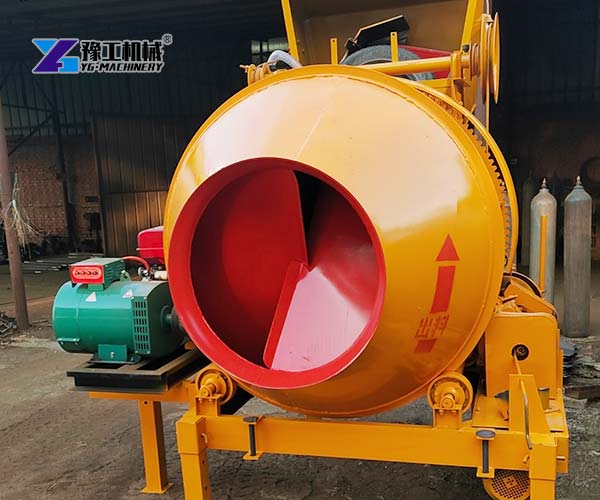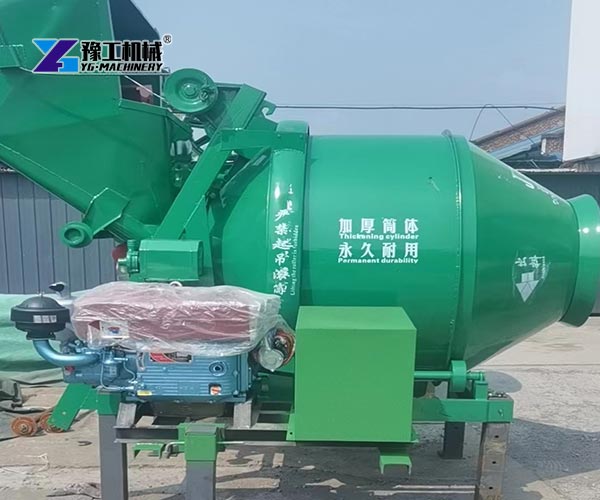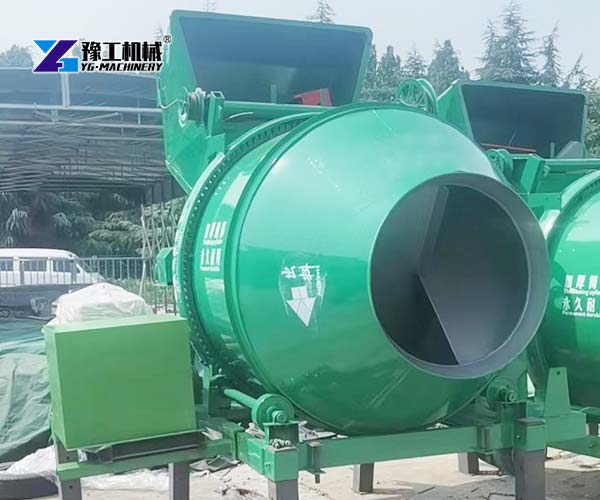 Mini Concrete Pump Machine Manufacturer – YG Machinery
There are lots of mini concrete machines for sale in YG Machinery, people can choose the suitable models according to their actual needs. The small concrete pump is a hot product that has been exported to more than 20 countries in recent two years. YG Machinery is a professional engineering equipment manufacturer and supplier with more than 18 years. Our company also provides other construction machines like mortar spraying machines, portable sandblasting machines, foam concrete machines, shotcrete machines, floor shot blasters, etc. If you are looking for these machines, welcome to contact us to get more details. Phone/Whatsapp/Wechat: +86 18337123872