A portable sandblasting machine was sold to Philippines this week. The Philippine customer looked for the equipment on our website and sent an inquiry about it. Our sales manager get in touch with him at once. After several days of communication, the customer gradually had a clear requirement for the sandblasting capacity. Finally, he bought the YG-800 type and an air compressor based on his needs and budget. If you are looking for sandblasting machines, welcome to get in touch with us. And we will reply to you as soon as possible. Phone/Whatsapp/Wechat: +86 18337123872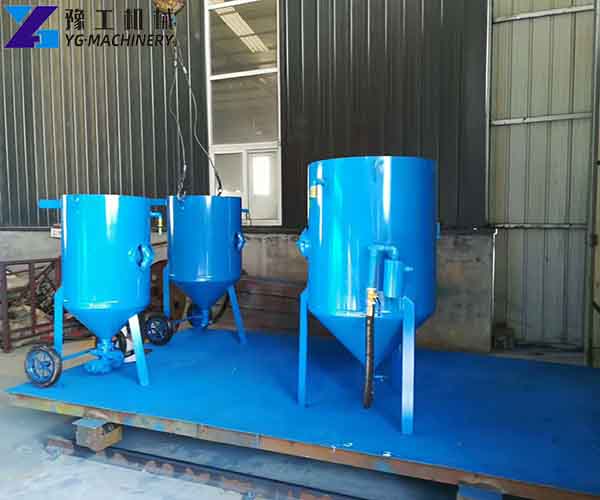 Parameter of Portable Sandblasting Equipment
Model
YG-600
YG-700
YG-800
YG-1000
Volume
0.26m3
0.3m3
0.6m3
1m3
Height
1150mm
1250mm
1700mm
2000mm
Sandblasting capacity
5-10m3/h
6-11m3/h
10-12m3/h
10-30m3/h
Air source configuration
3m2/min
3m2/min
3.5m2/min
4m2/min
Control system
Air control
Diameter
600mm
700mm
800mm
1000mm
Portable Sandblasting Machine Sold to Philippines
There are a lot of models of mobile sandblasting equipment for sale in YG Machinery, including YG-600, YG-700, YG-800, YG-1000, etc. Electric types and diesel types are available. The small sand blasting machine is popular in many countries for metal surface processing. In recent months, our sandblasting machine has been sold to the Philippines, Angola, Chile, Bolivia, Thailand, Russia, etc. We have rich experience in export business. It's a good idea to cooperate with us.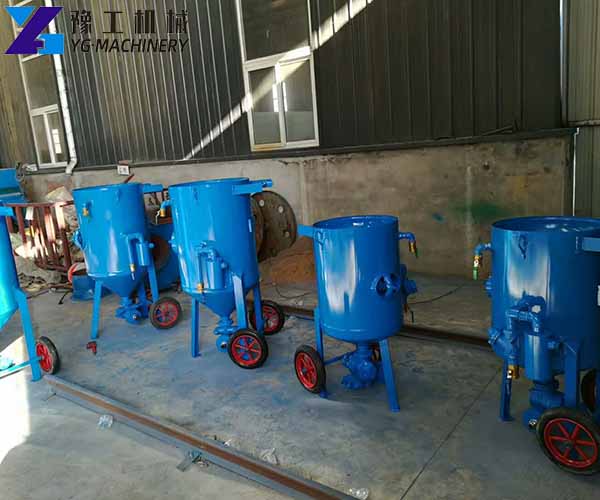 Attention Points for Operation of Portable Sandblasting Machine
Wear protective clothing and a transparent glass mask to prevent splashing injury.
Check out the all connecting joints of pipes before starting the sand blasting machine.
Do not turn on the sandblasting gun control switch when the gun is not fixed or held.
Keep proper sandblasting distance and angle, and move it at a constant speed.
Do not blast sand in the same place of the workpiece for a long time in case of damage it size and shape.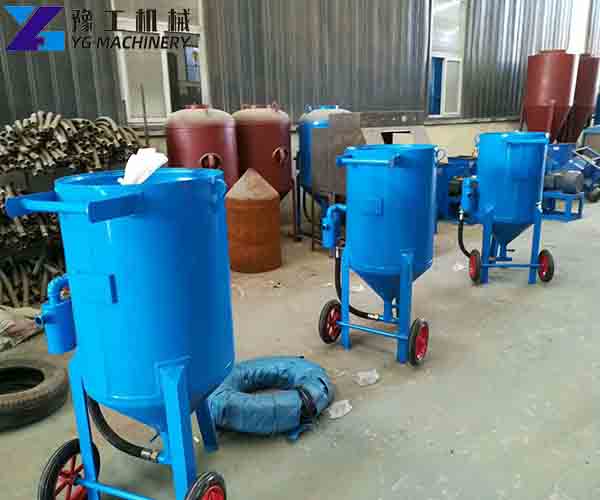 Common Faults and Troubleshooting Methods
Faults
Possible reasons
Troubleshooting methods
1. The cleaning efficiency is significantly reduced
①The sand output of the gun is too much or too low;

②The sandblasting hose is blocked;

③The abrasive is severely ;broken;

④The nozzle is seriously worn;

①Adjust the sand volume adjustment handle to the appropriate sand output;

②Find out the blockage and remove it;

③Replace abrasive;

④Replace worn parts;

2. Sandblasting is not smoothly
①The sand access is blocked;

②The sand valve is opened too small

①Find the blockage and remove it;

②Adjust to the appropriate sand output;

3. Leakage at the seal of the feeding port
①The sealing circles break;

Replace correspondent parts
Other Construction Machines in YG Machinery
Our company also provide other machines except for mobile sandblasting machine for sale in the Philippines. For instance, we supply mortar spraying machines, shotcrete machine, fog cannon machine, mini concrete pump, rebar derusting machine, steel pipe shrinking machine, crack sealing machine, road marking machine, concrete wall saw, rock splitter machine, hydraulic pile breaker,  and so on. If you are interested in this equipment, please get in touch with us by Email: admin@ygbuildingpro.com or by Phone/Whatsapp/Wechat: +86 18337123872