Mortar spraying machines can be divided into screw type cement plaster spray machines and plunger-type mortar spraying machines according to the type of work. A concrete spraying machine is a professional spraying machine that is specially used for spraying mortar. It is suitable for spraying mortar with mortar particles below 4-5mm. Furthermore, the cement spraying machine mainly applies to the construction industry for exterior wall plastering mortar spraying, exterior wall insulation material mortar spraying, mortar roughening, refractory spraying, large area fireproofing material spraying, waterproofing agent spraying, and other projects.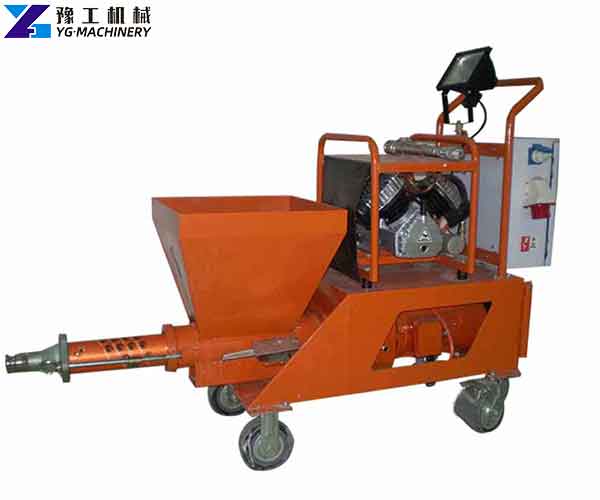 Parameter of Concrete Spraying Machine
| | | | |
| --- | --- | --- | --- |
| Model | YG-PZ3 | YG-PZ6 | YG-PZ7 |
| Product capacity | 3m³/h | 6m³/h | 7m³/h |
| Maximum delivery distance | 200m | 200m | 200m |
| Practical material water-cement ratio | <0.4 | <0.4 | <0.4 |
| Biggest bone grain size of fire | 20mm | 20mm | 20mm |
| Rotor block | 350mm | 440mm | 480mm |
| Working pressure | 0.4-0.6mpa | 0.4-0.6mpa | 0.4-0.6mpa |
| Blast consumption | 3-4m³/h | 6-8m³/h | 7-8m³/h |
| Motor power | 3kw | 5.5kw | 7.5kw |
| Dimension | 1040*550*950 | 1300*705*1300 | 1600*750*1200 |
| Weight | 260kg | 600kg | 700kg |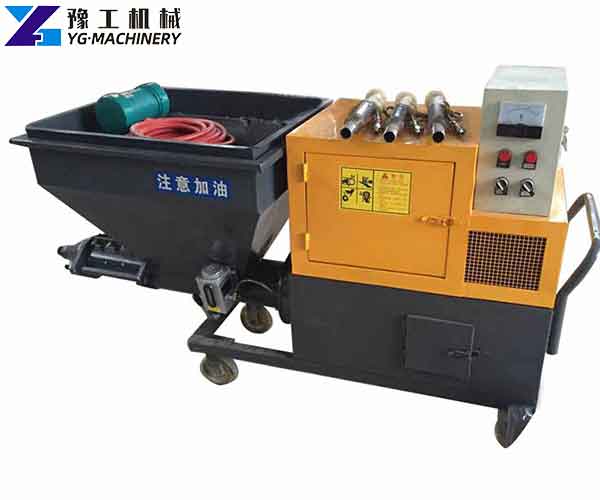 Application of Mortar Spraying Machine:
Mortar spraying machine is suitable for indoor and outdoor wall spraying, cement mortar grouting, bridge grouting, and waterproof surface spraying, fireproof spraying, ceiling spraying, wall spraying, paint spraying, garden spraying, relief paint spraying, sound-absorbing material spraying, waterproof plugging, waterproof, and leak-proof, etc. It is light and convenient for the construction of bridges, dams, hillsides, basements, tunnels, and housing factories. The concrete spraying machine can be used not only for spraying but also for pouring mortar.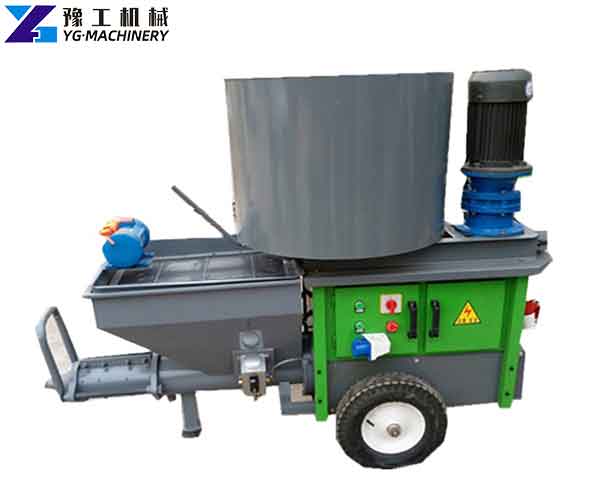 Features of Cement Mortar Spraying Machine:
The cement sprayer machine has fast spraying speed, high work efficiency, low labor intensity, small size. And it is equipped with a walking wheels under the body, which is convenient for on-site movement. Besides, the equipment has a low cost of accessories and simple maintenance. The connection between the spray gun and the feeding pipe can rotate for easy operation.
People can operate it easily and skillfully because of its simple operation and maintenance. Scaffolding and moving device are not required. The equipment can sprays freely, shortening the construction period, improving the progress, and saving the cost of the frame material.
It can not only apply to the construction of internal walls but also to the construction of external walls, with a small investment, quick return on costs, and large returns.
The project quality is guaranteed. The spraying machine introduced by our company has a large flow and high pressure (up to 3mpa), and the adhesion and density of the sprayed materials on the wall far exceed the national standards.
One machine with multiple functions can spray mortar, fireproof paint, fireproof paint, putty paint, ordinary paint, no effects on regional and environmental conditions and the shape of the spray surface.
Classification of Cement Spraying Machine:
YG wall mortar plaster mainly includes screw mortar spraying machines, automatic mixing mortar spraying machines, and plunger mortar spraying machines.
Screw Mortar Spraying Machine
A screw mortar spraying machine is a kind of machine that disperses the mortar into a mist-like particles and sprays  them onto the surface of the wall. The spraying material go into the front of the machine through a spiral part so as to spray onto the surface of the object by high-pressure gas.
The structure and working principles of the new mixing and spraying machine: stir material and discharge it through the distribution mixer, supplying material to the hopper of the spraying machine through the vibrating screen, conveying to the high pressure chamber by screw, and rotating by the high pressure rotor and stator. At high pressure, the mortar is sent to the nozzle through the conveying pipe. And high pressure nozzle sprays the material on the wall. The cement sprayer machine, easy to use, can greatly reduce the cost, time, and operation. Besides, it can be used for indoor and outdoor wall spraying.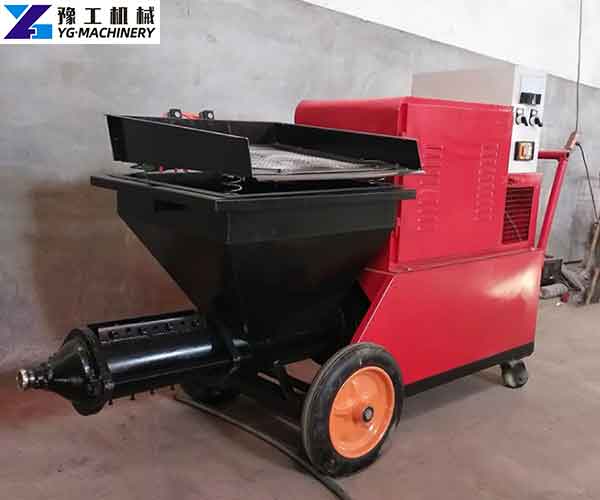 Plunger Mortar Sprayer Machine
The plunger mortar sprayer machine directly pressurizes the paint materials by a high-pressure plug pump, which can create high pressure. After passing through the nozzle, materials will be divided into many small points so that they are evenly sprayed on the surface of the object. This spraying mortar is relatively uniform, has no graininess, relatively dry. It adopts screw conveying and can output uniform flow materials, which overcomes the defects of uneven flow of existing piston pump or plunger pump. The transmission is simple and compact in structure, the replacement is quick and convenient, the maintenance is easy and the cost is low. Save a lot of time and increase work efficiency.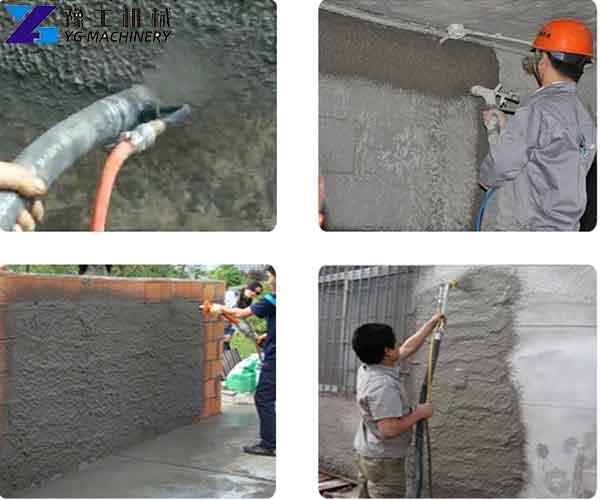 Matters Needing Attention When Concrete Spraying Machine:
Mortar spraying equipment can be used for mixing and spraying concrete. When mixing concrete, pay attention to the mixing time and the order of feeding. Attention should be paid to spraying operations: Spraying distance, spray gun operating speed, the overlap of spray patterns, and paint viscosity.
When working with a large spray gun, the spraying distance should be 20~30 cm. While working with a small spray gun, 15-25cm is appropriate for the spraying distance. If the distance is too close, the spray will be thick, and too far will be thin.
The running speed of the spray gun should keep at a constant speed generally, 30/60 cm/sec. Too slow is easy to cause sagging, and too fast is easy to leak.
It is necessary to accumulate experience in daily work for the overlap of spray patterns to maximize the spraying effect.
The temperature of the sprayed coating should be controlled at 20-30°C, otherwise, it will affect the viscosity of the coating and thus affect the spraying effect.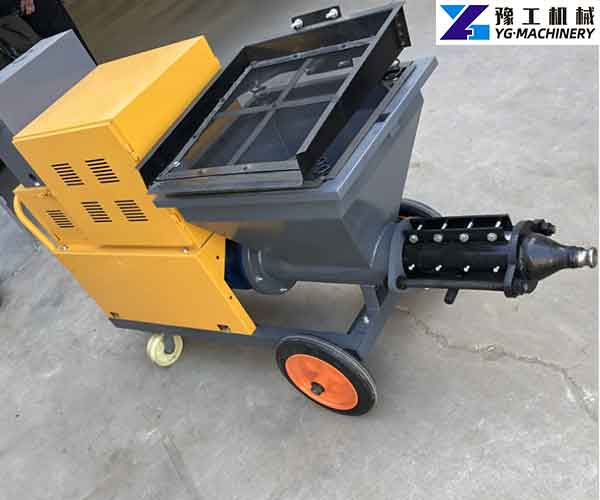 Mortar Spraying Machine Manufacturer
Henan YG Machinery Co., Ltd. is a reliable machinery manufacturer. Not only is the cement plaster spray machine sold, but you can also choose an automatic sandblasting machine, dust suppression cannon, small concrete pump, shotcrete machine for sale, concrete foam generator, hydraulic rock splitter, concrete breaker machine, cement floor grinder, hydroseeding equipment, etc. For more product information or cement sprayer machine price, you can send an email to admin@ygbuildingpro.com or add my WhatsApp+8613613856800, I will answer your questions as soon as possible.