The current COVID-19 epidemic has led to the need to disinfect and check body temperature when entering and exiting shopping malls, office buildings, and all densely populated venues. Due to the characteristics of the virus, disinfection door for sale is set up at the entrances of public places to perform simple disinfection. And temperature testing of passing personnel, reducing the tedious work of manual inspections.
The intelligent atomization disinfection door can directly perform dead-angle disinfection and temperature detection of passing personnel. Which will not cause the phenomenon of gathering of people and reduce the risk of infection in the area. If you are looking for disinfection door manufacturer, please leave your message.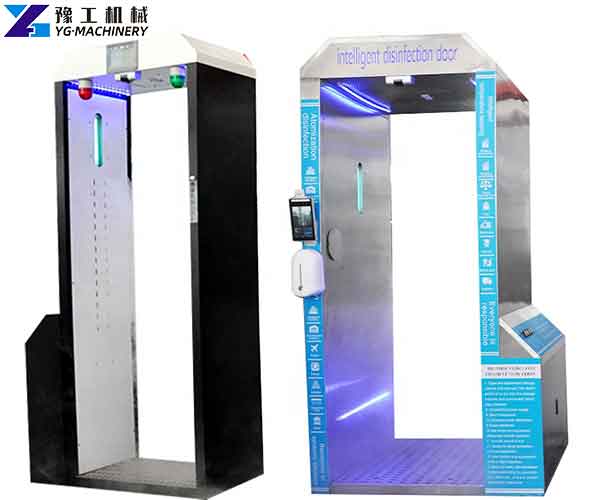 Parameter of Intelligent Disinfection Door:
Model
Regular
Upgraded
Advanced

Antivirus system

Auto-induction mist disinfection
Auto-induction mist disinfection
Auto-induction mist disinfection
Ultrasonic antivirus
Ultrasonic antivirus
Ultrasonic antivirus
Ultraviolet antivirus
Ultraviolet antivirus
Ultraviolet antivirus

Temperature detection system

__

Palm temperature detection
Face recognition temperature detection

__

High-temperature alarm system
High-temperature alarm system
Dimension

2.45*1.24*0.86m

Weight

150kg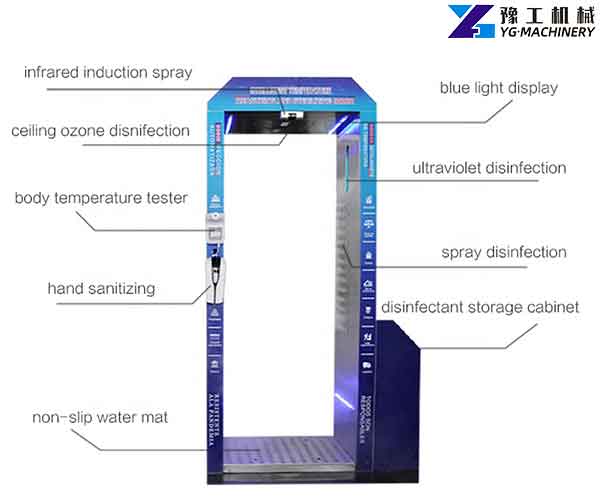 Intelligent Atomization Disinfection Door
YG Machinery has a mobile anti-epidemic temperature measurement and disinfection door for sale with face recognition. The atomization disinfection door is equipped with a microwave moving object induction sensor and a high-precision infrared sensor. Which can automatically sense the entry of people, perform spray disinfection and temperature measurement with face recognition. The detailed layout of carpets containing disinfectants and induction hand disinfectants directly ensures the multi-faceted disinfection of personnel.
In the event of abnormal body temperature, intelligent disinfection door will automatically give voice and light alarms. In addition, the intelligent atomization disinfection door uses food-grade disinfection products. Which directly guarantees the application safety of personnel entering and exiting. Click here you can check our disinfection door for sale.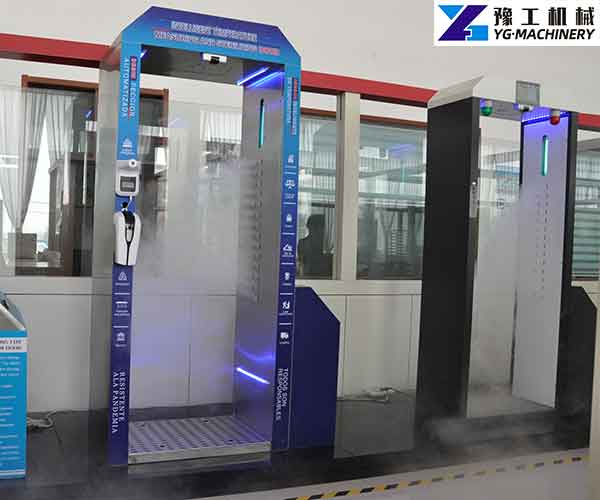 Purpose of Disinfection Door for sale:
In order to effectively control the spread of the virus, reduce the workload of epidemic prevention workers, and better prevent and control the epidemic. Disinfection doors are usually installed in public places such as airports, railway stations, and other places with high traffic volumes. School entrance, shopping mall entrance, office building entrance, community entrance. Hotel and catering industry, and other public places where there is a large flow of people. It is used to measure and inspect the people passing back and forth, as well as disinfection. YG has two types of disinfection door and disinfection channel, which can meet the needs of different people. Which one do you need?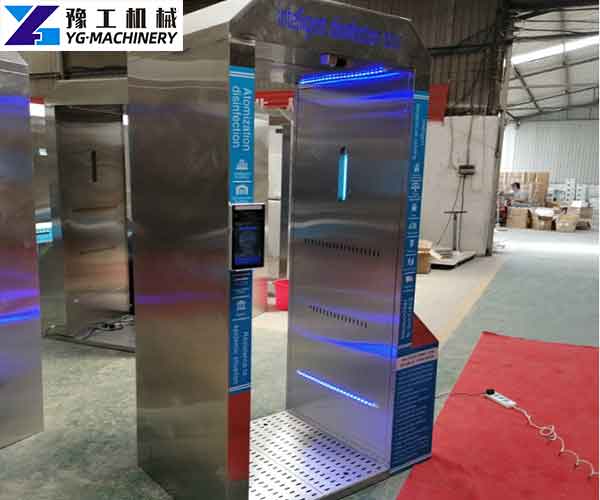 Advantages of Disinfection Door for Sale:
Equipped with an infrared thermal sensor, which can sense the direction of personnel entering and exiting the field. When personnel enters the disinfection room, the equipment will automatically turn on and work, saving time and effort.
The mist particles of ultrasonic atomization are small, and there will be no water droplets, which will cause discomfort to personnel.
A large amount of mist. The sprayer is equipped with 40 ultrasonic atomization nozzles and a high-power fan to make the spray volume of the mist generator reach 20-24L/H.
The sensor has no blind spots: the automatic sensing distance is up to 3-5 meters, and it can cover the upper, middle, and lower parts of the home area without any blind spots. People can enter the site only after they pass the disinfection door to check their body temperature and disinfect.
The equipment adopts fully automated operation and can be started after being connected to 220V AC, without the need for professionals to debug again, the operation is simple and convenient, economical, and environmentally friendly.
The overall stainless steel material is resistant to corrosion and deformation and can be moved lightly.
Plasma, ultraviolet, light wave disinfection multiple disinfection, disinfection is more thorough.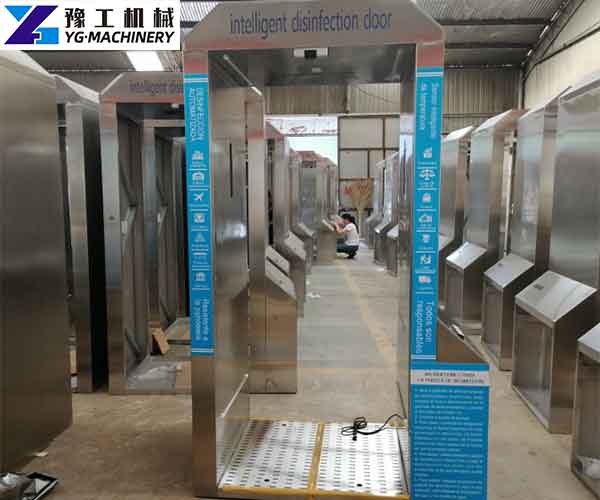 Product Features of Temperature Measurement Disinfection Door for Sale:
Automatic induction spray function. The equipment is equipped with a microwave moving object induction sensor. When someone enters, it starts the fog machine to spray disinfectant into the disinfection channel.
Humanized design, reasonable layout, non-angle of attack spray to avoid discomfort caused by direct spray on a human face.
Infrared human body temperature measurement, sound, and light alarm. The use of high-precision industrial infrared spectroscopy sensors can achieve non-contact body temperature measurement, fast and reliable. Energy efficiency avoids cross-effects, real-time body temperature collection, peak extraction, comparison output signal lights, and buzzers.
The food-grade disinfectant used in the equipment is safe and effective, with non-contact disinfection, to ensure human health and safety.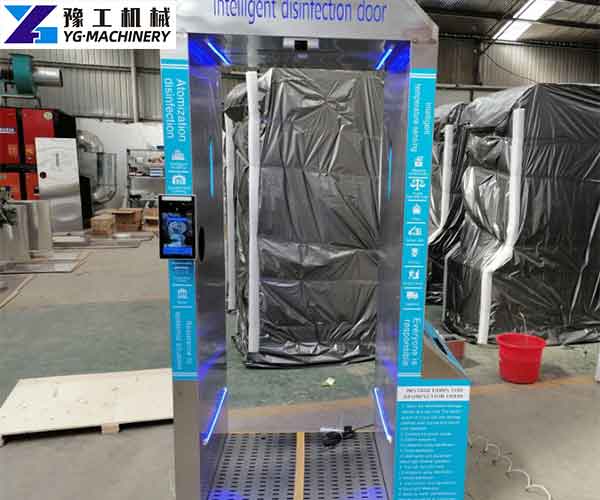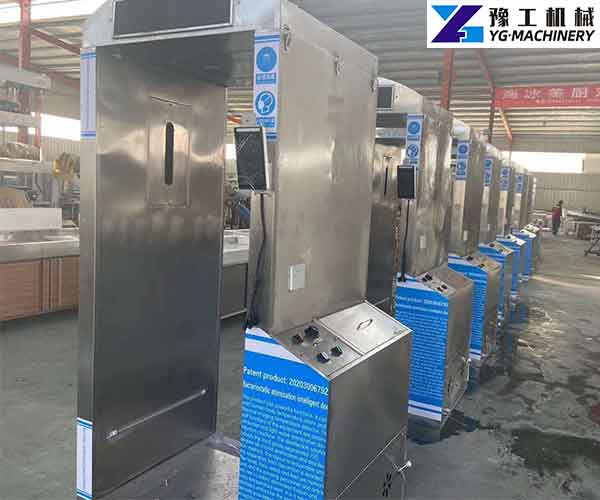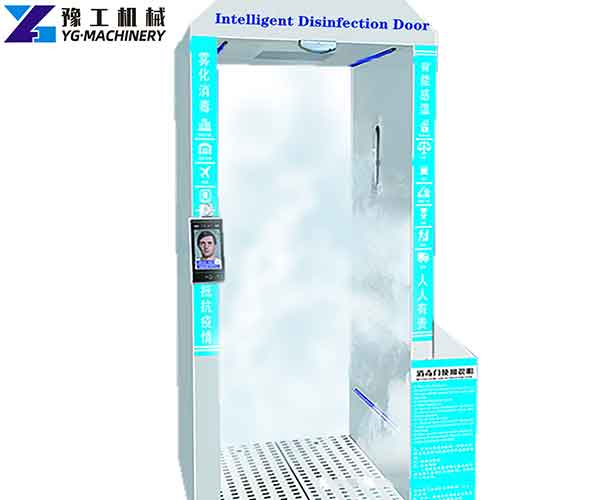 Disinfection Door Manufacturer
YG Machinery produces a disinfection door for sale, atomization disinfection door. antibacterial disinfection door. antibacterial atomization door. smart disinfection door, smart atomization disinfection door. Suitable for schools, shopping malls, office areas, store entrances, and other places. It can perform temperature measurement and all-around contact disinfection for people coming and going to ensure environmental safety. In response to the fight against the virus epidemic, YG Machinery will guarantee to expand production capacity and shorten the delivery cycle to ease. Now contact us to get a cheap disinfection door factory price.
Hot Products
YG Machinery is a construction machinery manufacturer integrating R&D, production, and sales. Hot products include concrete pump truck for sale, cement sprayer machine, pile breaker machine, shotcrete machine, anchor drilling machine, steel pipe derusting machine, electric pipe bender machine, etc. In addition,  wet wipe making machine for sale, glove making machine, rewinding machine, medical oxygen concentrator, toilet paper making machine packaging machine for sale, PSA oxygen concentrator, and so on.