Small well drilling machine is mainly used for drilling holes in the soil or soft limestone, in manufacturing plants, farms, home use, construction, etc. There are a variety of models of small well drilling rigs for different diameters and depths available. Its common drilling diameter is 60-350mm. The maximum drilling depth can realize 100m, 120m, 200m, and so on. Electric motor and diesel power types are available according to actual needs. In order to move the drilling machine conveniently, we provide double wheels types and crawler types. If you have other requirements, welcome to contact us and tell us your needs. Looking forward to your message. Phone/Whatsapp/Wechat: +86 18337123872 Email: admin@ygbuildingpro.com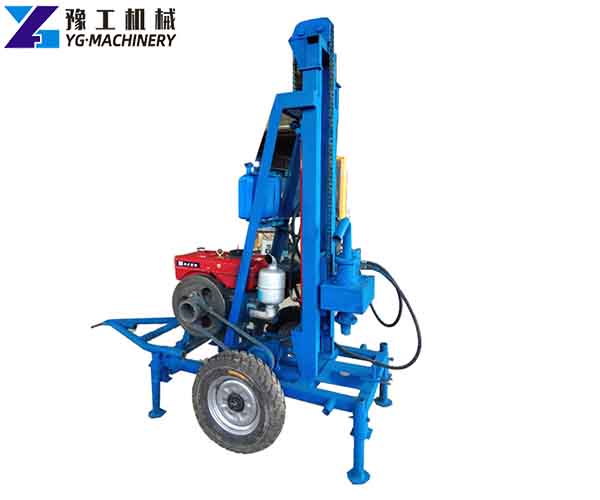 Small Well Drilling Machine Parameter
| | | | | |
| --- | --- | --- | --- | --- |
| Model | YG-280 | YG-280D | YG-300 | YGL-320 |
| Motor power | 220V/380V | / | /   | 380V |
| Diesel power | 8HP | 22HP | Drilling power 22HPWalking power 8HP | Drilling power 22HPWalking power  8HP |
| Types | Moving wheels | Moving wheels | Crawler | Crawler |
| Drilling diameter | 50/60/75/100/200mm | 75/100/200/300mm | 50/60/75/100/200/300mm | 60/75/100/200/300mm |
| Max. drilling depth | 200m | 100m | 200m | 120m |
| Dimension | 746*315*229mm | 2100*900*1700 | 1300*1000*2500mm | 2500*1200*2300mm |
| Weight | 200kg | 300kg | 1100kg | 980kg |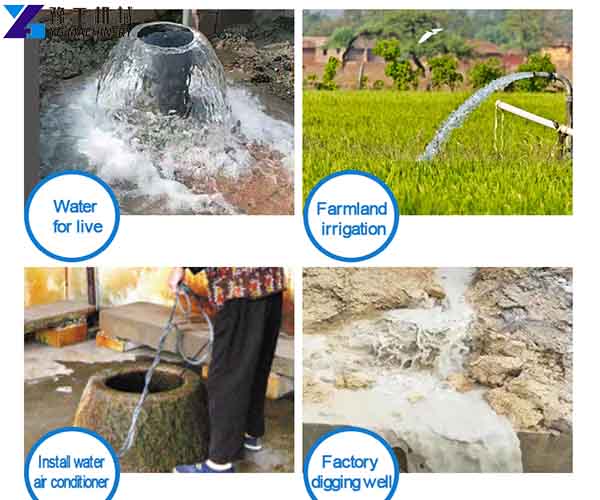 Characteristics of Portable Well Drilling Dig
Occupy a small space with 1 square meter and a high 2-meter frame.
The portable small well drilling machine is suitable for indoor and outdoor working conditions.
Well pipes are all closed, and there is no leakage to ensure water is safe and clean.
Independent research and development, solving the problem of easy drilling and difficult disassembling
Lightweight, energy-saving, special design, simple drilling, convenient for transportation
The operator can master how to operate the machine in the short term
Simple operation, long service life, low fault rate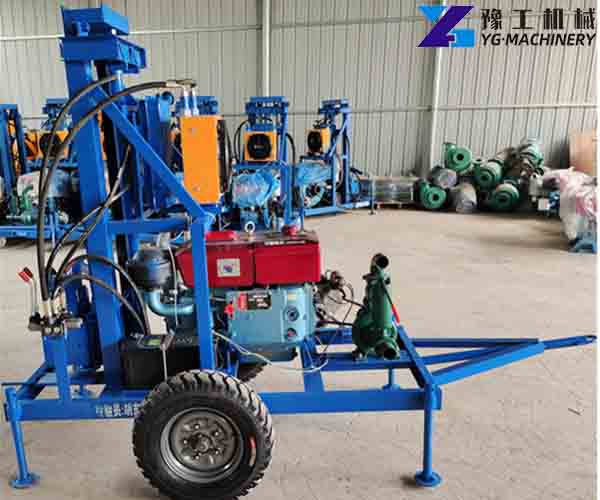 Advantages of Crawler Small Well Drilling Machine
Crawler small well drilling rig applies to the well drilling for farmland irrigation, family courtyard, garden, etc. The crawler water well drilling rigs can match an air compressor and mud pump. The equipment has the features of normal configuration, standardized specification, compact structure, economy, and durable, and low fault rate. This series of water well drilling machines widely apply to civil well drilling, geothermal well drilling, mining engineering construction, industrial and agricultural water conservancy projects, testing well, and other detecting well.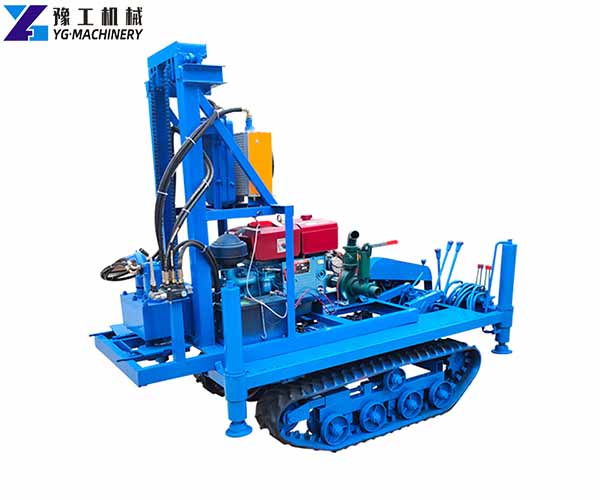 How to Maintain the Small Water Well Drilling Machine Routinely?
Handle the motor part of the small well drilling machine carefully and gently to avoid rain and splashing.
The motor wire connector cannot be touched and connected to electricity.
Check whether the wire rope is replaced or not routinely
Lubricate the drill pipe thread head with engine oil before and after use and place it in a rain shelter to avoid rusting.
The motor cannot be overloaded for a long time,
Check the circuit and transformer insurance when the motor does not turn.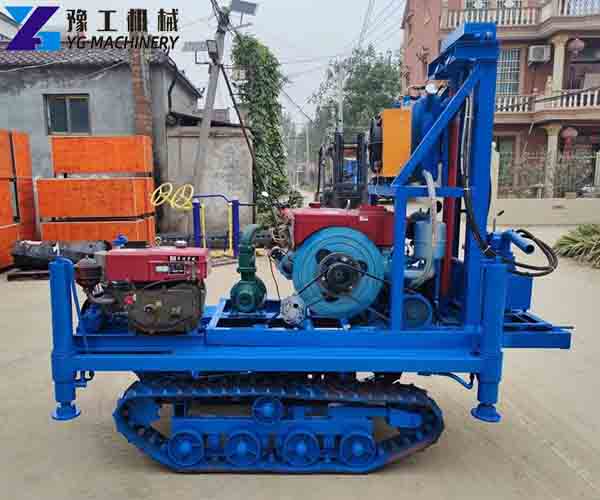 What Shall We Notice about Drilling Well Site?
Firstly, choosing the location of the well and the wellhead is not only the first step but an essential step for well drilling. Generally, the soil surface around the wellhead should be dense, and there should be no bricks, gravel, or firewood overhead phenomenon below, in case of water seepage, collapse, and subsidence during drilling operations, which may cause safety hazards.
Secondly, remember that the drill bit of the drilling equipment rotates in a clockwise direction when drilling, and do not reverse, in case of causing the drill pipe to slip out of the joint.
Thirdly, after drilling to the aquifer at the desired depth, record the depth of the water-bearing sand layer and stop the drilling rig.
Fourthly, please pay attention to turning off the electric power and changing it to manual when removing the drill pipe with the drill bit, then slowly lifting the base port to avoid a collision.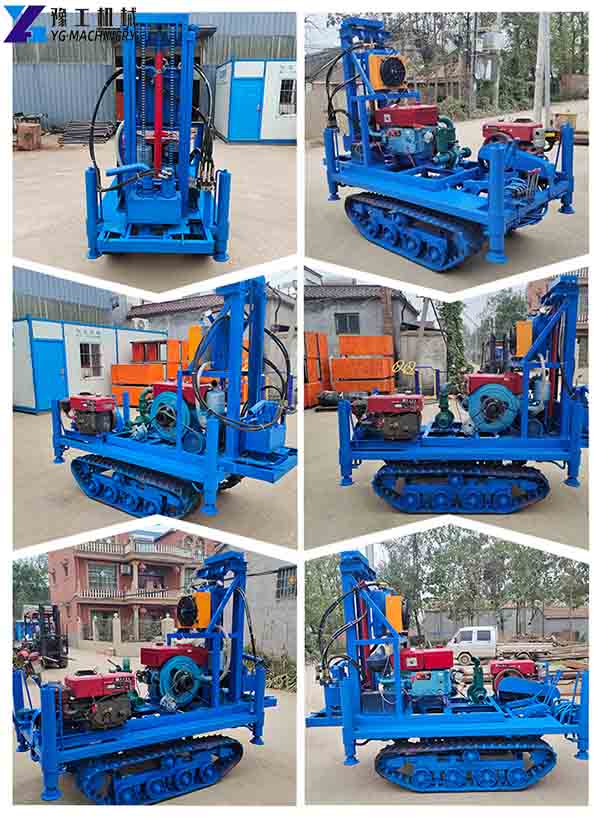 Small Well Drilling Machine for Sale in YG Machinery
Our company provides a lot of models of small well drilling rigs driven by electric motors or diesel. In addition, we also supply other drilling machines to satisfy more drilling requirements, such as hydraulic core drilling rigs, YG series drilling equipment, horizontal drilling machines, anchor drilling machines, rotary drilling rigs, auger drilling machines, etc. If you do not find the suitable drilling equipment above, you can contact us, and we will reply to you as soon as possible. Phone/Whatsapp/Wechat: +86 18337123872 Email: admin@ygbuildingpro.com Furthermore, we sell other engineering construction machines as well, like mortar spraying machines, rock splitter machines, hydraulic pile breakers, crack sealing machines, concrete wall sew, and so on.