Stirrup bending machine is one kind of automatic hoop bending machine to bend steel bars into specific shapes. Hoop bending machine is mainly used in steel bar processing of the cool rolling and hot rolling, bridges, tunnels, prefabricated components, and other engineering stirrup processing projects. The fully automatic CNC stirrup bar bending machine can automatically complete the process of straightening, measuring, bending forming, and cutting. The processing capacity is very comprehensive. And it can process a lot of complex parts. shape. The automatic stirrup bender highly improves efficiency, reduces the intensity of labor, and liberates manpower. Contact us to get more details. Email: admin@ygbuildingpro.com. Whatsapp/Wechat/Phone: +86 18337123872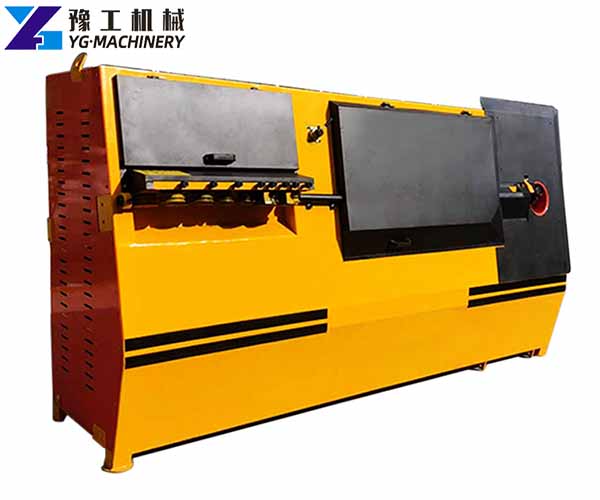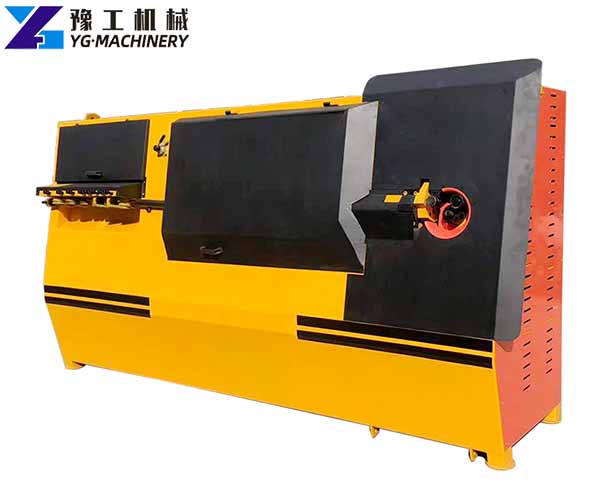 Technical Parameter of Stirrup Bending Machine
Model
YG-1
YG-2
YG-3
YG-4
YG-5
YG-5-16S
Single wire
Round steel: Ø 4-10mm

Deformed steel bar: Ø 4-8mm

Round steel: Ø 4-12mm

Deformed steel bar: Ø 4-10mm

Ø 5-14mm

Round steel: Ø 4-12mm

Deformed steel bar: Ø 4-10mm

Ø 5-14mm

Round steel: Ø 5-16mm

Deformed steel bar: Ø 5-16mm

Double wire
Round steel: Ø 4-6mm

Deformed steel bar: Ø 4-6mm

Round steel: Ø 4-8mm

Deformed steel bar: Ø 4-8mm

Ø 5-10mm
Round steel: Ø 4-8mm

Deformed steel bar: Ø 4-8mm

Ø 5-10mm
Round steel: Ø 5-12mm

Deformed steel bar: Ø 5-12mm

Max bending angle
±180°
Center pin diameter
16, 18, 20
16, 18, 20
—-
Maximum towing speed
60m/min
60m/min
75m/min
60m/min
75m/min
75m/min
Maximum bending speed
800°/sec
800°/sec
1000°/sec
800°/sec
1000°/sec
1000°/sec
Size of host machine
2600*800*1700mm
3280*1000*1700mm
3850*1200*2200mm
3660*1110*1700mm
3850*1200*2200mm
4000*2000*2200mm
Device color
Yellow(also can customize other colors)
Pieces processed
≤2
—-
Air circuit system pressure
≥0.8Mpa
—-
≥0.8Mpa
—-
—-
Total power
14kw
20kw
32kw
23.5kw
32kw
—-
Working temperature
(-5℃-40℃)
—-
Length accuracy
±1mm
Angle accuracy
±1°
Average power
4.5kw/h
5kw/h
12kw/h
Total weight
1150kg
1350kg
2200kg
1550kg
2200kg
3000kg
Optional part
Automatic collector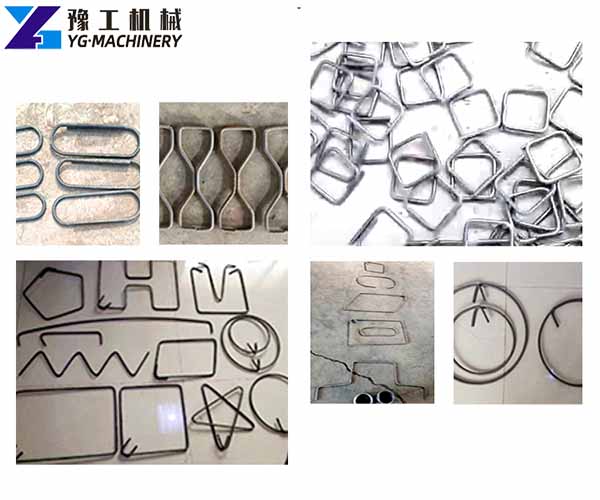 Hoop Bending Machine's Working Principle
The stirrup bending machine consists of the control panel, main drive wheels, a straightening system, a cut-off system, and a bending hoop system. The operator can set up the final shape of the steel bar, bending angle, feeding speed, bending speed, and other aspects on the control panel. When the steel bar enters the equipment, it will be driven forward by the main drive wheels. Double automatic wire feeding has high efficiency and does not hurt tendons. Then the straightening system will make the steel bar straight into the bending system, which can form steel to the preset shape. Finally, the cut-off system cut the steel bar to form the final shape. Each machine is equivalent to 4-5 work efficiency, with high production efficiency, and one worker can operate it.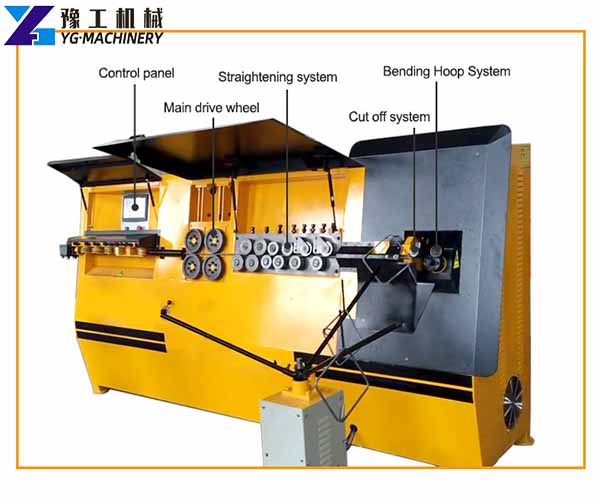 Features & Benefits of CNC Stirrup Bending Machine
The hoop bending machine consists of two sets of straightening wheels that can be automatically adjusted horizontally and vertically, combined with 4 traction wheels, driven by servo motors, to ensure the straightening accuracy of steel bars.
Bending and shearing mechanism: Driven by a servo motor, the bending arm can rotate and stretch at high speed. And the shearing mechanism quickly completes the shearing action to ensure the bending accuracy of the steel bar.
The machine adopts a mature control system with high stability. The control system has a fault identification function.
It can design multiple shapes with not more than 60 corners, with a storage graphics library for mass production.
It can continuously produce the stirrup with a certain shape, without stopping halfway, without mechanical adjustment, and without the need to interrupt the processing when correcting the bending angle.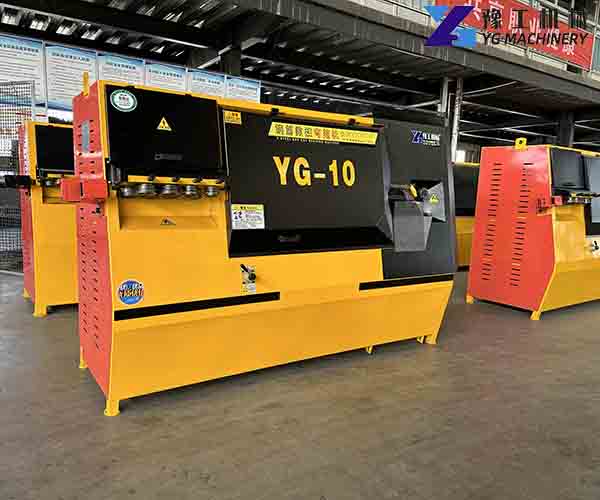 Main Systems of Hoop Bending Machine
CNC stirrup bending machine has a mature frame-type rotary straightening system, digital meter counting, hydraulic cutting, hydraulic five-head hoop bending, and other systems. It can realize the one-time automatic bending of steel bars controlled by a computer program. The hoop bending machine adopts an electric control system, PLC industrial numerical controller, touch screen, automatic adapting straightening speed, sliding cutter, etc. There is no aggravated wear problem of small hooping. The rebar stirrup bender adopts a mature PLC control system with high stability. The control system has the function of fault identification. It can design up to 60 corners within the multi-shape and contour graphics, with a storage graphics library for mass production of various varieties.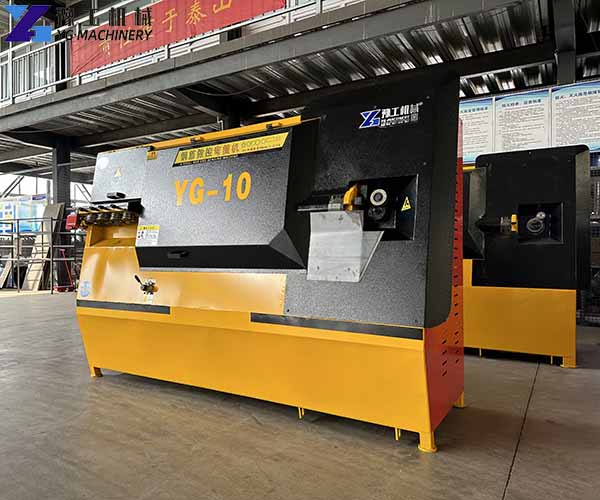 Why Choose YG Machinery for Your Supplier?
Factory direct sale
YG Machinery is a professional manufacturer of steel bar processing equipment. We have our own factory, and we provide more competitive prices.
Precise workmanship & high-quality material.
The stirrup bending machine adopts advanced technology, and good materials in order to manufacture a machine with good performance, safe, and stability.
Good feedback from many countries
Our stirrup bending machine has been sold to Mexico, Russia, Southeast Asia, Australia, Thailand, Philippines, Chile, Malaysia, Singapore, etc. We received much good feedback and praise from our customers. And some customers purchased our machines again because they have a good purchasing experience before.
Various steel processing machines for sale
We provide a lot of steel bar processing equipment, such as stirrup bending machines, rebar cutting machines, rebar straightening and cutting machines, rebar threading machines, rebar derusting machines, pipe shrinking machines, etc. If you are interested in our machines, welcome to contact us now. Email: admin@ygbuildingpro.com and Whatsapp/Wechat/Phone/: +86 18337123872