A customer in Indonesia was looking for a mortar spraying machine several days before. He browsed our website and send an inquiry for the cement sprayer machine. He told us he wanted to purchase a mortar spraying machine for decorating walls on the building sites. Considering all factors comprehensively, he finally selected a diesel-type mortar spraying machine with 12hp, which has the advantages of small size, easy to move, wide range of applications, high working efficiency, good spraying effect, etc. Contact us to learn more details and we will reply to you within 24 hours.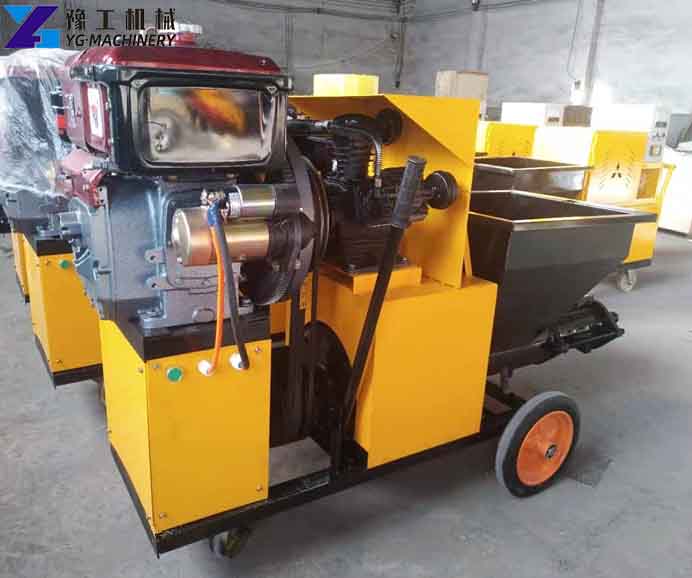 What Shall We Know When Buying Mortar Spraying Machine in Indonesia?
Electric power or diesel power
We should consider the actual situation it works. Is it convenient to use electric power? If yes, both types can be chosen. If not, it's better to select diesel power. We provide electric types and diesel types. The electric voltage is commonly 380V with power 3kw, 5.5kw, or 7.5kw optional. And the diesel power has 8hp and 12hp.
Spraying distance and height
Knowing the spraying distance and height that we want can help us choose and purchase a suitable cement spraying machine. The capacity is 3m3/h, 6m3/h, and 7m3/h available in our company, so as to meet different needs for different spraying distances and heights.
Spraying material
The cement plaster spray machine is suitable for the spraying of putty powder, paint, latex paint, cement plaster, waterproofing material, fireproofing material, etc. Some special materials may need to match special spray guns because of their special property. It's better to tell us the material you want to spray.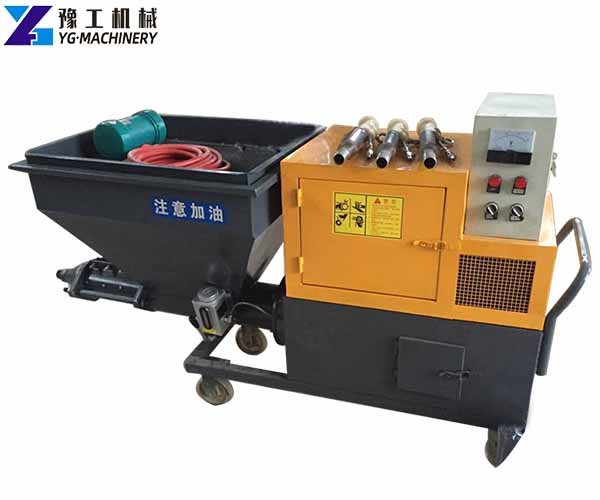 Cement Spray Plaster Machine Price
The price of the mortar spraying machine in Indonesia is related to a lot of factors, like manufacturing cost, driving power, and delivery. Its manufacturing cost depends on the making material and the specifications of the equipment. For driving power, generally, the electric type is cheaper than the diesel type. The delivery depends on the type of transportation, the distance between two places, product weight, and space. We all want to purchase a product with good performance at a cheap price but do not neglect the equipment itself because of the price. An excellent machine can produce more benefits and lessen troubles.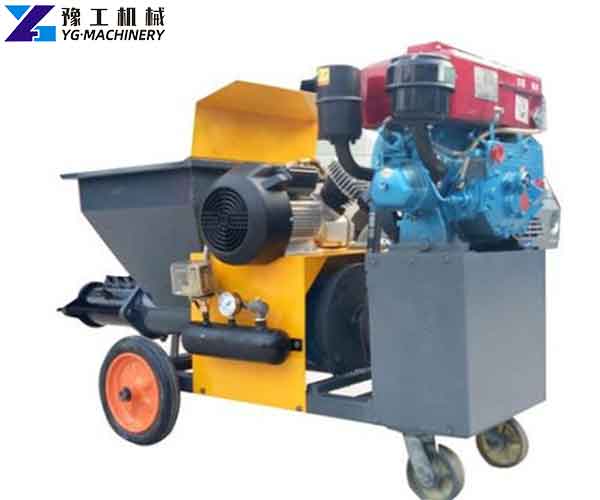 Mortar Spraying Machine Manufacturer
Nowadays, our cement spraying machine has been sent to America, Mexico, South America, Southeast Asia, Kenya, Malaysia, Indonesia, Peru, Cote d'Ivoire, etc. We also provide other construction machinery, including automatic sandblasting machines, mini concrete pumps, foam concrete machines, stationary concrete pump, rock splitter machine, hydraulic pile breaker, concrete wall saw, fog cannon machine, shotcrete machines, and so on. Contact us to get more info.
Email: admin@ygbuildingpro.com Phone/Whatsapp/Wechat: +86 18337123872