A stationary concrete pump is a machine that uses pressure to continuously transport liquid concrete along a pipeline. It has strong adaptability to the construction work area, a wide range of work, little mutual interference with other construction machines, and good durability.
When the stationary concrete pump is used, it needs to be dragged to the construction site by car, and then transports the concrete. This type of concrete pump mainly consists of a concrete pushing mechanism, a distribution gate mechanism, a hopper mixing device, an operating system, and a cleaning system.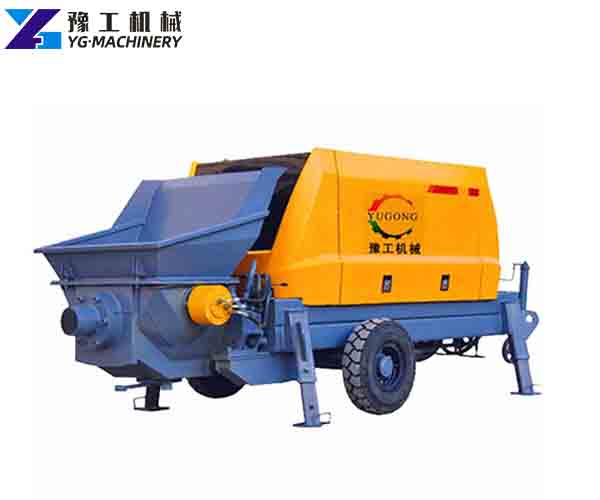 Parameters of Stationary Concrete Pump
Model

YG-10
YG-20
YG-30
YG-40
Mortor power
15
22
37
45
Maximumoutlet pressure(mpa)
15
5-18
15-18
23
Maximum theoretical throughput

(

m3

/h

)

6
12
15-18
20-22
Maximum particle size of aggregate

(mm)

5-15
5-20
≤20
20
Horizontal conveying distance

(m)

50
80
160
260
Vertical conveying distance(

m)

20
40
80
120
Diameter of delivery pipe

(mm)

80
80
φ80(100)
φ100 (80)
Total Weight

(kg)

600
1600
2200
2400
Dimensions

(mm)

1800*700*1100
3400*1200*1600
3800*1500*1600
4000*1500*1550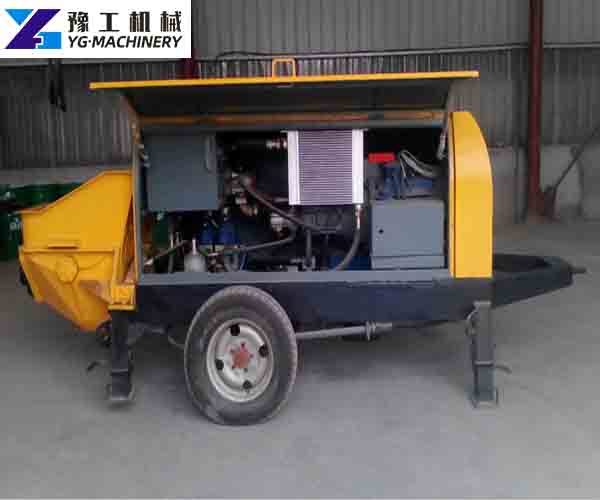 Uses of Stationary Concrete Pump:
It is widely used in the transportation of floor heating, heat-insulating lightweight foamed cement, mortar, small aggregate concrete, and refractory and heat-insulating materials;
It can also be used for the transportation of concrete scale in various engineering constructions, as well as the transportation of gray mortar and fine stone concrete in high-rise buildings, the filling of secondary structural columns, and various pressure grouting in reservoirs, hydropower stations, ports, and wharves;
In addition, the stationary concrete pump can also be used for backfilling grouting bolt support in the construction of tunnels, subways, and mines, and large-area and high-efficiency construction of fine stone concrete filling layers or mortar filling layers in floor heating projects.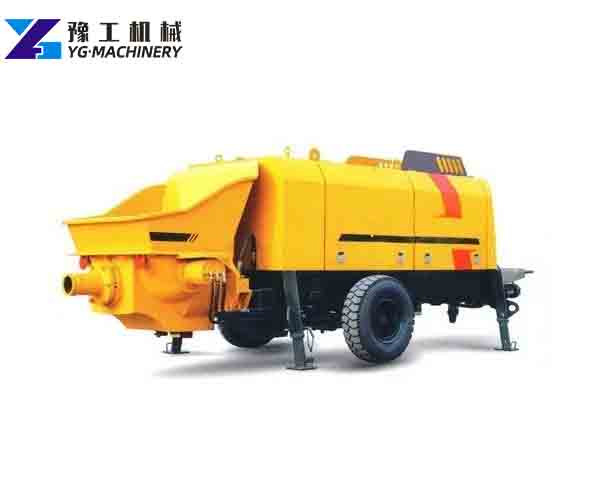 Features of Stationary Concrete Pump:
S-pipe distribution valve is used to meet the pumping of small aggregate concrete and mortar
The main oil pump adopts a deformed plunger pump, which has high efficiency and strong pressure
The hydraulic system adopts independent three-circuit control, the glasses plate with high reliability, and the cutting ring is made of hard alloy, which is wear-resistant and has a long service life
The pumping mechanism adopts double-cylinder piston type, which has advanced performance and good continuity
It has the function of anti-pump, which is conducive to timely troubleshooting of pipe blockage, and can be shut down for a short time to wait for material.
Long-stroke material cylinder prolongs the service life of material cylinder and piston
The optimized design of the hopper is easy to clean and has better suction performance.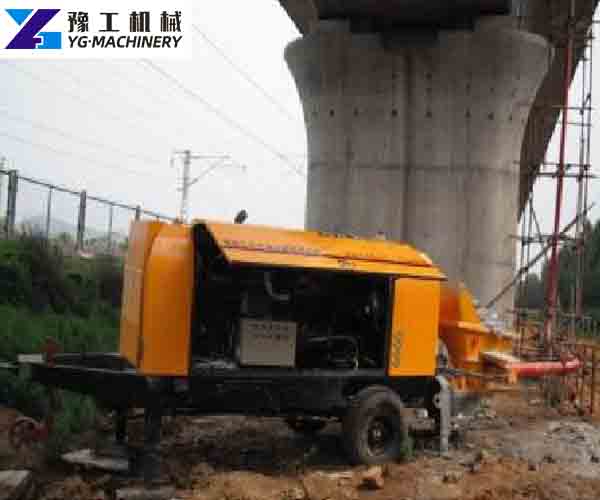 Measures to Prevent Stationary Concrete Pump Failture:
When installing and designing pipelines, avoid 90 as much as possible. and S-shaped bends. Try not to use pump pipes with obvious pits to reduce the resistance of pumping concrete and prevent clogging.
In order to ensure the continuity of pumping concrete operation and ensure the quality of concrete pouring, the interval between operations should not be too long to prevent blockage.
The pumped concrete should meet the pumpability requirements, and if necessary, determine the mix ratio of the pumped concrete by testing the pump.
YG Stationary Concrete Pump
Stationary concrete pumps are suitable for conveying super high-rise fine stone concrete and pouring structural columns of building floor groups.If you want to learn more detials about stationary concrete pump, please feel free to contact us. YG machinery is a professional machinery equipment manufacturer, we provide the best quality service and machine. There are also other equipment, such as mini concrete pump, foam concrete machine, concrete splitter, automatic sandblasting machine, hydraulic pile breaker, and so on.