A rock splitter machine is a rock-splitting tool. The rock splitter uses hydraulic oil as the energy source and cleverly uses the oblique wedge principle so that the splitting force of the splitting head can reach several thousand tons, and the rock can be split easily in a few seconds. A rock splitter machine is a kind of rock cutting machine that is an indispensable device in construction, engineering construction, ore mining, etc. This hydraulic rock splitter is ideal equipment that can completely replace secondary and manual dismantling. The hydraulic stone splitter is mainly composed of a pump station and a split period.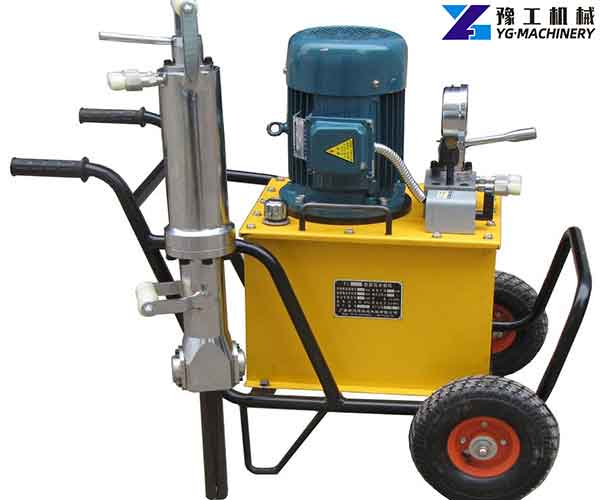 Rock Splitter Machine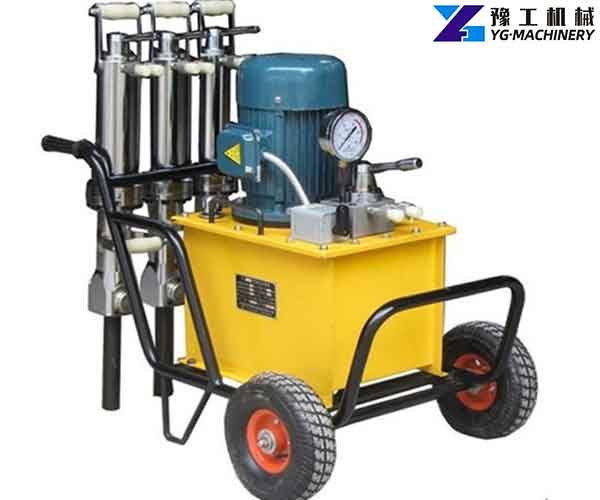 Hydraulic Splitter Rock
 Parameter of Hydraulic Rock Splitter for Sale 
Model

YG-250

YG-350

YG-450

Wedge length

250mm

350mm

450mm

Piston stroke

9/220mm

Drilling depth

>500mm

>700mm

>900mm

Drilling diameter

42mm

46mm

46mm

Crack width

10-20mm

Splitting time

10-15s

Splitting force

500T

800T

800T

Weight

240kg

250kg

260kg
Application range of Hydraulic Rock Splitter
At present, the rock splitter machine has been widely used in quarrying, minerals, and other mining industries and infrastructure construction, especially in urban construction, river dredging, disaster relief, and removal of obstacles. The hydraulic rock splitter is mainly used for the mining operations of building stone; the secondary disintegration of large ore (metallic or non-metallic ore); the partial and complete demolition of concrete components (cement pavement, machine tool foundation, bridge, and house components); natural stone mining, splitting, crushing.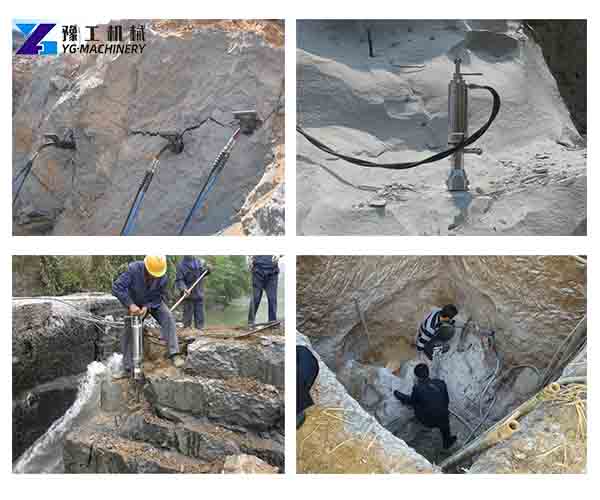 Features of Hydraulic Rock Splitting Equipment
1. Security
The controllable work of a rock splitter in a static hydraulic environment will not produce some hidden dangers like blasting machines and other impact demolition and rock drilling equipment; there is no need to take complex safety measures.
2. Environmental protection
When the rock splitter machine works, it will not produce vibration, impact, noise, dust, flying debris, etc. The surrounding environment will not be affected, even in densely populated areas or indoors, as well as close to precision equipment, can work without interference.
3. Economy
The hydraulic rock splitter can complete the splitting process in a few seconds and can work continuously without interruption, with high efficiency, low operation, and maintenance costs, and no isolation or other time-consuming and expensive safety measures like blasting operations.
4. Accuracy
Different from most dismantling methods and equipment for flow transfer, the rock splitter can accurately determine the splitting direction, split shape, and the size of the required output part in advance, with high splitting accuracy.
5. Applicability
The rock splitting equipment has the characteristics of small size, lightweight, and high splitting force. It only needs one person to operate, has convenient maintenance, and long service life; the splitter and hydraulic pump station are very convenient to transport.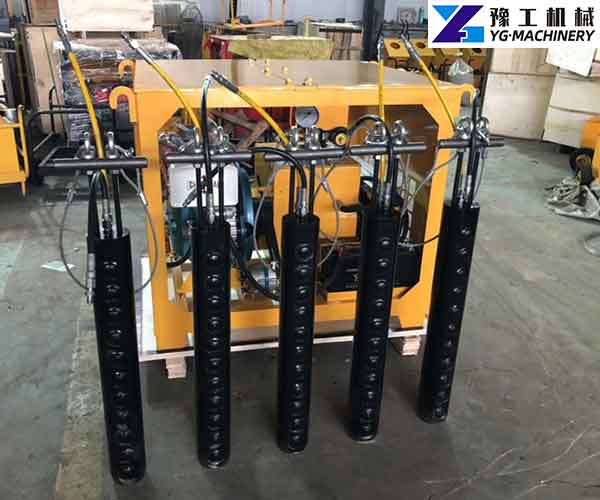 Hydraulic Rock Splitter Machine Structure
The rock splitter machine mainly consists of an electric engine, pressure gauge, oil pump transfer valve, small cart frame, high and low-pressure pipes, split gun transfer valve, quick joint, handle, middle wedge, and wedge on both sides. The middle wedge moves forward in front of the two opposite wedges through the hydraulic pressure system. And push the two wedges on both sides outward with a splitting force. The cracks will appear in a few seconds.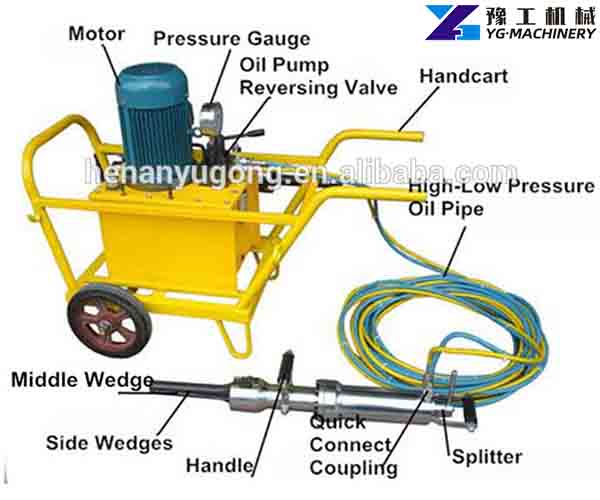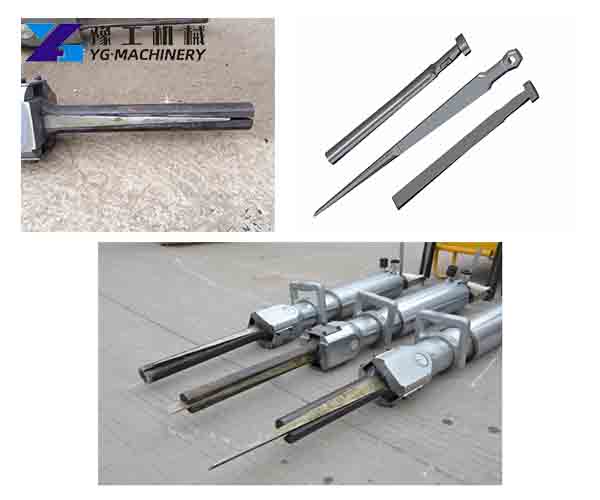 How Does a Rock Splitter Work?
The hydraulic rock splitter uses the high-pressure hydraulic oil generated by the power station (electric and diesel) as the energy source, which is delivered to the cylinder tube of each splitting gun through the tubing, and controls the pushing and stretching of the piston rod in the splitting gun, and is cleverly the principle of a wedge is applied to make the force of rock splitting reach hundreds of tons or even thousands of tons. Therefore, the huge rock can be easily split with a splitting rod in a few seconds, so that the hard ore can be separated from the mountain. The splitting direction, splitting shape, and required size can be determined in advance, and the splitting accuracy is high, the splitting process can be completed in a few seconds, and it can work continuously without interruption.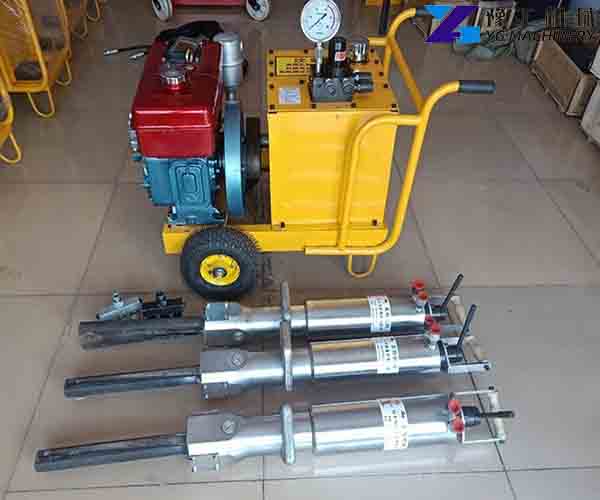 Rock Splitting Machine Manufacturers
YG Machinery can guarantee to provide each customer with quality products at reasonable prices. Not only provide you with splitting machines. But also water well drilling rigs, rotary drilling machines, auger drilling rigs, core drilling rigs, down-the-hole drilling rigs, mobile concrete pump trucks, mortar sprayer machines, sandblasting machines, shotcrete machines, fog cannon dust suppression, steel tube shrinking machine, pipe bending machine, pipe rust removal machine, and so on. Click the message box below to get more product quotation information. Or add my WhatsApp+8618337123872 for consultation.