Hydraulic core drilling rig is an important piece of equipment for metal and non-metal solid material detection, water well drilling, road and building exploration, engineering geological exploration, and hydrogeology conditions. The hydraulic core drilling machine has the advantages of stable and reliable running, environmentally friendly, safe, high efficiency, improving working conditions, simple to use, convenient to maintain, etc. It's equipped with a hydraulic system, which can ensure the machine can work stably and smoothly, highly improving efficiency. Now there are HZ-130, 180, and 200 series hydraulic core drilling rigs at hot sale for different drilling depths and diameters. Welcome to get in touch with us to gain more information. Email: admin@ygbuildingpro.com Phone/Whatsapp/Wechat: +86 18337123872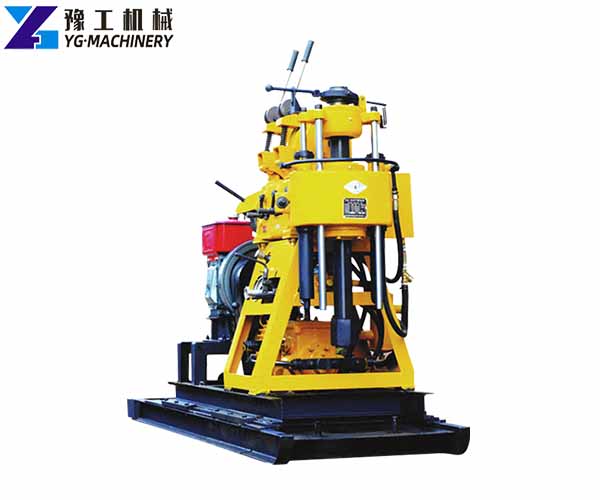 Technical Parameter of the Hydraulic Core Drilling Rig
Model
YGHZ-130Y/130YY
YGHZ-180Y/180YY
YGHZ-200Y/200YY
Drilling depth
130m
180m
200m
Drilling diameter
220mm
220mm
325mm
Final hole diameter
75mm
Drill pipe diameter
42-60mm
Drill pipe inclination
90-75°
Power
13.2kw
13.2kw
14.7kw
Weight
920kg
950kg
1150kg
Dimension
2400*950*1400mm
2400*950*1400mm
2700*750*1770mm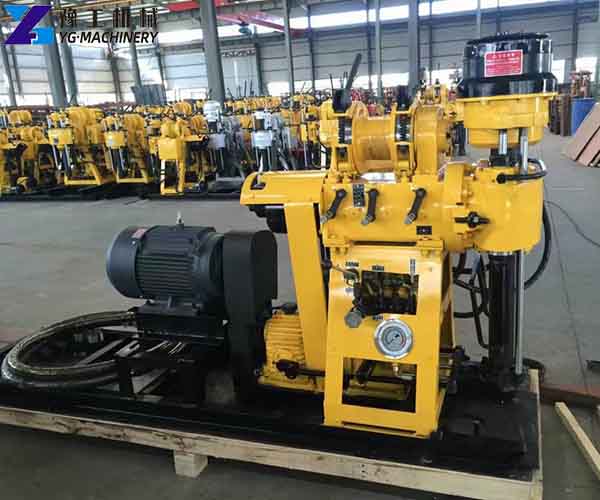 Features & Benefits of the Hydraulic Core Drilling Machine
It adopts a hydraulic automatic feeding mechanism, improving drilling efficiency and reducing labor intensity.
Use a ball clamping mechanism instead of the chuck, which can realize non-stop reversing, is easy to operate, safe, and reliable.
The hydraulic core drilling rig is equipped with a pressure gauge at the bottom of the hole, it is convenient to control the situation in the hole.
Compact structure, concentrated handles, small footprint, lightweight, suitable for plain or mountain operations.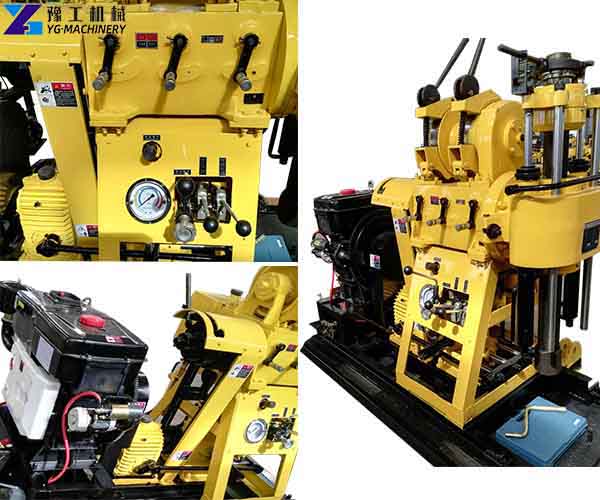 Trailer Mounted Hydraulic Drilling Rig
The trailer hydraulic drilling machine is equipped with a wheeled moving mechanism and a hydraulic cylinder pillar, which is convenient for moving and straightening the whole machine horizontally. It has a hydraulic feeding system to improve drilling rig efficiency. There is a pressure gauge at the bottom of the hole to indicate the pressure, which is convenient to grasp the situation in the hole. The trailer hydraulic drilling rig adopts a hydraulic lifting telescopic tower, safe and reliable. Besides, its diesel engine uses an electric start to reduce the labor intensity of workers. Get in touch with us to get a free quotation.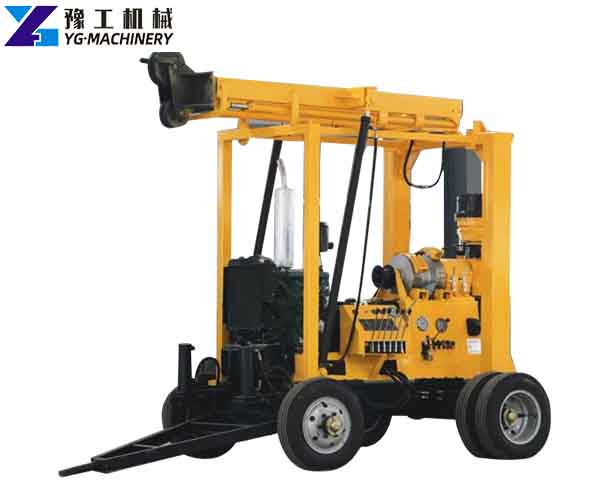 Trailer Hydraulic Core Drilling Machine Parameter
| | |
| --- | --- |
| Drilling depth | 200m |
| Drilling diameter | 75-300mm |
| Drilling rod | Ø50, Ø60 |
| Diesel engine | 15kw, 2200r/min |
| Dimension | 2000*800*1400mm |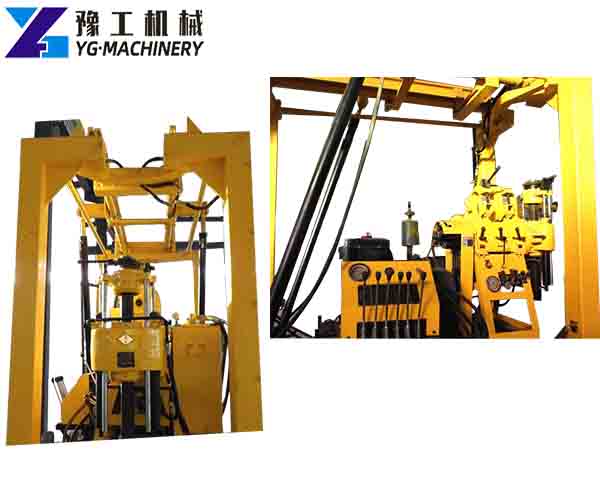 How to Choose a Suitable Hydraulic Core Drilling Rig?
When we want to purchase a hydraulic drilling machine, we should select the equipment according to the drilling depth, diameter, structure, aim and transportation conditions, etc. Drilling depth and diameter decide its drilling rod model. What is the use do you want to do by using the drilling machine? Drilling wells, prospecting, or piling? The drilling solution may be different for different uses. In addition to the core drilling machine, we provide professional water well drilling machines, rotary drilling machines, anchor drilling rigs, horizontal directional drilling rigs, auger drilling equipment, etc. How about the geological condition? Do you have other special requirements based on the terrain and altitude? Considering these when choosing a hydraulic core drilling rig can help us know what equipment is better for us. Or you can contact us to get some useful suggestions. Phone/Whatsapp/Wechat: +86 18337123872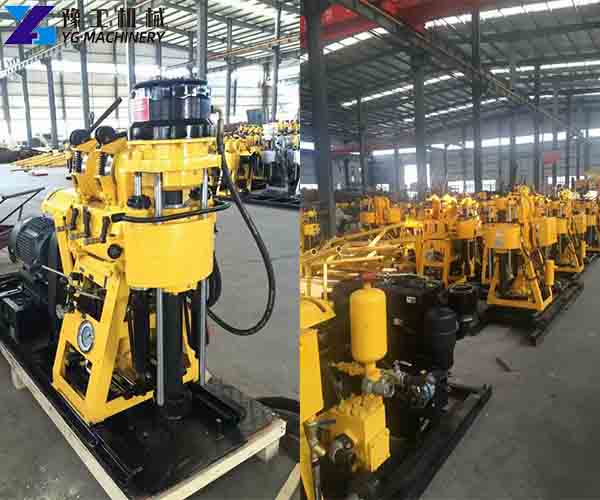 Three Tips about Maintenance of Hydraulic Drilling Rig
Use the hydraulic core drilling machine correctly. Making careful maintenance can prevent its components damage more to reduce breakdown.
Read the instruction carefully before operating the equipment. The product instruction is important, providing the machine's detailed information relating to property, structure, operation, safety, maintenance, etc. Being acquainted with the instruction can help us to use and maintain the machine correctly, prolonging its service life.
Its parts may wear and the conjunct joint may be loose, after using the drilling machine in the wild for a long time. Therefore, we have better check the equipment at regular intervals so as to take safe precautions and extend service life.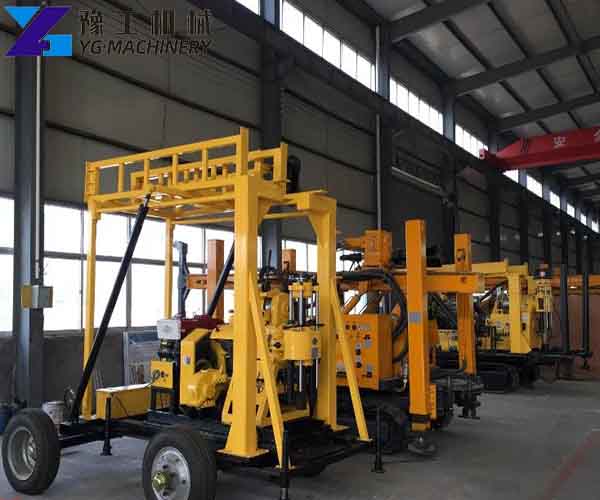 Hydraulic Core Drilling Machine Manufacturer – YG Machinery
Henan YG Machinery is a professional manufacturer and supplier of engineering machines. Our company provides all kinds of drilling machines, including core drilling rigs, anchor drilling machines, auger drilling rigs, rotary drilling machines, water well drilling equipment, horizontal directional drilling rigs, etc. In addition, we also supply hydraulic pile breaker, mortar spraying machines, road marking machines, crack sealing machines, concrete wall saw, rebar bending machines, stirrup bending machines, rebar straightening and cutting equipment, rebar threading machines, and so on. Contact us now to get more information!