Nowadays, fully automatic cotton candy machines can be seen almost everywhere in the streets and alleys. They are deeply loved by consumers because of their high automation, unrestricted time, and convenient payment. Do the automatic cotton candy vending machines really make money? Browsing the article you will have the answer.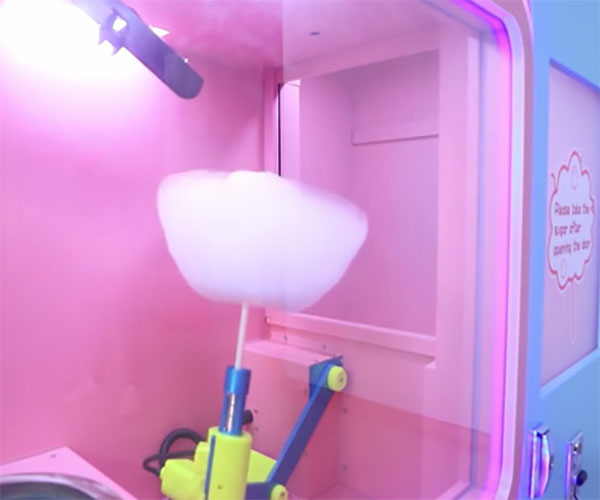 What Are the Robot Cotton Candy Machines?
No labor costs
The cotton candy vending machine does not require manual supervision, saving a lot of labor costs. You only need to go to the cotton candy vending machine to add raw materials when the mobile phone reminds you that it is out of stock. You can add extra income without spending too much time and energy.
Long sales time
The marshmallow vending machine only needs to be plugged in to make marshmallows of different shapes and flavors. It operates 24 hours a day. The sales time is relatively long, and the profit margin naturally increases, especially at night, when the colorful marshmallows are sold. Lighting can attract a large number of customers.
Choice of location
The location of marshmallow vending machines is also very important. Generally, they are chosen in commercial streets, large supermarkets, scenic spots, parks, and other places with a large flow of people. There are more potential customers, and there is no need to pay high rent like other stores and the income is very good.
What Shall We Do Before Investing Fully Automatic Cotton Candy Machines?
Cotton candy is bright, sweet, and delicious, and has always been very popular, so their sales in the market are also considerable. Fully automatic cotton candy machines are popular now, and the profits are pretty good. Do you want to make money by investing in an automatic cotton candy vending machine? If yes, you need to do these things well.
Have a suitable location
Marshmallow automatic vending machines can choose some favorable geographical locations in life, such as public places with a large flow of people, which will attract many consumer groups, when choosing a location, it should also be analyzed according to the economic situation of the city
Rich variety
Cotton candy is very attractive to many young people. Continuous innovation in product types and enriched styles will gain a certain competitive advantage in sales and attract more consumers to the features of the products, forming a good operating situation.
Publicity in place
Product promotion should be fully planned. Of course, fully automatic cotton candy machines also should conduct reasonable publicity and promotion based on their own characteristics to gain more people's attention and gain higher status, notability, and popularity in the later development process.
After-sales service is better
The daily maintenance and after-sales management of automatic cotton candy vending machines must also be tracked in place so that consumers can experience a high-quality consumption service and form a good market reputation, which will bring certain advantages to operations. Get more reviews and quality experiences from more people. Cotton floss vending machines are very profitable in terms of revenue. You should do market research, conduct reasonable analysis based on the market economic conditions, and full preparations.
Fully Automatic Cotton Candy Machines For Sale in YG Machinery
There are four models of robot cotton candy machines for sale in YG Machinery. All of them are fully automatic equipment. The model 606 has 128 kinds of cotton candy shapes for sale, and the model 503 and 301 with 48 cotton floss styles available. In addition, we also provide other machines, such as non-food and food packaging machines, water bottle filling machines, disposable paper cup making machines, and so on. Get in touch with us to get more details.