YG series water well drilling equipment is a kind of light, high efficiency, and multifunctional fully hydraulic open hole drilling equipment running by diesel engine. This series of drilling rigs adopt new hydraulic technology, supporting high torque hydraulic motor rotation and large bore hydraulic cylinder propulsion, which largely improves the working efficiency of this series of drilling rigs. In addition, for more efficient operation YG Machinery suggests that you can use it together with an air compressor.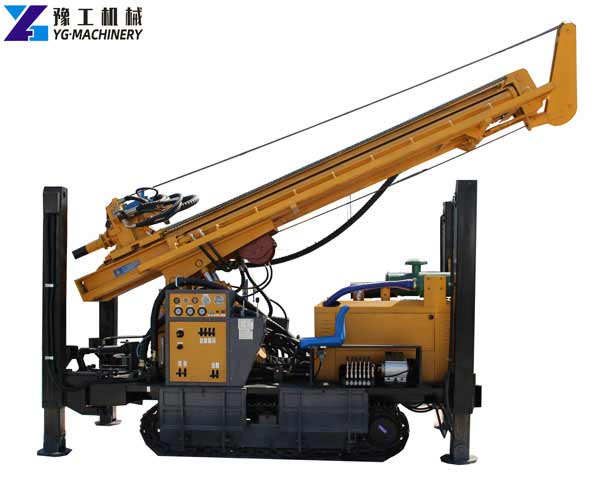 Equipment composition and technical parameters:
The YG series water well drilling equipment produced by YG Machinery is mainly divided into the following 6 models according to their drilling depth, which you can choose according to your needs:
Model

FY180

FY200
FY300A
FY300
FY400

FY600

The weight (T)

4.4

5.5
6.8
9
10

12

The hole diameter (m)

130-254

140-325
140-325
140-325
140-350

140-350

Drilling depth (m)

180

200
260
300
400

600

One-time advance length (m)

3.4

3.4
3.4
6.6
6.6

6.6

Walking speed (km/h)

2.5

2.5
2.5
2
2.5

2.5

Climbing angles (Max.)

30

30
30
30
30

30

Equipped capacitor (KW)

42-65

65
75.8
85
95

115

Using air pressure (mpa)

1.7-2.5

1.7-3.0
1.7-3.0
1.7-3.3
1.7-3.5

1.7-3.5

Air consumption (m³/min)

15-27

17-35
17-35
17-35
17-35

17-35

Drill pipe diameter (mm)

Φ176      Φ89     Φ102

Drill pipe length (m)

1.5m          2.0m            3.0m

Rig Lifting force (N)

8

12
15
20
24

30

Swing speed (rpm)

48-70

50-70
40-115
55-115
45-115

45-115

Rotation torque (N.m)

4200-5000

5000-6500
7000-9000
7200-9500
8500-10000

8500-10500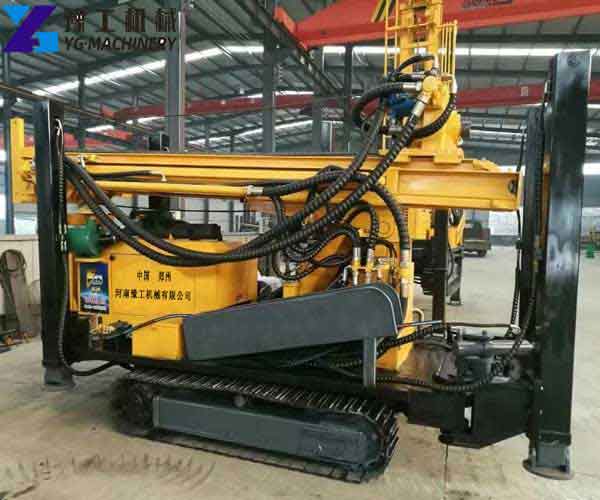 Working principle:
The diesel engine as the power to drive the hydraulic oil pump to form a high-pressure oil circuit, through the manipulation of the relevant hydraulic manipulation valve on the console, which drives the hydraulic motor, and hydraulic cylinder to complete a variety of predetermined actions. In order to achieve the crushing of rocks and other strata, successful drilling into the well.
Application range:
For drilling groundwater wells in mountainous areas and rocky strata, such as: drilling water wells, agricultural irrigation wells, and boreholes for other purposes.
For hydrological well resource exploration, coal bed methane, shallow shale gas, geothermal and other fields.
Also used for coal mine gas mining and salvage work.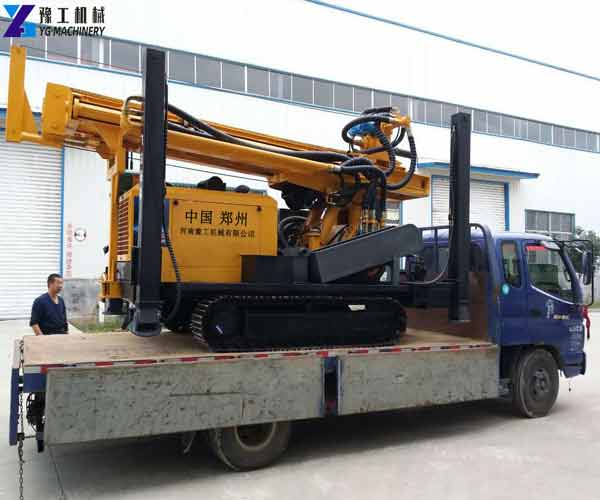 Advantages of YG series water well drilling equipment:
Adopt new hydraulic technology, high drilling efficiency, and greatly improve the working efficiency.
 High equipment configuration, equipped with advanced hydraulic system, high-quality turbocharged engine, and strong power.
Reasonable equipment design, strong and durable materials, and long service life.
Simple operation, easy maintenance.
Adopting excavator crawler chassis, it can be run on different construction sites, and can also be installed on trucks, with stronger mobility and flexible operation.
Wide application range, can meet the drilling needs of different strata.
Operation steps of YG series water well drilling rigs:
Start the diesel engine. Allow the diesel engine to run for 10 to 20 minutes before further operation.
Push the travel control valve to move the drill rig to the drilling position; push each handle on the cylinder control valve to adjust the slide frame to the block position and then fix it. Fine-tune the 4 outrigger cylinders to ensure that the drill pipe is vertical and downward.
Open the ball valve switch on the air inlet line and the impact manipulator valve to feed air to the impactor, and push the rotary manipulator valve at the same time to make the rotary drive the drill pipe and impactor turn positively, then slowly push the advance manipulator valve to make the brazing head gradually close to the ground, and the impactor start working after contacting the ground.
It is strictly forbidden to use the impactor to drill the soil layer.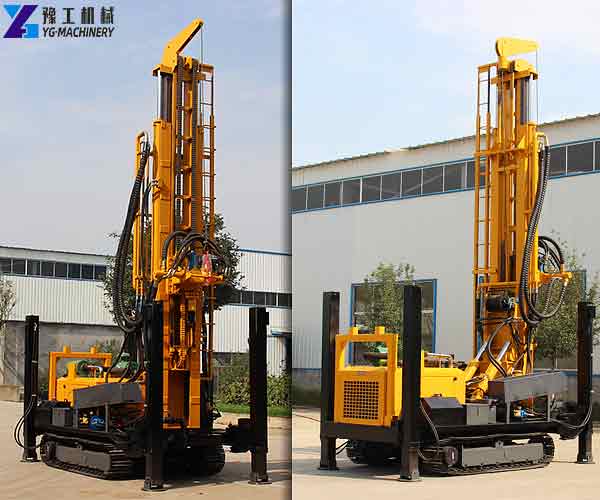 Drilling Rig Manufacturer:
Henan YG Machinery Co., Ltd as a professional manufacturer can provide you with high quality, high configuration, and high-cost performance YG series water well drilling equipment and their corollary equipment, such as core drilling rigs, auger drilling rig, hydraulic drilling rigs, anchor drilling machine, etc. If you need to buy a new water well drilling rig or replacement parts welcome to contact us, there is always one for you!