Wheeled mobile scissor lift platform is ideal equipment for high-altitude work operations. The wheeled platform lift has different models for different working heights, 6m, 8m,10m, 12m, 14m, etc. It is suitable for a wide range of operations such as airports, stations, docks, shopping malls, sports venues, residential properties, factories and workshops, etc. If you have special requirements about equipment, please get in touch with us to get more detailed information.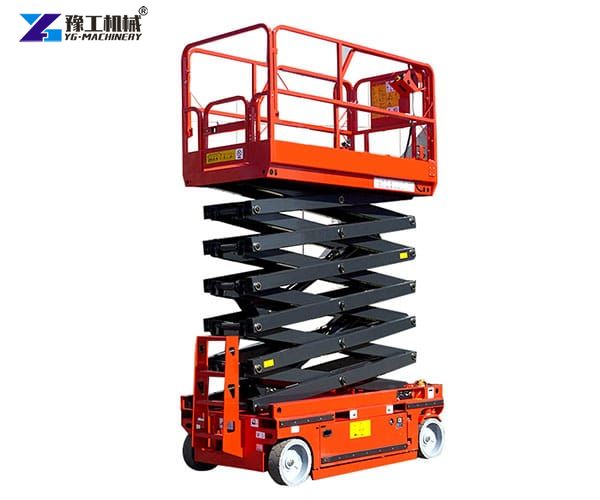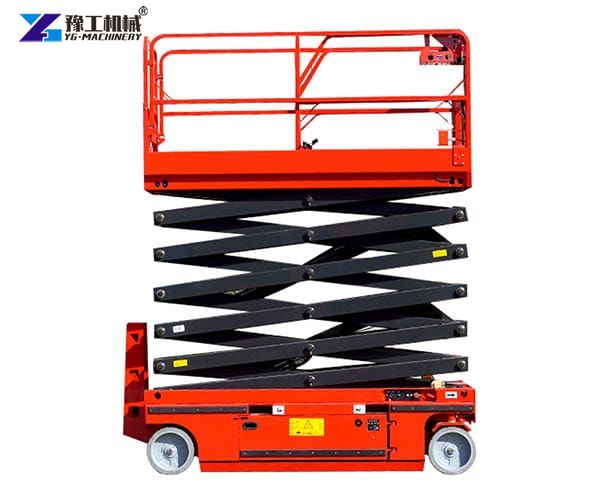 Parameters of the Wheeled Movable Scissor Lift Platform
Model
6m
8m
10m
12m
Safe working load
450kg
320kg
Extended platform safe working load
113kg
Maximum working height (H2)
8m
10m
12m
13.8m
Maximum platform height (H1)
6m
8m
10m
11.8m
Whole machine length
2480mm
Overall machine width
1190mm
Machine height (fence not folded)
2200mm
2320mm
2450mm
2570mm
Machine height (fence folded) (H)
1660mm
1780mm
1910mm
2030mm
Working platform size
2270x1120mm
Wheelbase
1895mm
2080mm
1895mm
Lifting motor
24V/3.3Kw
24V/4.5kw
Machine running speed (folded state)
3.5km/h
Machine running speed (lifting state)
0.8km/h
Rechargeable battery

4x6V/170Ah
4x6V/200Ah
Charger
24V/25A
Machine weight

2170kg
2360kg
2510kg
2980kg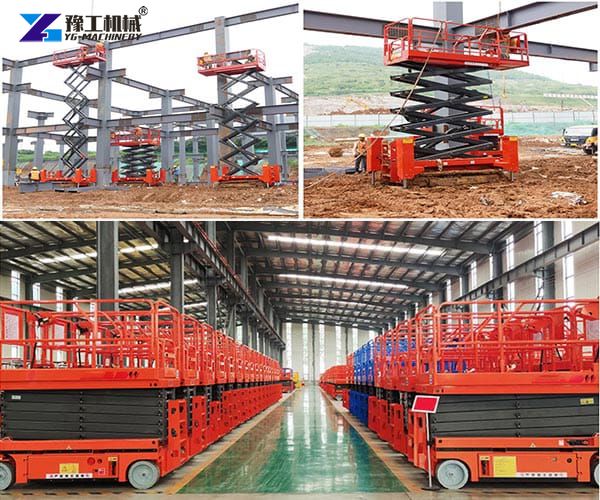 Characteristics of the Mobile Scissor Lift Platform
Flexible operation
The whole machine has a compact body and folding guardrail, which is easy to transport. It's flexible in operation with a small turning radius.
Intelligent Internet
The intelligent human-computer interaction system can easily obtain equipment status, such as its location, working condition information, and abnormal warning. Besides, it has the functions of intelligent interconnection, automatic display of fault codes, and effective operation management.
Run efficiently
Its power performance is strong, with an electric driving system, energy-saving and environmentally friendly, less noisy, and suitable for indoor operations.
Reliable performance
This wheeled mobile scissor lift platform adopts lift proportional valve control, precisely and flexibly, greatly improving the smoothness of the action. And the electrophoresis power spraying process, rust-proof, corrosion-proof, durable, and worry-free.
Low maintenance cost
Self-lubricating fiber bushings design makes it maintenance-free. The integrated drawer-type tray refined components and pipeline layout make maintenance more convenient.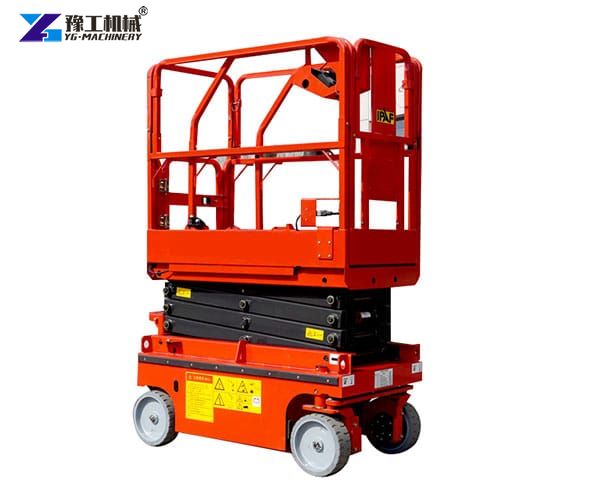 Scissor Lifting Structures Using Mobile Lifting Platforms
This series of products has the characteristics of flexible movement, smooth lifting, easy operation, and large load capacity. The equipment mostly uses electric hydraulics for lifting power, and can also be equipped with manual hydraulic lifting devices as needed. There are various power forms: single-phase 220V AC power supply, three-phase 380V AC power supply, AC and DC dual-purpose or diesel engine. The hydraulic system accessories and electrical accessories of this series of products are all made from well-known domestic and foreign brands, and the product quality is guaranteed. Mainly suitable for various high-altitude working places such as industrial and mining workshops, enterprises, stations, docks, buildings, exhibition halls, etc.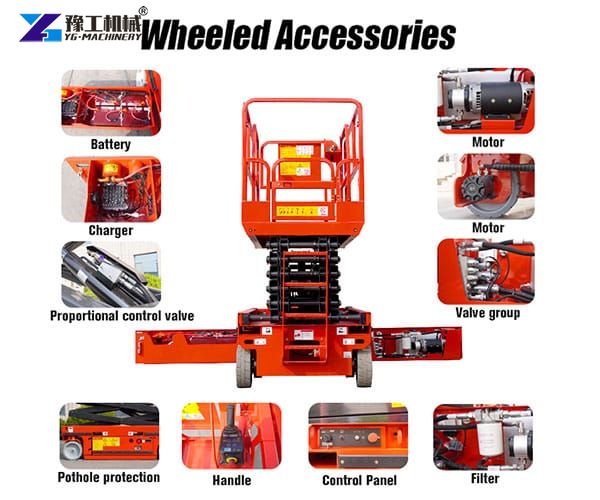 Advantages of the Mobile Platform Lift for Sale in YG Machinery
It is equipped with an emergency lowering valve, which can lower normally when there is a power outage or the battery is dead.
The dual control system can be controlled both on and off the stage and is equipped with an emergency stop button for safety precautions.
High-strength support legs, safe and stable without shaking
The bracket is made of high-quality steel, strong and durable.
Tire bearing capacity, strong and durable.
Emergency descent system for safety precautions.
Hydraulic power components and seals, durable and stable power, no oil leakage
Self-lubricating shaft pin for easy maintenance
The standard configuration of a fully automatic hydraulically driven aerial work platform
The cylinder has a built-in explosion-proof valve and a reverse flow valve, and its anti-explosion capability is twice that of ordinary hydraulic oil pipes.
Height 0.9-1.0 meters, detachable, easy to use, customizable telescopic table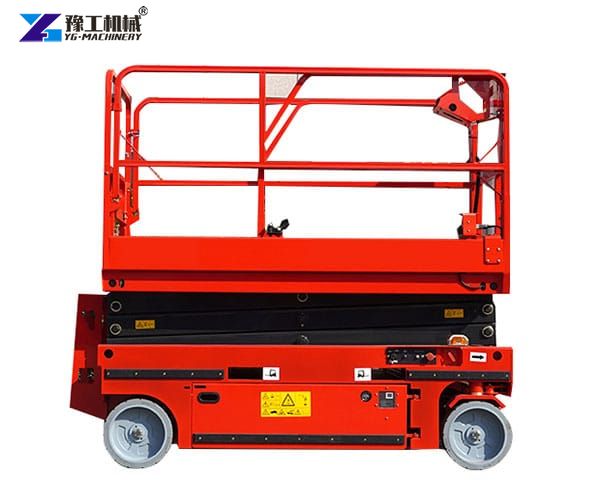 Structure Image of the Wheeled Mobile Scissor Lift Platform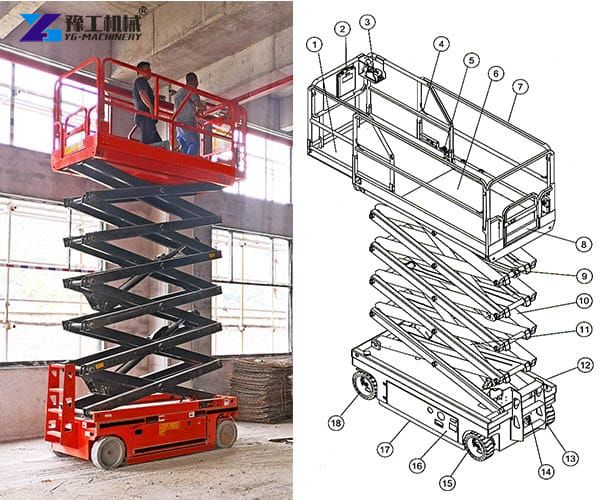 ①Extended platform
②Manual box
③Platform controller
④Platform controller
⑤Lanyard fixing points
⑥Platform extension release running boards
⑦Fixed platform
⑧Platform guardrail
⑨Platform entrance door
⑩Safety arm
⑪Scissor arms
⑫Ground controls
⑬Entrance ladder
⑭Brake release pump
⑮Non-steerable wheels
⑯Charger
⑰Pothole protection device
⑱Steering wheels
Why Choose Our Wheeled Mobile Scissor Lift Platform?
The movable scissor lift adopts low-maintenance lift self-lubricating composite fiber bushing, and a maintenance-free battery, which can extend the service life of the batteries. The support rod adopts a six-hole boring, which has high precision and small errors, reducing the shaking of the equipment when working at high altitudes. It has passed CE European standards, the quality inspection is very strict, and the safety of use is guaranteed. Lift proportional valve control is precise and flexible, greatly improving the smoothness of the action. Electrophoresis and powder spraying process, rust-proof, corrosion-proof, durable, and worry-free.
Wheeled Mobile Scissor Lift Platform Manufacturer
YG Machinery is a professional mobile scissor lift platform, relating to wheeled type and crawler type, electric power, and hydraulic power supply. Our company provides various movable scissor lifts suitable for a lot of heights. In addition, we also supply other machines, such as mini spider cranes for sale, rebar straightening and cutting machines, steel bar bending machines, rebar thread rolling machines, stirrup bending machines, block brick making machines, mini concrete pumps for sale, fog cannon machines, etc. If you are interested in our machines, welcome to contact us freely for more working pictures and videos.