Mini concrete pump for sale in America is a hot product used in construction engineering projects. We got an inquiry about the small concrete pump from an American customer at the beginning of August. He and our sale manager take a deep communication for the conveying height, distance, and efficiency. According to his specific requirements, our sale manager shared several types with him. Comprehensively considering the construction situation and budget, the customer finally bought the YG-50 concrete conveyor pump machine. This model can convey concrete 30-35 cubic meters per hour for a conveying distance of 30-150 meters in height, and 50-500 meters in length. If you are interested in the equipment, please get in touch with us so that we can send more details to you. Phone/Whatsapp/Wechat: +86 18337123872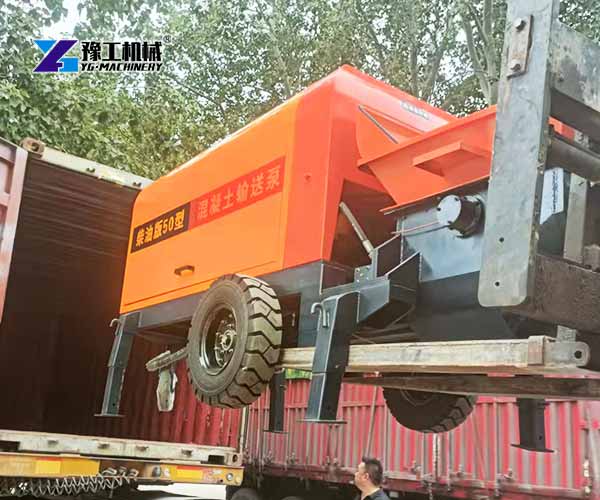 YG-50 Small Concrete Pump Machine Parameter
Model

YG-50

Work efficiency
30-35m³/h
Vertical conveying distance
30-150m

 

Horizontal conveying distance
50-500m

 

Power
55kw/Diesel type available
Aggregate size
0-4cm
Working pressure
23mpa
Convey pipe diameter
80-125mm
Dimension
4300*1600*1800mm
Weight
2200kg
The Applicable Fields of Concrete Pumps for Sale in America
Mini concrete pumps, also known as concrete delivery pumps, are mainly used for concrete delivery in large-scale concrete projects such as high-rise buildings, civil buildings, highways, and overpasses. Concrete machinery is an important part of construction machinery. The conveying pump for concrete is a kind of concrete conveying equipment that continuously conveys concrete to the pouring construction site through horizontal or vertical pipes. It uses motors or diesel engines as power and widely applies to concrete demand, high grade and high-quality requirements high-rise buildings, municipal construction, electric power, energy, transportation, and other civil and industrial buildings with strict and long transmission distances, especially the construction of narrow sites.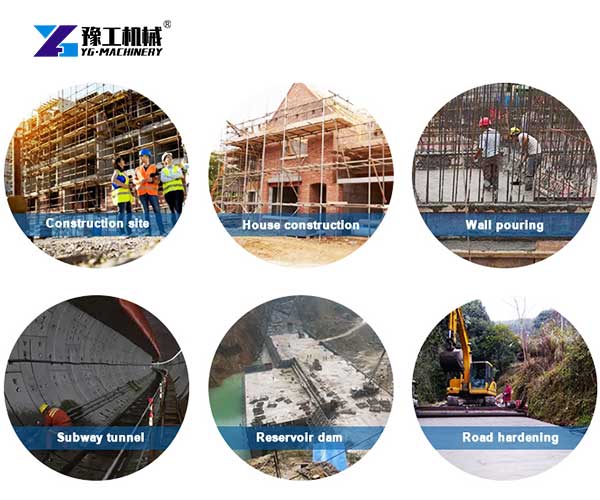 What Shall We Do for Safe Concerns and Extend Service Life?
Operators should read the instruction manual carefully about the usage and maintenance before operating the equipment. When using and operating concrete pumps, follow the instruction manual strictly.
The power wiring of the concrete pump must have a leakage protection switch. Check whether the electrical components are working normally and whether the cables are damaged.
To ensure reliable connection of pipes and regular maintenance
The concrete pump should be firmly fixed before use. And check the support of the hopper and chute on the upper part of the pump to ensure stability and reliability.
Do not climb the pipes, especially for the high working.
In the cold season construction concrete pump should have anti-freezing measures.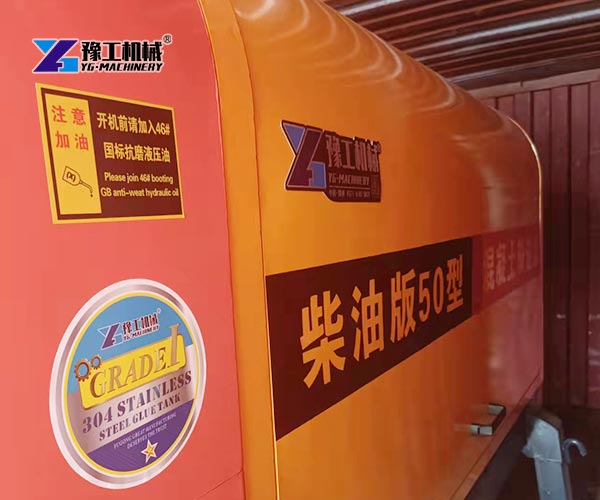 Mini Concrete Pump for Sale in America Supplier – YG Machinery
YG Machinery is the mini concrete pump machine manufacturer and supplier. We also provide other construction equipment, such as shotcrete machines, floor shot blasters, mobile scissor lifts, foam concrete machines, fog cannon machines, sandblasting machines, mortar spraying machines, etc. Besides, we also supply steel processing machines, like rebar cutting machines, rebar threading machines, stirrup bending machines, steel bar bending machines, rebar straightening and cutting machines, pipe shrinking machines, and so on. If you are interested in these machines, welcome to contact us for more information. Phone/Whatsapp/Wechat: +86 18337123872