CNC plasma cutting machine uses the power of ions to cut things. Its working principle is to use the heat of the high-temperature plasma arc to make the objects to be cut partially melt or evaporate directly, and then use the kinetic energy of the high-speed plasma to remove the small particles that have melted. Thus forming an incision. In addition, YG Machinery also sells pipe rust removal machines, pipe bending machines, and pipe shrinking machines.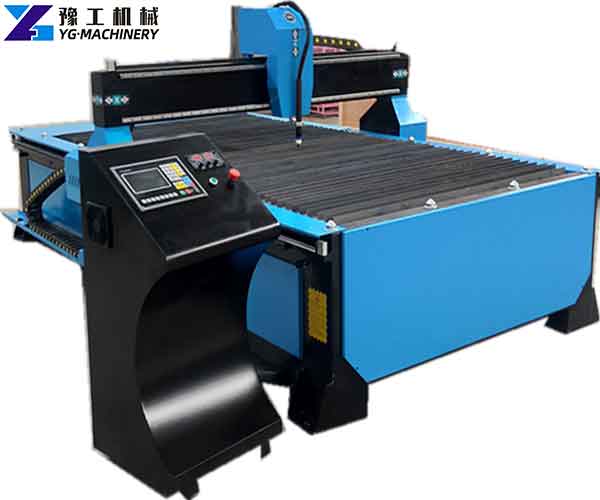 Technical Parameter of Plasma CNC Cutting Machine
Model
 Plasma cutting machine
X,Y working area
1500*3000mm
Z working area
150mm
Body dimension
2200mm*3600mm*1450mm
Packing dimension
2400mm*3900mm*1550mm
Lathe bed
Very thick steel structure
Machine Power
8.5kw
Working voltage
380V three phase/ 60hz
Reposition precision
0.02mm
Processing precision
0.1mm
Maximum cutting speed
12000mm/min
Torch Height control mode
Automatic
Cutting thickness
Max 150mm for carbon steel with gas cutting,

max 25mm for carbon steel with plasma cutting

Plasma power supply
China LGK 120A
Control system
STARfire
Motors
Stepper motor
Software
Starcam
Weight
1800KGS
Plasma Air Pressure
Max.0.8Mpa
Working Temperature
-10°C-60°C. Relative Humidity, 0-95%.
LCD Display Dimension
7 Inches
The Purpose of Plasma Cutting Machine:
CNC plasma pipe cutting machine has many advantages such as simple operation, high accuracy, high work efficiency, low labor intensity, etc., and it is widely used in many kinds of processed parts. Compared with traditional manual and semi-automatic cutting, the production efficiency is improved, the operation is simple, and it has a significant energy saving effect. The CNC plasma cutting machine can be perfectly suitable for cutting non-ferrous metals, and the cutting surface is smooth and small in deformation, so it is widely used in cutting engineering in automobiles, locomotives, chemical machinery, nuclear industry, general machinery, engineering machinery, steel structure, and other industries.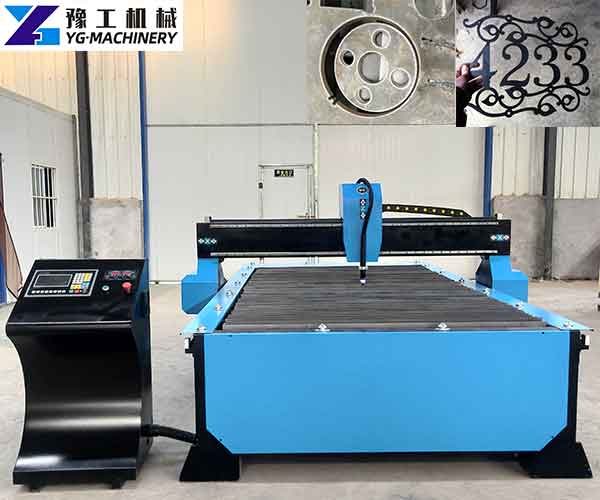 Classification of Plasma Cutting Machine:
Since the plasma cutting machine is used with a working gas, many plasma cutting machines are equipped with numerical control systems, so they are also called air plasma cutting machines or CNC plasma cutting machines. It is divided into portable plasma cutting machines and desktop plasma cutting machines.
Portable CNC Plasma Cutter
portable CNC plasma cutter simple splicing aluminum alloy structure, light weight, easy to transport, install and move, suitable for frequent moving work sites. It can cut any complex plane graphics, suitable for flame/plasma cutting, and meet the production needs of small and medium-sized enterprises.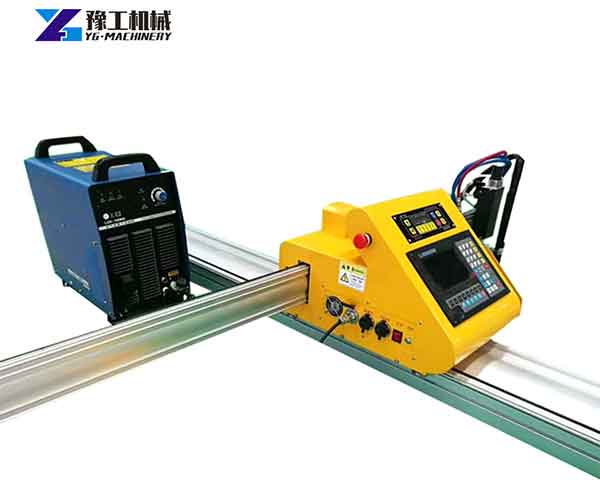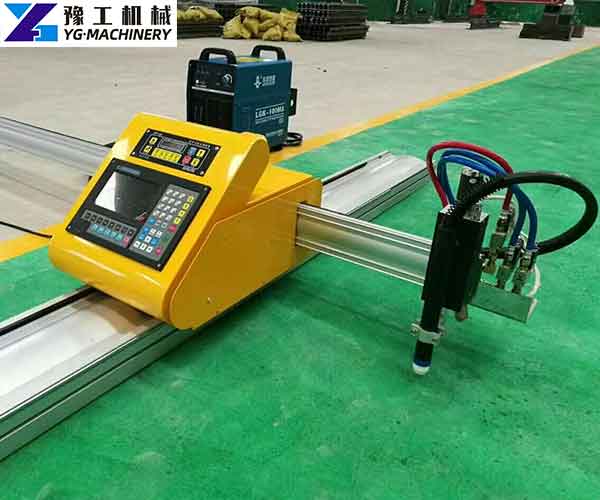 Technical Parameter of Portable CNC Plasma Cutter
| | |
| --- | --- |
| Model | YGTP-1530 |
| X,Y working area | 1500*3000mm |
| Z working area | 150mm |
| Lathe bed | steel structure |
| Machine Power | 8.5kw |
| Machine voltage | 220V/50HZ three phase |
| Reposition precision | 0.02mm |
| Processing precision | 0.1mm |
| Maximum cutting speed | 8000mm/min |
| Torch Height control mode | Automatic |
| Control system | SJTU-CNC |
| Motors | Stepper motor |
| Plasma power supply | China LGK 120A |
| Software | Starcam |
| Weight | 180KG |
| Plasma Air Pressure | Max.0.8Mpa |
| Working Temperature | -10°C-60°C. Relative Humidity, 0-95%. |
| LCD Display Dimension | 7.0Inches |
Features of CNC Plasma Cutting Machine:
The frame adopts a fully welded structure, which is firm and reasonable, easy to operate, and durable.
Fast cutting speed and high precision. The cutting opening is small, neat, and there is no slag drop phenomenon. On the basis of the traditional numerical control system, the control method for cutting is improved, and the secondary trimming processing is avoided.
Suitable for low-carbon steel, copper, iron, aluminum, galvanized, titanium, and other metal plates.
The CNC system has a high configuration. Automatic arc ignition, stable performance, and the success rate of arc ignition is over 99%.
The control system adopts a U disk to exchange processing files, which is convenient and quick to operate.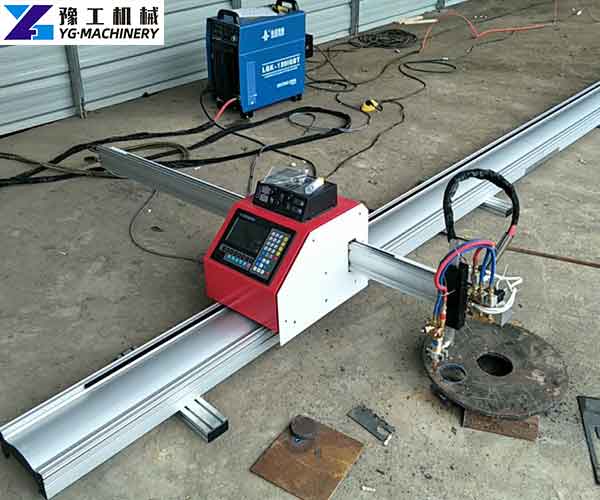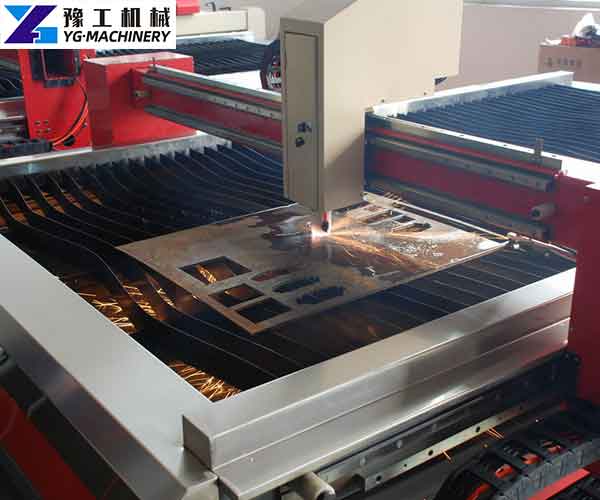 What Preparations Should be done Before Turning on CNC Plasma Cutter?
Before powering on, check whether all the switches on the device are in the closed position and whether the rotary switch at the rear of the device is in the horizontal position.
Turn on the power supply of the main switch cabinet before starting up, so that the two cables are energized.
Move the circuit breaker in the CNC plasma cutter electrical cabinet to the ON position.
Turn on the system control power with the key switch, and the main interface of the display should appear at this time.
Turn the rotary switch on the back of the plasma power supply 90° to the vertical position, and the power indicator light of the equipment is on.
Turn on the air compressor (compressor flow rate 1m3/min), and adjust the air compressor pressure control switch to make the compressor output air pressure at 6.1-8.2 Bar.
Other Products
YG Machinery is a manufacturer of construction machinery, YG Machinery owns a variety of machinery and equipment. For example, pipe rust removal machines, pipe bending machines, pipe shrinking machines, pile breaker machines, small water well drilling machines, fog cannon dust suppression, cement sprayer machine, mobile concrete pump, anchor drilling machine, sandblasting equipment for sale, etc. Contact us now.