Rebar thread rolling machine is mainly used for processing ribbed steel in construction engineering. It is the key equipment to realize steel bar straight thread connection. HGS-40F straight thread rolling machine for steel bars can process HRB335 and HRB400 grade ribbed steel bars with a 16-40mm diameter. The steel bar threading equipment can complete the processing from rib stripping to thread rolling in one clamping. The tooth shape of the processed thread is full, the size accuracy is high, and the mechanical strength is high. It can process positive buckle thread and reverse buckle thread. This machine is easy to operate, compact in structure, and reliable in operation. And it has a unique automatic opening and closing mechanism for knives. Get in touch with us for more details. Email: admin@ygbuildingpro.com Phone/Whatsapp/Wechat: +86 18337123872
Main Technical Parameters of the HGS-40F Rebar Thread Rolling Machine
| | |
| --- | --- |
| Model | HGS-40F |
| Diameter range of processed steel bar | φ16-φ40mm |
| Main motor power | 4.0kw |
| Power supply | Three-phase 380V 50Hz |
| Spindle speed | 72r/min |
| The maximum processing length | 80mm |
| Weight | 400kg |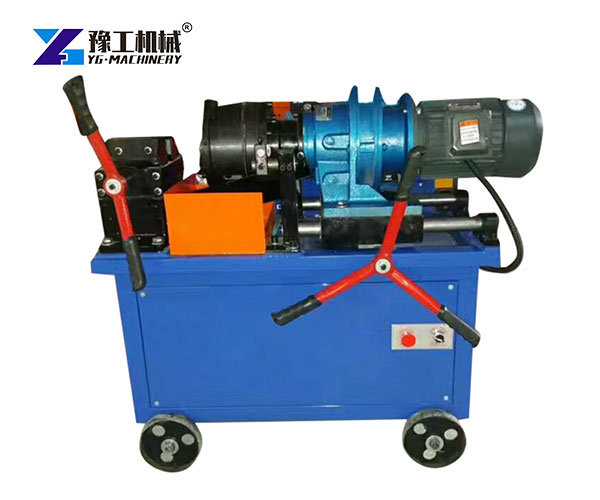 Characteristics of the Rebar Threading Machine
The rebar thread rolling machine can roll steel bars after steel rip stripping. The precision of the thread profile is very high, and the consistency of the diameter is also very good;
The steel bar thread rolling machine has a compact structure, and simple operation, and the thread processing speed is obviously faster than other equipment;
Its rib stripping device is easy to learn and understand, and the stability of the rib stripping size is very good;
Complete the processing of the thread by clamping the steel, and the processing efficiency of the thread head is also very high;
The noise generated by the steel bar thread rolling machine is small;
Its joint quality is stable and reliable, and the strength of the joints is higher than that of ordinary base materials;
It processes a wide range of steel bars and occupies less equipment.
The service life of the thread rolling wheel is long, and the use of additional costs for joints is also very small;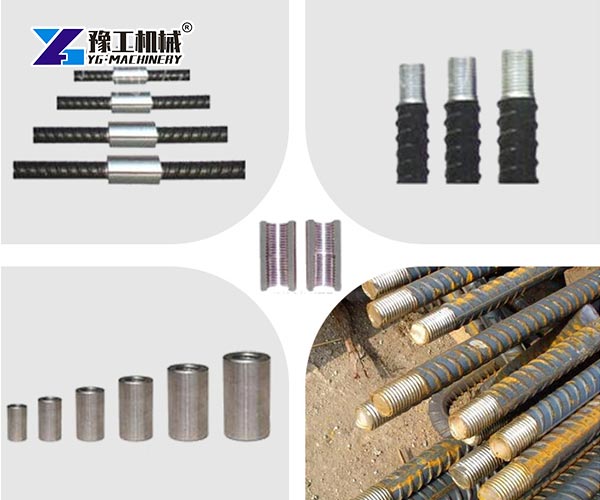 Straight Thread Rolling Equipment Structure
The rebar thread rolling machine consists of a machine body, clamping pliers, slide road, slide plate, cycloidal pin wheel reducer, rib stripping and rolling head, feeding mechanism, automatic opening and closing mechanism, travel limit mechanism, automatic return mechanism, cooling agent, electrical control box, control system, and other parts. Get in touch with us to get a free quotation. Email: admin@ygbuildingpro.com  Phone/Whatsapp/Wechat: +86 18337123872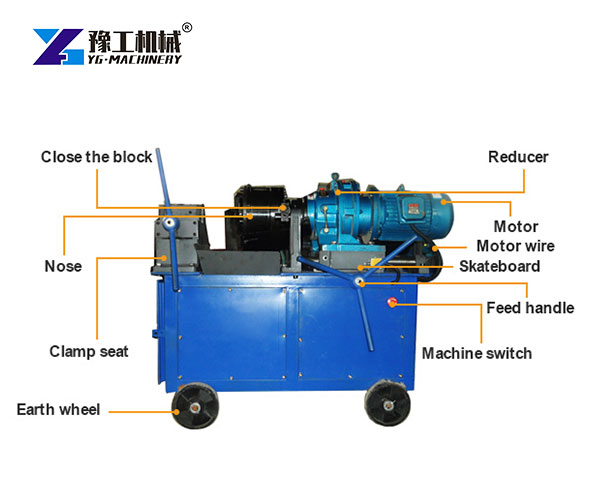 How to Use A Rebar Thread Rolling Machine?
Preparation before threading processing
Connect the power cord, the power supply is three-phase 380V, 50HZ. Before powering on, the case must connect to the ground wire.
Fill the coolant tank with sufficient water-soluble coolant. Oil-based coolant is strictly prohibited.
Check whether the moving parts are flexible, and check whether the lubricating oil of the reducer is sufficient.
Empty test run (without clamping the workpiece)
Turn the feed handle clockwise to stop the machine tool at the starting position. Press the stop button on the operation panel, and turn on the power supply of the small thread rolling machine.
Put the rotary switch of the power distribution panel in the positive wire position. Press the stop button on the operation panel, and check whether the water pump is working normally. Turn the feed handle counterclockwise, and the main shaft rotates. Observe the direction of rotation, if it is incorrect, replace the two power cords, and check whether other parts are normal.
Carry out the trial operation according to the process of thread processing, and then put the reducer at the rear limit position. The reducer stops rotating.
Adjustment of the straight-thread rolling equipment
Before processing, according to the diameter of the steel bar, select and replace the thread rolling wheel suitable for the processing diameter.
When changing the thread rolling wheel, replace the gasket suitable for the pitch of the thread rolling wheel to ensure the correctness of the thread pitch.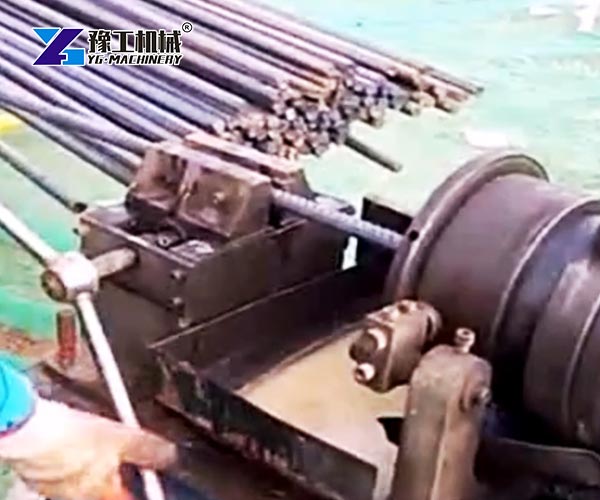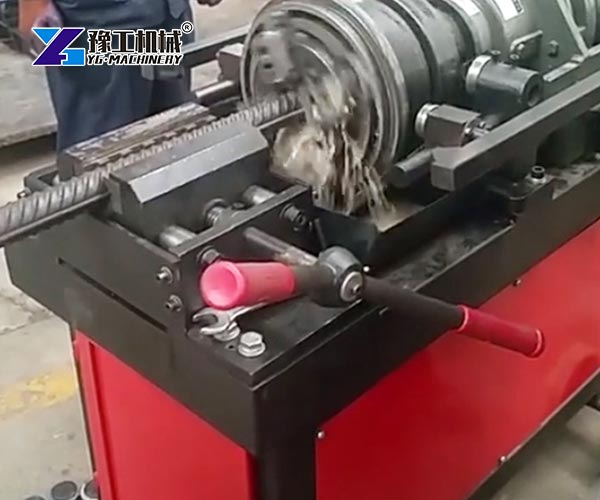 Tool Regrinding and Replacement of the Rebar Threading Machine
When the rib stripping knife cuts a certain amount of steel bars, the blade of the thread roller will become blunt. At this time, the operator can remove the rib stripping blade, and sharpen the rake face of the blade parallel grinding to 0.2-0.3mm. It can be used again after installation. The blade is simple to remove by loosening the blade hold-down screw.
When the edge of the rib stripping knife cracks and cannot be cut normally, a new blade can be replaced.
After rolling a certain number of thread ends, if the qualified thread ends cannot roll out steel bars due to wear or tooth shape damage. Replace the thread rolling wheel should be replaced with a new one.
When replacing a new thread rolling wheel of the rebar thread rolling machine, the washer for adjusting the pitch must be installed correctly, otherwise, it cannot be used.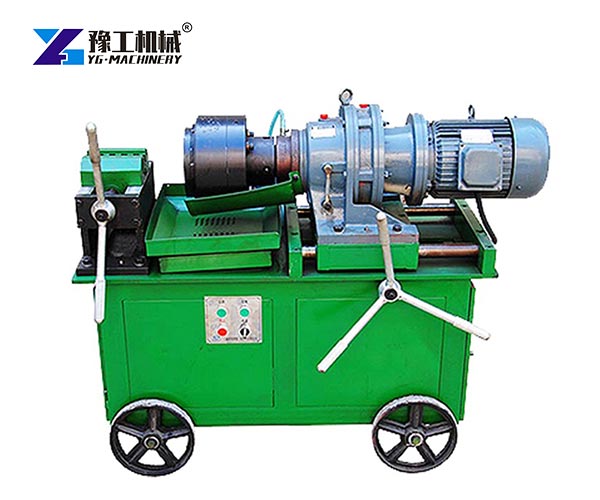 Thread Rolling Machine Manufacturer – YG Machinery
Rebar thread rolling machine uses cutting and rolling thread forming to achieve the purpose of reinforcement and thread processing at the end of the steel bar. Various types of thread rolling machines are for sale in YG Machinery. Besides, we also provide other steel bar processing equipment, such as stirrup bending machines, steel bar bending machines, rebar cutting machines, rebar straightening and cutting machines, pipe shrinking machines, rebar derusting machines, etc. Contact us to get more info. Email: admin@ygbuildingpro.com Phone/Whatsapp/Wechat: +86 18337123872