On March 4th, we received an inquiry about the cement spraying machine from a US customer. Our account manager Sam Lee communicates with customers. The parameters, pictures, videos, and factory videos of the concrete spraying machine were sent to customers. Recognized by customers. The final customer decided to order 5 mortar spraying machines.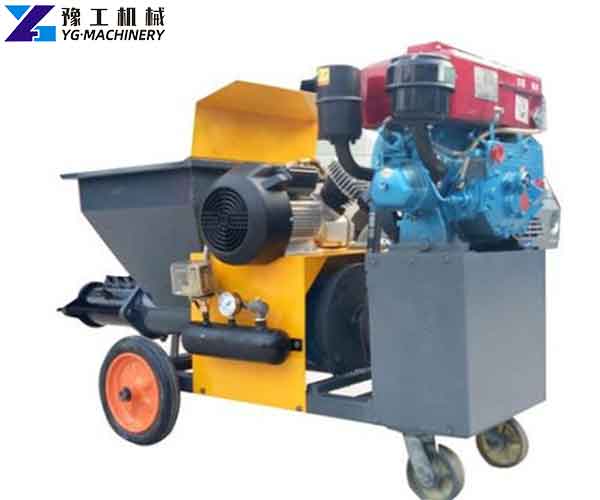 Parameter of Cement Spraying Machine
| | | | |
| --- | --- | --- | --- |
| Model | YG-PZ3 | YG-PZ6 | YG-PZ7 |
| Product capacity | 3m³/h | 6m³/h | 7m³/h |
| Maximum delivery distance | 200m | 200m | 200m |
| Practical material water-cement ratio | <0.4 | <0.4 | <0.4 |
| Biggest bone grain size of fire | 20mm | 20mm | 20mm |
| Rotor block | 350mm | 440mm | 480mm |
| Working pressure | 0.4-0.6mpa | 0.4-0.6mpa | 0.4-0.6mpa |
| Blast consumption | 3-4m³/h | 6-8m³/h | 7-8m³/h |
| Motor power | 3kw | 5.5kw | 7.5kw |
| Dimension | 1040*550*950 | 1300*705*1300 | 1600*750*1200 |
| Weight | 260kg | 600kg | 700kg |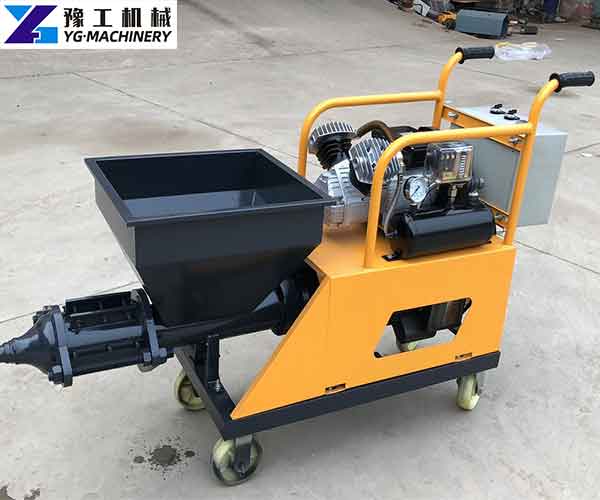 Cement Morter Spraying Machine for Sale
The cement plaster spray machine is a screw-type with a high-pressure mortar spraying machine. It is mainly used for building interior and exterior walls, cement mortar spraying, exterior wall insulation material mortar spraying, and refractory spraying. One machine has multiple functions and is not affected by regional and environmental conditions and the shape of the spraying surface.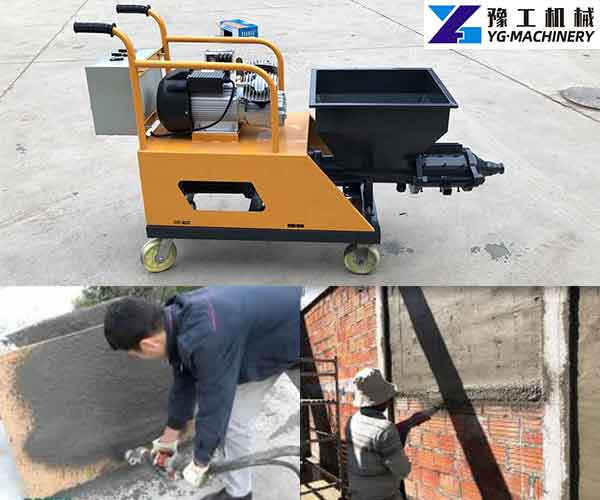 What are the Advantages of Cement Spraying Machines?
The operation of the mortar spraying machine is very simple. No need to set up scaffolding or any mobile equipment, you can freely spray on the yin and yang corners and the ceiling. Not only can the construction period be shortened, but also other costs can be saved.
The work efficiency of the concrete mortar spraying machine is high. Compared with manual work, work efficiency is improved by more than a little bit. Moreover, if the mortar spraying machine is used for construction, there is basically no floor dust, which is cleaner and saves materials.
The working quality of the mortar spraying equipment is also very high. The mortar spraying machine can mix the material very uniformly, so the material can give full play to its characteristics.
Suitable spray materials: putty powder, paint, latex paint, real stone paint, cement mortar, dry powder mortar, thermal insulation mortar, waterproof material, thermal insulation material, sound-absorbing material, and other water-soluble materials.
Adjust the approximate amount to adjust the spraying ends.
In addition to the switch on the electric control box, it is also equipped with a remote control switch for spraying.
The connection between the spray gun and the feeding pipe can be twisted for easy operation.
Small size, easy to carry the on-site, low cost of accessories and simple maintenance.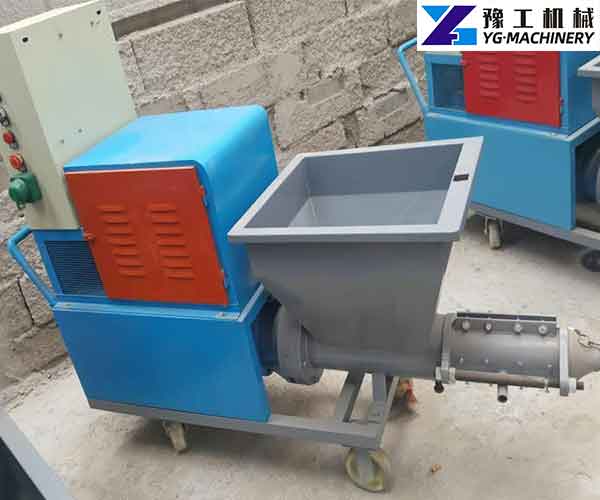 Mortar Sprayer Manufacturer
Use a cement plaster spray machine for spraying. The spraying force of the equipment is stable and uniform, which can make the mortar adhere firmly, so as to avoid the occurrence of hollowing, cracks, and peeling. It can be said that the construction quality of the plastering project is greatly improved. YG Machinery Equipment Co., Ltd. is mainly engaged in mini concrete pumps, shotcrete machines, sandblasting machines, foam concrete machines, rock splitter machines, hydraulic pile breakers, concrete floor grinding machines, etc.; If necessary, please feel free to contact us at WhatsApp+86 18337123872 or email us admin@ygbuildingpro.com.